It is no secret that Beyoncé, one of the most revered and influential pop stars of her time, is basically American royalty. But it may surprise you to know that politicians in Ireland, of all places, are rushing to kiss Queen Bey's ring.
Daily Edge reporter Amy O'Connor sent a survey to all 158 members of Dail Éireann—Irish parliament—asking them whether they liked Beyoncé and, if so, what their favorite Beyoncé song was. Thirty-seven members responded, and the overwhelming majority professed to be Beyoncé fans. Some more than others. Meet Brendan Smith, of the center-right Fianna Fáil party: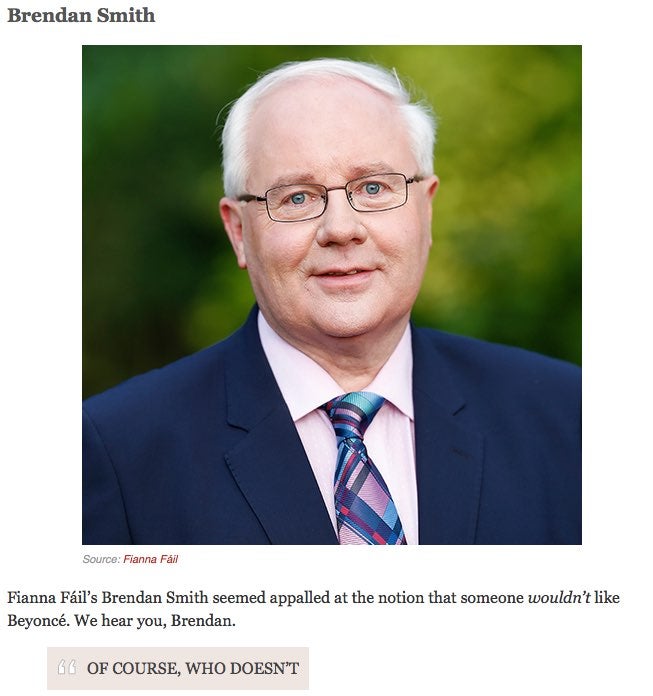 OF COURSE, WHO DOESN'T is the correct response. We'd also accept Sinn Fein TD Jonathan O'Brien's answer: "I am republican, but Beyoncé is the only queen I have time for."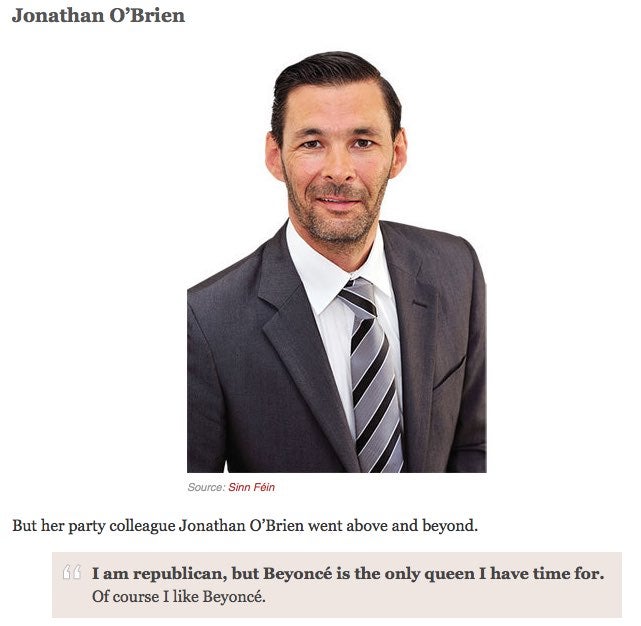 Twenty-six of the 37 politicians claimed to like Beyoncé, with most of the rest registering as indifferent. Some did feel, however, that Beyoncé was better in Destiny's Child than in her solo career.
"I'm not a big fan of Beyoncé anymore. I felt she was at her most musically creative when part of Destiny's Child," wrote Labour's Brendan Ryan, who refused to get in formation with the Beyoncé-loving TDs who recognized the genius of Lemonade. 
Two female TDs, Kate O'Connell and Fiona O'Loughlin, made the safe choice of "Run the World (Girls)" as a favorite song, but we've really got to hand it to Sean Ó Fearghail, who picked the Lemonade deep cut "Daddy Lessons."
This is Sean Ó Fearghail: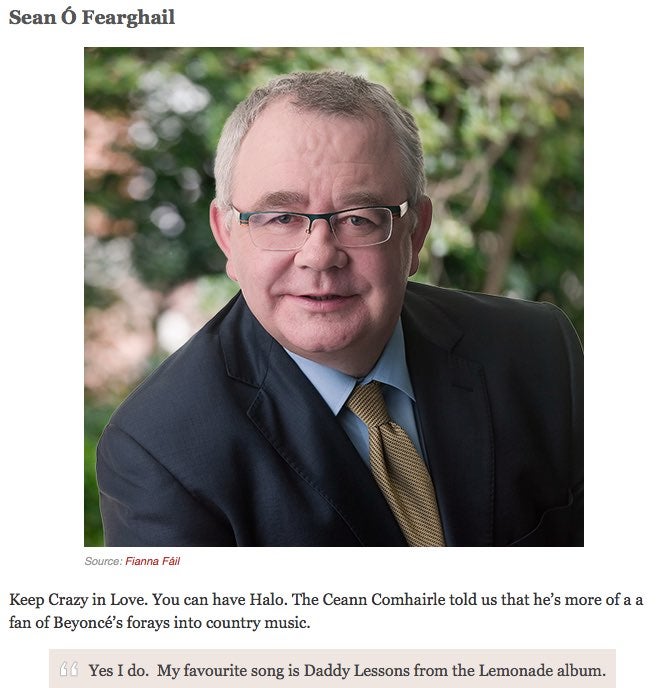 This was not a waste of anyone's time, though. It seems like that one's opinions about Beyoncé—an outspoken feminist who's taken a very public stand against police mistreatment of black folks—could correlate to their feelings about women and people of color in general.
Plus, it's hilarious to watch middle-aged politicians scramble to find the most acceptable Beyoncé take.