TableTop, Geek & Sundry's popular board game instructional review series starring Wil Wheaton, is taking its act on the road.
Felicia Day has announced that in order to thank fans for their support of the show, her network is organizing the first annual International TableTop Day. On March 30, fans from all over the world will flock to their local game shops, host events in their own spaces, and celebrate the fun of board games. Fans can sign up for local events at TableTopDay.com, or create a TableTop event of their own. Follow the hashtag #TableTopDay to keep track of developments. Here's Day's announcement:
From puzzles to chess to recent classics like Scrabble, Clue, Monopoly and Trivial Pursuit, tabletop games have never gone out of style; but over the decades, pop culture has spawned ever more inventive takes on the genre. Roleplay games like Dungeons and Dragons and Magic: the Gathering have typified fantasy and worldbuilding elements that now show up in epic strategy games like Civilization, Dominion, and Settlers of Catan. Video games like Dragon Age, and TV shows like Game of Thrones have developed board game equivalents. Expansion packs can be found for everything from Arkham to Carcassonne. And then there are card games and hybrids like Fluxx, Munchkin, and the John Green-inspired Evil Baby Orphanage.
Now, TableTop Day will hopefully do for tabletop games what Free Comic Book Day has done for comics and graphic novels, and promote games while (re)-introducing them to even more of the mainstream public. Sponsors of TableTop Day include Steve Jackson, creator of many series including Munchkin and Ogre, and Wizards of the Coast (which owns both Magic and D&D). These along with many other major game publishers will be offering free promotional items and games to participating gaming stores, including special preview editions of unreleased games. "In the 20 years I've been in the game industry, nothing has moved the needle the way TableTop has," John Zinser, president of Alderac Entertainment Group, stated in a Geek & Sundry press release.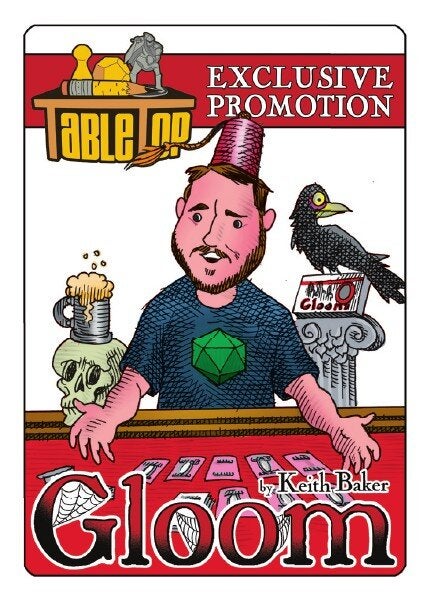 Photo via John Nephew/Twitter
Famed actor and blogger Wil Wheaton created TableTop for Geek & Sundry, a move that went a long way to powering the geek culture network after Day made the controversial decision to launch her own network and relocate her hit series The Guild. In TableTop, Wheaton joins a rotating cast of famous geeks and friends in illustrating how to play games both old and new:
The TableTop Day website hints at new games in store for TableTop fans: "If you look closely [at Day's announcement video], there are some new games on the wall behind her. Could this mean a deal for a second season of TableTop has been reached?" Given its popularity—the show routinely gets upwards of 300,000 views on YouTube—all signs point to yes. But while you're looking forward to more TableTop, you and your friends can experience the real thing at a game shop near you.
Screengrab via Geek and Sundry/YouTube