The Indonesian army on Monday destroyed a tiger statue that had long stood guard outside a base in West Java because internet users had relentlessly mocked the tiger's unusual "halfwit" face and turned it into a hilarious meme.
The cartoonish statue had been there for years, but it seems to have become famous last week after this tweet by Vincent Candra brought it to the internet's attention. "What the hell is this tiger?" he wrote.
https://twitter.com/halleluhellyeah/status/840557174224900096
Indeed, the tiger looks more like an off-brand cousin of Chester Cheetah than a representation of the Siliwangi Military Command's fierce-looking tiger logo. Here's the Silwangi military district's emblem: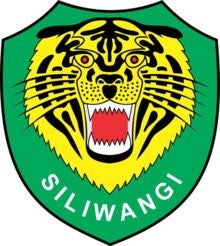 Indonesian memesters quickly altererd the wacky tiger into every photo and situation they could think of.
https://twitter.com/si_wel/status/841258993230143489?ref_src=twsrc%5Etfw
Melihat patung patung macan di depan markas koramil atau kodim kini banyak dibongkar. Kita tahu pentingnya tutorial mendesain macan pic.twitter.com/iDnq3mjOVB

— Iman Brotoseno (@imanbr) March 15, 2017
https://twitter.com/si_wel/status/841260573799022593
turut menyumbang pic.twitter.com/ZdJj0zFbt7

— ℮ (@marco_farhan) March 14, 2017
And then, on Monday, the "macan cisewu"—laughing tiger—met its fate.
"Every unit has their own decision on how the statue was made, but sometimes the artist was not that good," the commander of the Siliwangi unit told the BBC.
Jadi kepikiran, tapi kalo inget wajahnya malah bikin ngakak. #RipBangHariMauCisewu pic.twitter.com/FvpHDn2fz5

— Vincent Candra (@halleluhellyeah) March 13, 2017
Some felt a little bad for mocking the tiger statue to death, and RIP posts began popping up. Some even compared the statue to another, real animal who now sleeps in meme heaven: Harambe the gorilla.
https://twitter.com/evrithings/status/841581606557036545
There's even a joke petition underway to bring it back:
Dukung petisi ini. Kembalikan maung maung lucu https://t.co/ZrcLoGJwPO pic.twitter.com/mS5ifW9rWC

— Iman Brotoseno (@imanbr) March 16, 2017
R.I.P., macan cisewu, gone before it reached its full comedy potential. It's a small comfort to know it will live on in the hearts and comedy Facebook pages of Indonesian meme fans..