The first 70mm IMAX screenings of Christopher Nolan's Oppenheimer are taking place, and considering how involved the process was of creating, programming, and housing the film, there are going to be some snags.
An audience member named Patrick, who was seeing it at a theater near Toronto, posted on Thursday evening the moment that his screening of Oppenheimer "abruptly shut off with 40 min left to go." A theater employee can be heard saying they're "trying to get it up and running in the next five minutes," as people mutter a few "thank you"s.
"Start it from the beginning," someone yells.
In another tweet, Patrick says the film did actually start again after five minutes, and they got free passes. He'd previously stated that he heard from employees at the theater that "they flew a projectionist in from LA to work the 70mm IMAX for the next two weeks. Took them 2 days to build the print."
These issues are bound to happen since not very many theaters support this format anymore: There are only 19 U.S. theaters able to show the 70mm IMAX print. Other audience members reported the film and the sound cutting out at certain points.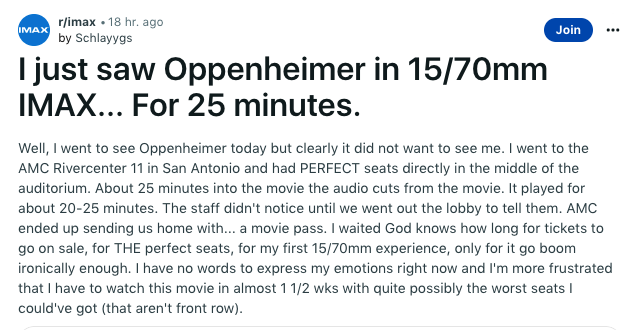 If this happens at your IMAX screening, you could always take a pee break and cross your fingers. There's also now a helpful PSA about when's the best time to pee during Oppenheimer.


We crawl the web so you don't have to.
Sign up for the Daily Dot newsletter to get the best and worst of the internet in your inbox every day.