"This place is fucked up beyond belief," David Holthouse says in the final episode of Sasquatch, assessing an area and a story that has apparently haunted him for decades.
In the new true-crime docuseries, produced by Jay and Mark Duplass and directed by Joshua Rofé (Lorena), investigative reporter David Holthouse attempts to reconstruct a story he overheard in 1993, when he was working at a pot farm in Northern California: Three cannabis farmers were murdered on Spy Rock Road and a suspect was never caught, but there are rumors that a Sasquatch was responsible.
Sasquatch
Release Date:
April 20, 2021
Director:
Joshua Rofé
Streaming:
Hulu
The three-part series lays out a wild tale, but doesn't offer much closure.
Sasquatch tries to excavate facts from fuzzy memories and overgrown rumors. The first episode gets into the mythology of the Emerald Triangle—the name for Humboldt, Mendocino, and Trinity County—interviewing real Bigfoot believers and skeptics, as well as longtime cannabis growers and consumers. But the series quickly blows past its titular subject and starts digging into the more troubling human aspects of life on the "mountain."
A brief history of the area is laid out, including the invasive 1980s DEA crackdowns that left people's crops decimated and livelihoods at stake. But it's also easy to get lost up there: People who disappeared into the woods often became "feral," says one interview subject, and that paranoia could translate into any number of wild sightings or stories. Holthouse wisely doesn't go into the woods, but sits with a number of blurred-out faces—animated scenes sketch out parts of the story in the absence of on-camera interviews with sources or recreations. Sasquatch could have maybe benefitted from more of that; once Holthouse has a potential suspect's name, it's bleeped out so many times it just becomes distracting.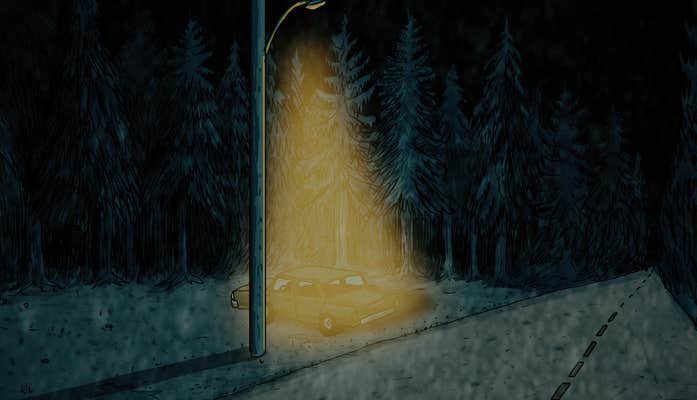 As Holthouse notes, this kind of work is second nature to him: In perhaps his most famous story, "Stalking the Bogeyman," he confronts the man who raped him when he was 7, and admits upfront that he'd planned to kill him. There is a different bogeyman looming over the series. When Holthouse starts getting into the racial aspect of the 1993 murders—the men were reportedly from Mexico—the 2013 murder of grower Hugo Olea-Lopez comes into focus, and interviews with his grieving niece give the investigation some emotional weight. There are echoes of Joshua Zeman's 2018 series Murder Mountain, which explored the outsider-wary culture of Humboldt County, and the 2013 murder of grower Garret Rodriguez.
"Memory is tricky," Holthouse says in episode 3, as he suggests he might have misinterpreted the story from the very beginning. Sasquatch confirms that the place is fucked up beyond belief, that greed, capitalism, and white supremacy created a different kind of beast. But anyone looking for an explanation beyond "the monster is us" might be disappointed.