What started as an earnest video encouraging folks to "get the gang back together for a road trip" is now the latest cringe TikTok to turn into a viral meme.
If you're an avid TikTok user, you've probably seen countless videos parodying TikTok influencer Bria (aka @briaalanaa), who's best known for her signature "heyo, the person who sent you this wants you to know" introduction and "no cap, facts, no printer, copy, no paste" sign off. One of her videos has become one of the biggest memes on the platform right now due to Bria's baby-voiced greeting and her friend's nearly incomprehensible speech.
Bria's account is full of this type of content—her bio says "CEO OF HEY YO"—and she frequently creates messages for her 2.2 million followers to send to their friends. The video above blew up after Sam (aka @_samueladrian_) uploaded a TikTok poking fun of Bria and her friend's voices. Bria's video now has 8.6 million views and Sam's has 17.1 million.
Since Sam's video, there have been a number of TikToks imitating Bria and her friend. From small creators to Doja Cat, many have posted their renditions of Bria's "heyo" and "facts, no cap" catchphrases as well as her friend's mumbling. Many of the videos have morphed the trend into a simple "heyo" with some barking noises.
Sam posted a video to his backup account @pimpinsimp69 claiming that Bria got his main account banned because of his video. Bria later said it wasn't her who got the account taken down.
Then, in the Instagram Live between the two, Bria called Sam "childish" for "degrading" other people. She also claimed that Sam's supporters tried to get her banned. Sam then said that he told his followers in a live stream not to ban Bria's account and that she wasn't the one who reported him.
Sam's main account, @_samueladrian_ has since been restored, but in a statement to the Daily Dot, he says that he is banned from posting on both of his TikTok accounts for a week. (Sam recently told the Daily Dot in May that TikTok continues adding days to his ban and that while he doesn't know the exact reason, he assumes it's for "bullying.")
"It's really frustrating because i want to post and explain some things but i can't," Sam said in an email to the Daily Dot. "TikTok keeps adding days to my ban and it makes me mad, I've emailed them a couple of times but they don't respond. It's also very interesting how she made this whole big deal on live but now all [of a] sudden she isn't mad now that I made this huge trend. And now famous creators are joining and saying 'Heyo,' yet my account is banned."
When asked if he and Bria had talked since their Instagram Live, Sam told the Daily Dot she blocked him after he posted clips of a live in which Bria's friends were allegedly making homophobic jokes.
"No need to smooth things out," Sam said.
Bria confirmed with the Daily Dot that she did block Sam "but only cause of the fact that he was building a name for himself off of me." Bria did not wish to respond to additional questions.
Bria's "heyo" videos are what many consider "cringe" but are otherwise harmless. As she put it in an Instagram Live hashing it out with Sam, she makes videos with the intention to "uplift other people." However, as anyone who's been on the internet will tell you, this type of content often begets cringe culture, or the habit of teasing people online for posting seemingly embarrassing things online. Cringe culture often straddles the line of bullying and comedy, as Vox's Rebecca Jennings wrote, and it can either spurn creators or launch their online careers. This trend exemplifies that balance, as people are piling on Bria in the comments while also giving her more exposure.
Bria has gotten a lot of criticism for being upset about the trend, with folks saying it's just a light joke and urging her not to take it so seriously. But comments under her videos embracing the joke are just as critical—making sure she understands that people are laughing at her, not with her.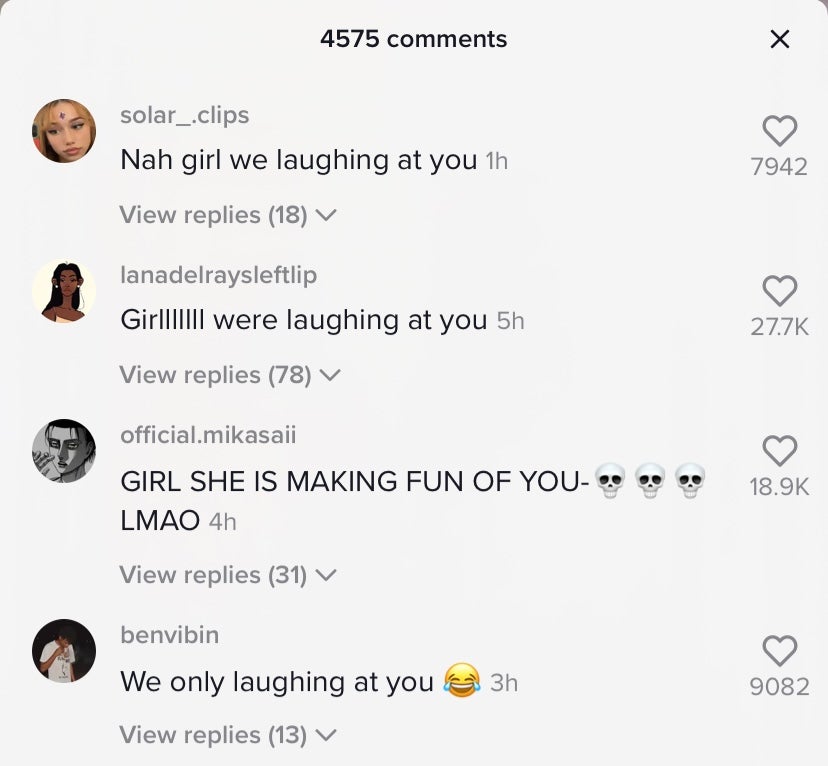 Ultimately, Bria's following outnumbers Sam's by a longshot—with her 2.2 million dwarfing his 500,000—and it's not uncommon for smaller creators to poke fun at trends set by more popular ones (punching up is the rule of comedy, after all). And it appears that that following has given Sam a disadvantage in this beef—he has faced major consequences for starting the trend, despite many others joining in, with his TikTok accounts currently in timeout.
Regardless of the criticism, the trend hasn't deterred Bria from continuing to make her usual content. Despite seeming initially hurt by the trend, she now appears to be taking the joke in stride, which is for the best since the parodies don't appear to be letting up—facts, no printer.
This story was updated on May 6 to include a comment from Bria and additional comments from Sam.
---
More essential culture reads
---