A French investigative publication has uncovered what they believe is evidence that Hewlett Packard (HP), the $47 billion American IT company, is collaborating with Telecommunications Infrastructure Co. (TCI), Iran's state-owned ISP, to help limit the kind of information that country's citizens can access online.
HP's actions appear to be in direct contravention of American trade embargoes, which severely limit the type of information and materials an American company can legally sell to Iran.
According to Reflets.info, Iran appears to use a combination of HP and ZTE equipment to effect this censorship. ZTE is a Chinese telecommunications equipment and systems company.
"The way HP technology was assembled and integrated on TCI's infrastructure indicates that HP is a central building block of Iran's 'halal Internet'," Reflets founder, the French hacker Olivier Laurelli and reporter Fabrice Epelboin, told the Daily Dot.
Although there has been a lot of talk about Iran's plans to sever its citizens from the global Internet and rely solely on this closed national Web "purified" of pornography, blasphemy, and political dissent, Reflets believes that the halal version is not self-sufficient and is still connected to the worldwide system. That being the case, its filtering systems have to be more robust than ever in order to maintain this imagined purity.
"Our observation shows that Iran's Internet is being built as a heavily filtered and massively surveilled system," said Epelboin, "one still designed to be connected to the global Internet."
Laurelli discovered HP 8800 router series equipment when using a traceroute tool to scan the Iranian Internet's autonomous system, "the unique point of control for more than four million Iranian IP addresses."
The Berkman Center's "Mapping Local Internet Control" tool uses data visualization and mapping to express how centrally controlled and bottlenecked the Persian Internet is.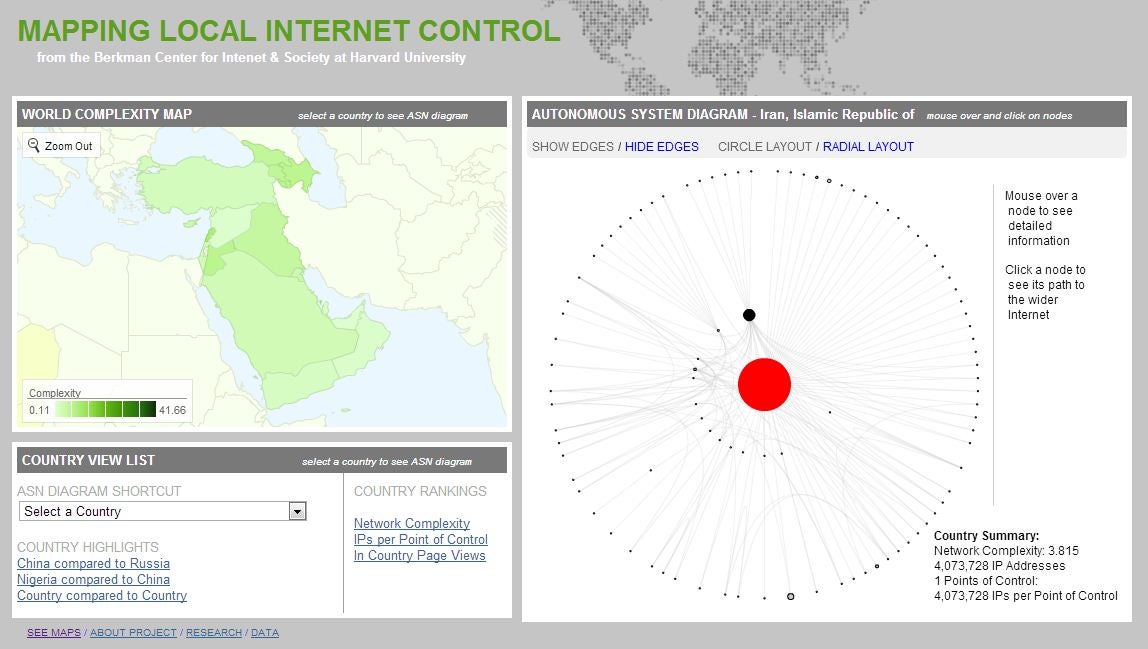 Among the elements Laurelli found was a ZTE security login and four ZTE ZXSS10 B200 broadband gateways, each one of which can handle up to 32 gigabits per second. Laurelli describes this device as a "powerful appliance designed for blacklisting, QoS, Web caching and probably more." It can "segregate traffic and it's probably deep packet inspection ready."
These actions, when taken by a state actor, are not abstract. They can have very unpleasant real-world implications.
"In the worst cases," said Epelboin, "like Amesys did in Libya, the conversation is stored in a database, and a surveillance team gets a warning."
When Laurelli poured over another section of the TCI IP address range in the AS, he found two HP H3C SR8808 core routers with 10 slots, eight designed to receive modules.
"There's nothing shocking to find a core router in an ISP network," said Laurelli, "but this one seems strangely equipped." Configured like this, the router is designed for application layer content filtering and application specific packet filtering.

Application content layer filtering is a way of blocking software, like Skype or a messenger service, based on a set of instructions you feed into the device doing the filtering. Each application has a distinctive signature in a software database, a kind of fingerprint. When the module recognizes the fingerprint of a software program, site or tool the censor wishes indicted, it can block it.
Specific packet filtering focuses on the content carried by a device, using, for example keyword recognition. In this scenario the word "election," for instance, can trigger a block regardless of the tool used to read it or the site the content comes from.
Reflets, which has a reputation in France of being not only a technologically astute publication but also expertly covering elements of national and international finance, is advising its readers to sell their HP stock. Their major contention is that by entering such murky waters as the filtering of democratizing voices these actions will significantly damage the HP brand, reducing its value.
"By helping violating human rights in Iran," said Laurelli, "Hewlett Packard is facing more than legal responsibility. In the coming transparent world, HP is facing accountability. It must now account for its activities, accept responsibility for them, and disclose the results in a transparent manner."
Update: An HP spokesperson provided the Daily Dot with the following statement:
Compliance with US and international trade laws are of the highest priority for HP. HP's distribution contract terms prohibit the sale of HP products into Iran and require compliance with U.S. and other applicable export laws.

As a matter of company policy, HP investigates any credible allegations of breaches of these contractual obligations by our partners or resellers and we are actively examining this situation.
Photo by Robert Scoble/Flickr