We get that everyone is excited about immersive virtual reality for some reason—perhaps lingering nostalgia for the original Tron can be blamed—but is a head-mounted iPad or iPhone really the way we want to get there? Sadly, yes.
But hey, maybe you're one of the believers who already threw money at airVR, "a new kind of virtual reality headset that leverages iOS Retina hardware." It's basically the next best thing to putting your eyeballs directly onto your Apple device's screen, and so far, its designers have raised $13,000 Canadian (about $12,000 U.S.) for the idea.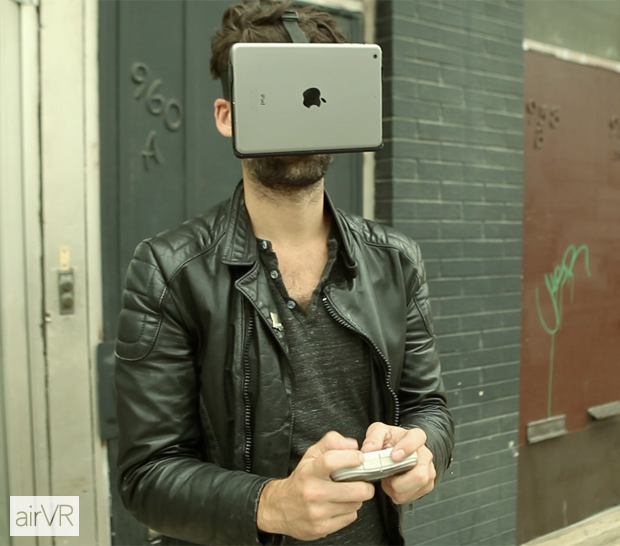 Photo via Kickstarter
 
You're probably asking why any human would want such a thing, especially with advanced VR tech like Oculus Rift in the offing, and we sought comment from the inventors to that effect. While we're waiting for an answer, we'll guess that the main selling points are the price (just $45 U.S. plus, uh, the cost of an Apple gadget), along with the ability to go wireless and "experience VR anywhere in the world"—out in traffic, for example.
Goodbye, stupid world! We'll never have to look at anything unpixelated again.
Update: Steve Reaume, one of the folks with Metatecture, the Toronto studio behind airVR, was nice enough to respond to our query and reiterate that the device is "designed to work with apps and games … with the camera , GPS, and game controllers—core feature that already work seamlessly on iOS." He added that "the developer community is very excited, and we have already began to connect with developers."  
H/T CityLab | Photo via Kickstarter