By CARIN MOONIN
It's been a stormy, deadly, creepy week. I'll be glad when it's over. At least I had a modern-day Toto to get teary at. Come on, you know you blinked back tears when (spoiler alert) that little old gray grizzled dog emerges from the Oklahoma rubble to the delight of his mom. Even the coldest, most infinitesimal Grinch heart grows every time that's played. A heart for the heartland!
This week's column is a vocabulary lesson. The word of the week is portmanteau.
A portmanteau is a blending of two words. Infomercial. Gaydar. Breathalyzer. Bennifer. Brangelina, who this week shared even more deeply felt press releases. Often, the resulting word is stronger than the two that merged to create it. Like, did you know Spam is actually a portmanteau of spiced ham? That so makes you want to eat it now, right?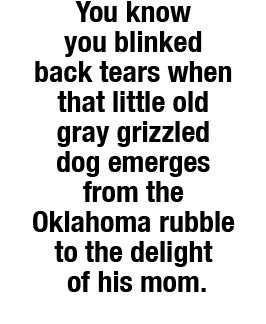 This week was a big one for portmanteau. For example, in business. Sure, we all know about Yahoo! and tumblr joining forces, the former totally intending to suck the soul out of the latter like some woeful Twilight special effects embarrassment—speaking of which, this week also saw the official dismantling of Robsten—but have you heard about BMW and Toyota? Kanye's new album's title, Yeesus? Google glass-donning Glassholes?
That reminds me: Remember when headgear was an embarrassment? A punch line? Joan Cusack in Sixteen Candles? No longer. Daft Punk came out with new music this week, and there was much giant mask rejoicing. Elaborate, heavy, expensive big Daft Punk mask imitations from nerds with way too much time on their hands. And speaking of another masked man of electronica, Deadmau5's got some new music, too. Does anyone else wonder how heavy that mouse head is? And if it's hot? Smelly? The smell of your own breath after a while is bound to make anyone pass out.
I actually like Deadmau5's and Daft Punk's music (though Daft Punk's new track with Julian Casablancas sounds disappointingly emo to me), but I'll never go to a concert for fear of thousands accidentally thronging into each other due to all the unwieldy shit on their heads. How do you people wear that crap and not die of claustrophobia?
I sound like everyone's mother: Get that mess off your face so we can see you!
But really. Can't anything stand alone anymore? Is nothing pure? Music, business, people—anything? Must everything merge? Do we need to call in the Heroes on the Half Shell?
Carin Moonin is a writer living in Portland, Ore. Sometimes she'll even tweet about things she hates at @carinwrites.
Photo by freezelight/Wikimedia Commons