Before she had a cult following and a major Kickstarter success on her hands, Michelle Palumbo, better known to the Internet as Hamlet Machine, was a yaoi fan—a reader of Japanese comics focusing on erotic, often explicit gay male relationships.
So when she set out to create a story of her own on a whim, she turned to yaoi for inspiration. The result is the hit webcomic Starfighter, a gorgeous, searing space opera oozing with sex, politics, and maybe even love.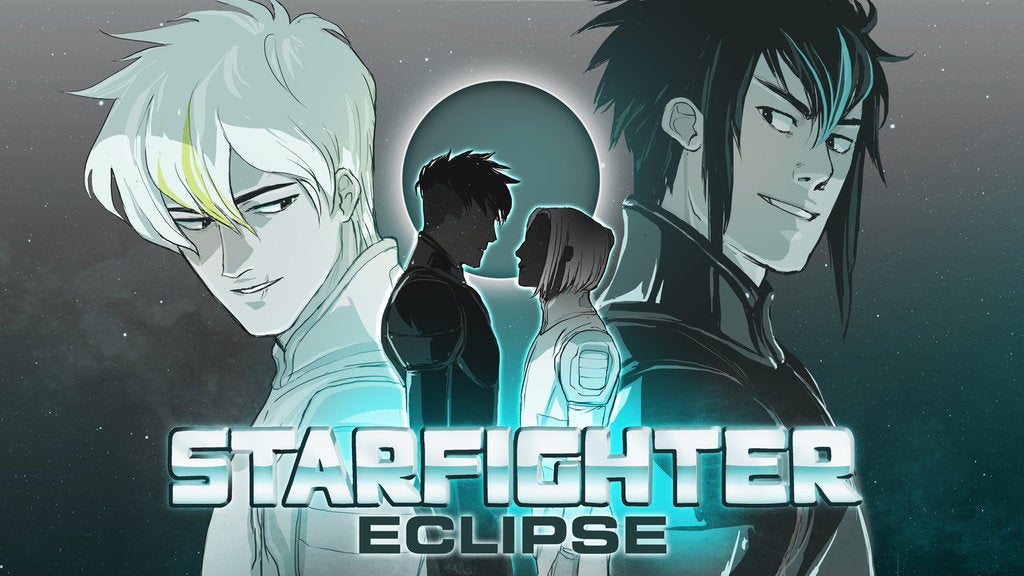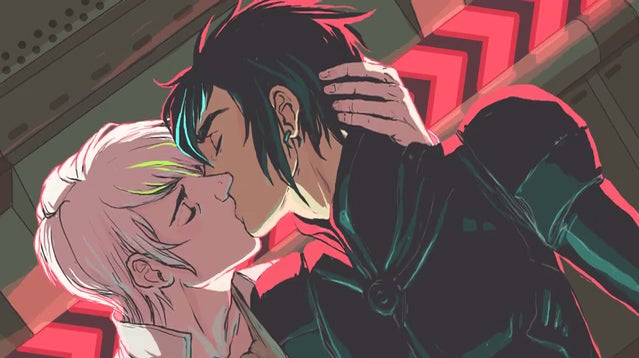 Illustrations by Hamlet Machine via Kickstarter
Meet Cain, the cocky top fighter pilot, and his new rookie navigator Abel. Their rocky partnership will involve sweaty nights and angsty mornings-after—exactly what we want most in our epic male/male romances.
Created in 2008 on deviantART, Starfighter quickly found a fan following and launched in webcomic form the following year. It's currently heating up Kickstarter, just as it's been it's been heating up kickstarter, just as it's been heating up our computer monitors ever since we took a gander at its first few sizzling pages.
When asked where she got the idea for a space epic featuring hot bishounen, she laughs. "Starfighter began really on a whim!" she tells me.
"I really enjoy sci-fi and had this idea about two pilots sitting on the backburner for a while.. it wasn't until I was prompted by a friend to draw her a couple of "hot guys" that I decided to pick up the idea and come up with some designs for them. Once that was done, I thought it would be interesting to try my hand at a comic…"
And what a comic. Starfighter is unabashedly explicit, with the threat of violence lurking around many of its dark corners. Like much of the classic yaoi it emulates, Starfighter kicks off with a scorchingly drawn but dubious-to-consensual sex scene. For people used to getting their slash zines under the table, their porn in paper bags, and their doujinshi in discreet plastic wrappings, Starfighter is as liberating as it is shocking. Within a few pages of Starfighter, the reader meets with full-throttle gay porn. 
"I don't have a modesty issue with sexual drawings," Palumbo says, adding, "I can vouch that doujinshi still comes wrapped in plastic."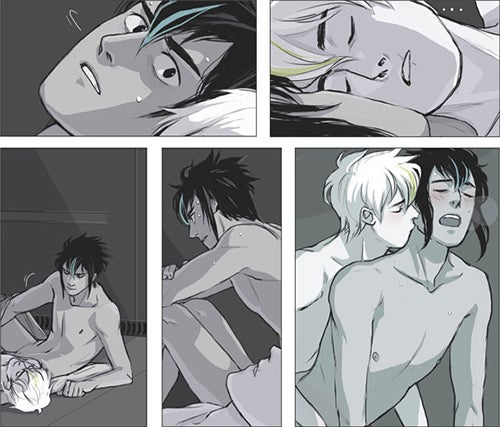 Illustration by Hamlet Machine via Starfighter

"I wasn't nervous about Starfighter being sexual since that was sort of the plan for it from the beginning… At the time I started the comic, I only sporadically posted on DA, so I didn't have much of a following/don't think there was much expectation from me. " I told her I find Starfighter's shamelessness refreshing. "That is sort of awesome to hear!"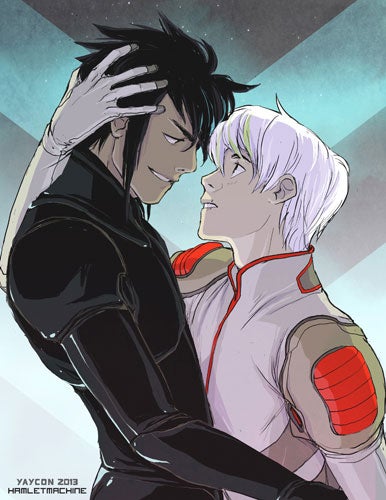 Illustration by Hamlet Machine via Starfighter/wikia
With its taboos squarely on display, Starfighter is all the hotter, combining beautiful artwork with the erotic sensibility that has caused millions of women to turn to yaoi, doujinshi and its English-language counterpart, male/male slash fic, when they want to find the really good porn. 
Palumbo is one of those women. "When I started to look for comics with sexual material, I hit a ceiling with [Japanese female-targeted manga] shoujo," she tells me. "It definitely had the romance that I enjoyed, but it was clear that the genre wasn't going to offer any explicit sex."
"After that, I found a lot of male-gaze material and hentai, these were really explicit but didn't have the emotional connection that I was looking for. Yaoi was like the jackpot in this regard: it had drama, emotional focus, and sexual pay-off, pretty much everything I was looking for. Once I discovered it, I was hooked. (Being pansexual also contributed to my enjoyment of queer relationships!)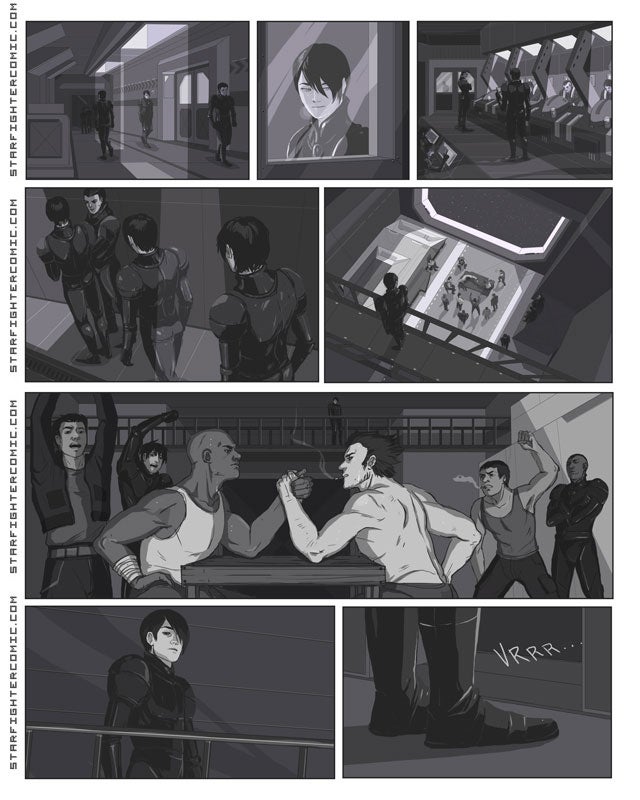 Illustration by Hamlet Machine via Starfighter
Palumbo tells me Starfighter owes a lot to two classic titles in particular, the landmark yaoi OVA Ai no Kusabi and the shoujo CLAMP manga Tokyo Babylon, which she says she found "very inspiring" despite not being yaoi.
"I have some personal preferences which were maybe departures from classic yaoi tropes that I deliberately wanted to include in the story," she says, while adding that she also tried to stay true to her own kinks. "In regard to power dynamics, I guess I am flexible in what I enjoy, haha! I like switching up characters."
Indulging herself has paid off: Starfighter has spawned a large fandom of its own, complete with fanart, fanfic, cosplay, and even (mildly NSFW) re-enactments of Cain and Abel's scorching sexual tension:
When Palumbo went to take Starfighter and her career to the next level, she stayed true to her Japanese inspirations. After all, what's more fiting as a follow-up to a Japanese yaoi-inspired webcomic than a Japanese dating sim-inspired visual novel? Visual novels allow readers to become players in the narrative, in a kind of choose-your-own-adventure storyline tinged with romance. While Japan has turned the genre into an art form, it's relatively new ground for online media. But then again, Starfighter has always been ahead of the curve.
Palumbo turned to new visual novel game-maker Date Nighto (affectionately named for the Japanese pronunciation of English words), and it turned out they were looking for her. "It's kind of funny, I sent Date Nighto a message," Palumbo said. "'How hard would it be to do a VN?' and I was lucky that Conrad [Kreyling, Date Nighto founder] had been thinking the exact same thing."
Palumbo asked her fans to help fund the visual novel, setting the goal at an ambitious $70,000. Her fans responded in droves, raising more than $50,000 over the goal to unlock even more playable characters and enhance the graphics of the game.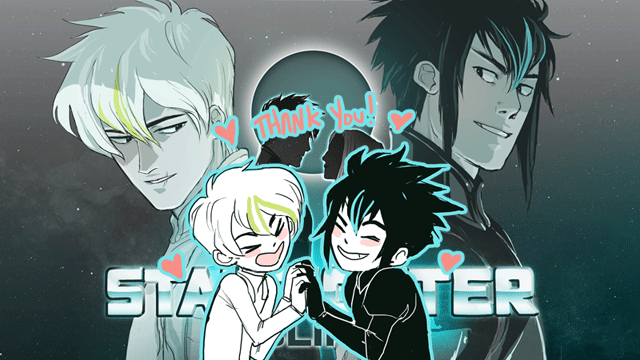 "You'll be playing as a new character," Palumbo tells me, "so you'll be able to choose who you hook up with." Then she adds, "Well, you might find yourself between them." Indeed! But as we learn from Date Nighto's playable Starfighter demo, Cain is the possessive sort. In between the tension, he and Abel have had their share of surprisingly sweet moments.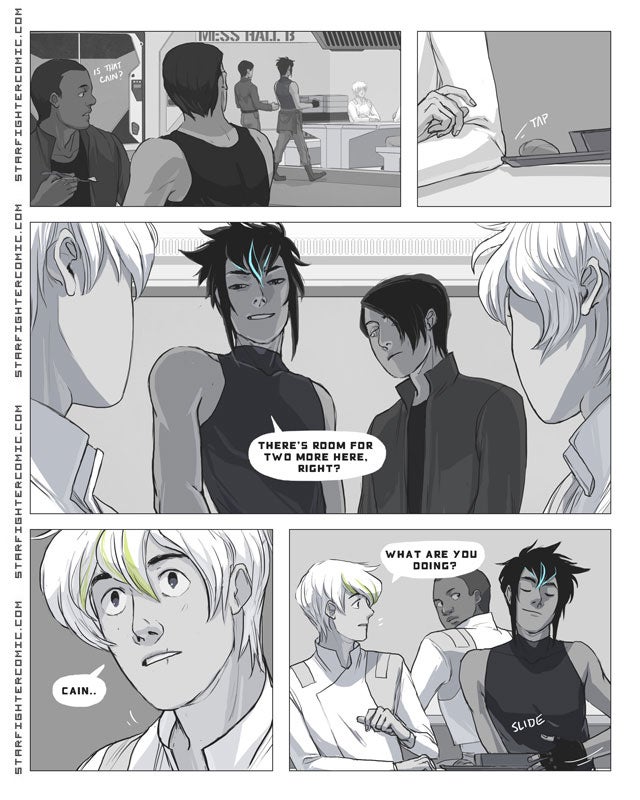 Illustration by Hamlet Machine via Starfighter
With Starfighter poised to reach a whole new audience, how does she talk about her career these days? "Depending on how web-savvy the person is, I'll either say I'm an Illustrator or that I make webcomics," she said. But she also notes that "the mainstreaming of slash has definitely made things easier for Starfighter (and generally)." Recently she's also become well known for her fanart in the Homestuck and Attack on Titan fandoms, which she says she's "really enjoyed drawing for."
And after this? "I'm going to start another comic after Starfighter! At least, that's my plan, I'll see where things take me!"
We can't wait.
The Starfighter visual novel Kickstarter ends tomorrow.
Illustration by hamletmachine/deviantART