We've all typed our medical symptoms into a Google search bar, hoping to find an easy fix to our headaches or muscle pains without having to consult a doctor. Now Google is testing a new feature that could save us a trip to the physician's office.
The feature aims to connect doctors with people through video chats based on search terms, the company confirmed to Engadget. Rumors spread Friday when a person searching for information about knee pain saw an option that offered to connect him to a doctor free of charge. He posted a screenshot of the message to Reddit.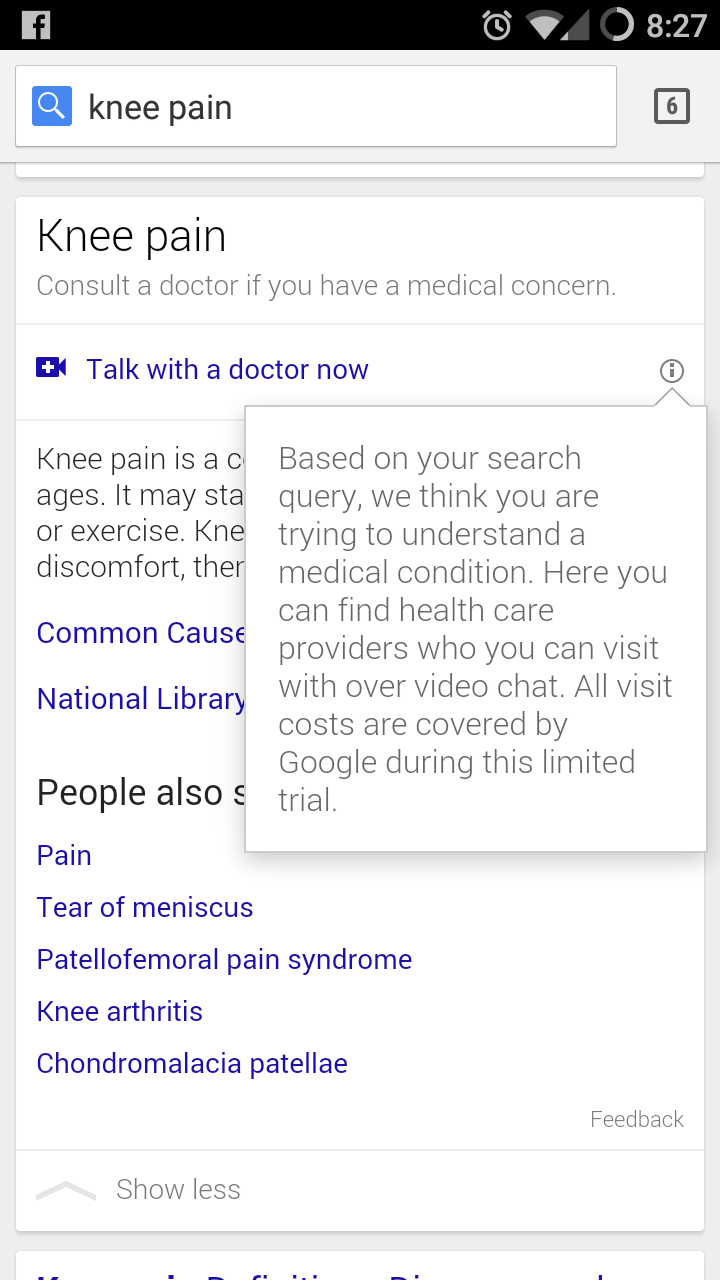 The service comes as healthcare concerns within the general population have begun to rise. Flu season is near, and worries about Ebola have increased since the disease claimed its first casualty in the United States.
Google's medical calling service is integrated with Helpouts, which launched last year and offers people the chance to take lessons via video chat, sometimes for a fee. Helpouts already has a health section, but including the option to chat on the results page would take away the hassle of searching for an expert who knows how to deal with specific symptoms.
The cost of the video session will be covered by Google during the trial phase, although if the feature were implemented, the medical advice would likely come with a small fee. Still, this service could be more convenient and cheaper than a visit to a doctor. Other telemedicine services, such as Doctor on Demand and Better, offer medical consultation, but Google's vastly larger reach would bring these services to far more people.
"When you're searching for basic health information—from conditions like insomnia or food poisoning—our goal is provide you with the most helpful information available," a Google spokesperson told Gizmodo. "We're trying this new feature to see if it's useful to people."
 
H/T Endgadget | Photo via NEC Corporation of America/Flickr (CC BY 2.0)