Don West—the defense attorney for George Zimmerman, a man who's currently facing trial for the February 2012 murder of teenager Trayvon Martin—is having a really bad week. On Monday, West opened his defense of Zimmerman by telling the jury a "knock knock" joke that fell flat. Yesterday, he was accused of badgering witness Rachel Jeantel.
But you wouldn't know it from Instagram.
Earlier this afternoon, Molly West, his daughter, posted a selfie he took with her and her sister, Rachel, inside of their car, eating ice cream cones from Chick-fil-A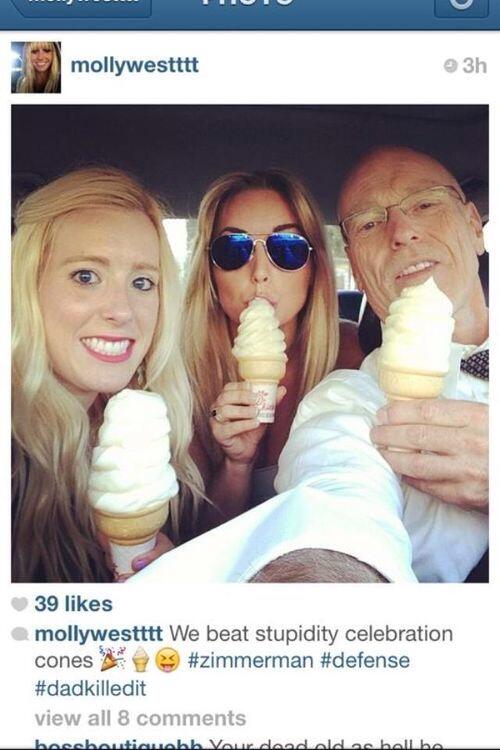 "We beat stupidity celebration cones #zimmerman #defense #dadkilledit," the photo's caption read.
The image—along with West's Instagram and Twitter accounts—have been deleted, but not before it spread on the social media platforms and on BuzzFeed.
True? Pic of #zimmermantrial atty Don West on daughter's Instagram celebrating 'we beat stupidity' w Chick-fil-A pic.twitter.com/DANH5F5EiO

— Evan Benn (@EvanBenn) June 28, 2013
According to ABC Florida affiliate WPLG, who's running a Twitter feed focusing solely on the trial, the picture was confirmed by a spokesman for the defense attorney.
Rachel and Molly West left the courtroom. Their dad is not aware that the pic was on Instagram, spokesman said. https://t.co/vZXOTOzqYJ

— Local 10 Zimmerman (@WPLGZimmerman) June 28, 2013
Unsurprisingly, the incident has stirred controversy. According to social analytics tool Topsy, the term "Molly West" has been mentioned 1,702 times on Twitter in the last hour.
Photo via Evan Benn/Twitter