Warning: This post contains spoilers from the Game of Thrones TV show and novels.
George R. R. Martin, the 65-year old author of the world-renowned A Song of Ice and Fire (ASOIAF) fantasy series, is not a man known for his haste. Originally intended as a trilogy, ASOIAF has since sprawled out over five 1,000-plus-page novels, with at least another two on the way.
In the process, he has become acclaimed the world over; he won the World Fantasy Award for Life Achievement in 2012, and ASOAIF has now been adapted into the record-breaking, award-winning HBO TV series Game of Thrones.
And herein lies the problem.
Martin (or GRRM, as his fans call him) has previously expressed confidence that he will be able to finish writing the series before the TV show catches up with his progress writing the books, something he has recently reiterated in an interview with Vanity Fair:
The season that's about to debut covers the second half of the third book. The third book [A Storm of Swords] was so long that it had to be split into two. But there are two more books beyond that, A Feast for Crows and A Dance with Dragons. A Dance with Dragons is itself a book that's as big as A Storm of Swords. So there's potentially three more seasons there, between Feast and Dance, if they split into two the way they did [with Storms]. Now, Feast and Dance take place simultaneously. So you can't do Feast and then Dance the way I did. You can combine them and do it chronologically… and then, long before they catch up with me, I'll have published The Winds of Winter, which'll give me another couple years. It might be tight on the last book, A Dream of Spring, as they juggernaut forward.
However, the TV showrunners, D.B. Weiss and David Beinoff, have publicly stated that "rather than milk more out of it", they intend to cap the show's length at just seven or eight series—meaning, at the latest, the show would finish in 2018. This gives GRRM just four years to write the next two books, which looks highly unlikely given his track record.
The planned fourth book, A Feast for Crows, had to be split into two separate books (A Feast for Crows and A Dance With Dragons) because of the extent the storyline overran its intended length, and it still took six years after the former was released for the latter to reach a publishable state.
A Dance With Dragons eventually came out in 2011, and there's currently no sign that The Winds of Winter, the planned sixth book, is immediately forthcoming.
So what do these delays mean for the TV adaptation? Very little, actually. GRRM has previously sat down with Weiss and Beinoff and spelled out, in detail, how he intends to finish ASOIAF—an ending they recently described as "absolutely satisfying". HBO has no known contractual obligations not to overtake the book series, and now armed with detailed knowledge about each individual character's storyline, they're threatening to do just that.
GRRM, on his part, has come up with suggestions as to how this overtake could be avoided. These include a prequel series, focusing on "Robert's Rebellion" which took place before the events of the books, or an adaptation of one of his other works set in the ASOIAF universe, such as "The Tales of Dunk and Egg."
A year-long hiatus from the action is a series famed for its twist is unlikely to go down well with its TV fans however, and GRRM himself recognizes the problems that would entail: "We're going forward, and the kids are getting older. Maisie [who plays Arya Stark] was the same age as Arya when it started, but now Maisie is a young woman and Arya is still 11. Time is passing very slowly in the books and very fast in real life."
Due to certain changes in the show, the overtake has potentially already begun. In the fifth book it is implied—but not yet confirmed—that the torture of one character, Theon Greyjoy, culminates with the removal of his genitals. However in the third season of the show, which roughly corresponds to the first half of the third book, this story arc is rapidly accelerated and Theon's neutering is confirmed. This suggests that even if GRRM could finish the last two books before 2018, the way the TV show has been streamlined and altered means that spoilers would start to creep in long before then.
If or when the overtake does occur, it's unlikely to cause much consternation for fans of the TV adaptation. But for book purists, it's causing an uproar. In r/asoiaf, the subreddit community dedicated to the series "with a particular emphasis on GRRM's written works," the uproar has been so great that moderators have had to post a topic demanding an end to the "hostility."
Initial concerns about the risk of having the books' endings spoiled by the TV show has mutated into direct abuse targeted at the author. "Open attacks on George R.R. Martin that mock him, courage bullying of him, or threaten him with harm will not be tolerated," they warn, lest "what may or may not happen in a few years poison our community."
Strong words, but they haven't halted the flow of entitled rage from fans, with ASOIAF fanatics pouring forth to damn GRRM's judgement for daring to let this happen.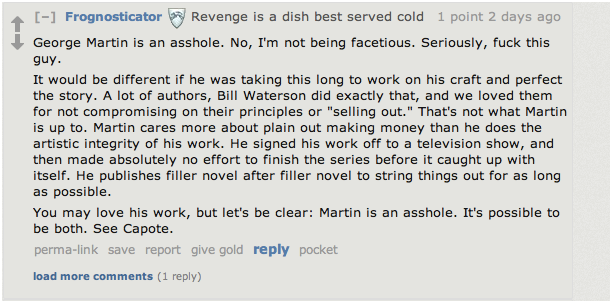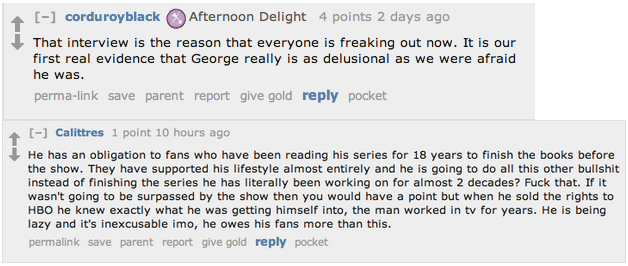 This isn't the first time GRRM's timing has come under fire from his fanbase for his timing. In 2011, the New Yorker reported on a "shadow fandom" dedicated to "taunting Martin, his associates and readers." "George R. R. Martin you suck… Pull your fucking typewriter out of your ass and start typing," one disgruntled troll posted on his blog.
Fantasy author Neil Gaiman has also weighed in on the issue, making his position perfectly clear in a blog post in 2009: "George R.R. Martin is not your bitch." Buying a book is not a contract, Gaiman argues. That someone buys a novel does not place the author in their debt, and obligate them to "spend every waking hour until the series was done, writing the rest of the books." To assume otherwise is an unjustified sense of entitlement.
It's an argument that seems sadly lost on some of the more rabid sections of the ASOIAF community.


The greatest fear of all is that GRRM will simply die before the series is finished. This happened with the fantasy epic Wheel Of Time series, whose author Robert Jordan passed away in 2007 before its completion.

This possibility inspires a particularly potent dread in the community because GRRM has left explicit instructions that no-one may continue the series in the event of his death. Fantasy novelist and fan Brandon Sanderson was drafted in to finish Wheel of Time, and much of Tolkien's work was edited and published posthumously by his son, but to do so with ASOIAF goes directly against GRRM's wishes, and so would likely never happen.
Which brings us back to the matter of the show overtaking the books: If the unthinkable were to happen and George R.R. Martin passed away before completion, hardcore fans—like it or not—would be forced to turn to the TV show for their precious ending.
Photo via Idhren/Flickr (CC BY-SA 2.0)