With 3-D printers already able to make things out of chocolate, Star Trek's replicators no longer seem like the work of science fiction. But while we're waiting for reality to finish catching up with the Starship Enterprise, we can always try some of the alien recipes on this Star Trek fan Tumblr.
The Food Replicator (groan-inducing tag line: "Set phasers on Yum") brings us everything from Klingon stewed bok-rat liver to simpler recipes like Starfleet-themed Jello shots. Whoever created this Tumblr clearly has a solid grasp of cookery, as well as an encyclopedic knowledge of the various alien foodstuffs eaten by characters in Star Trek.
While some of the recipes are pretty intimidating (we doubt anyone will be trying stuffed Tellarite trotter any time soon) others are actually quite appealing. We haven't tried any yet, but here are a few recipes that make us want to follow the Food Replicator's advice and "boldly go to dinner." 
Plomeek Soup
Along with the infamously intoxicating blue Romulan ale, Plomeek soup is one of the best-known Star Trek snacks. Eaten by Spock on several occasions, Plomeek soup is a Vulcan dish, meaning that it's suitable for vegetarians. The Food Replicator's recipe uses beetroot to give the soup its eye-catching red color, and it seems relatively easy to make.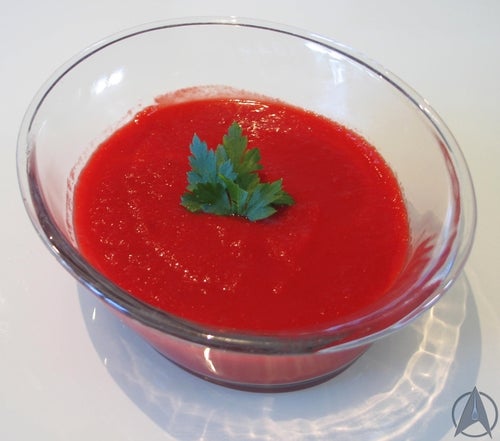 Gingerbread Communicator
Now rendered obsolete by real world cell phones, Star Trek's old flip-top communicators are an iconic geek accessory. This is probably a good starter recipe because it doesn't require any "alien" ingredients, plus you'll look super cool digging into a Starfleet communicator made from gingerbread.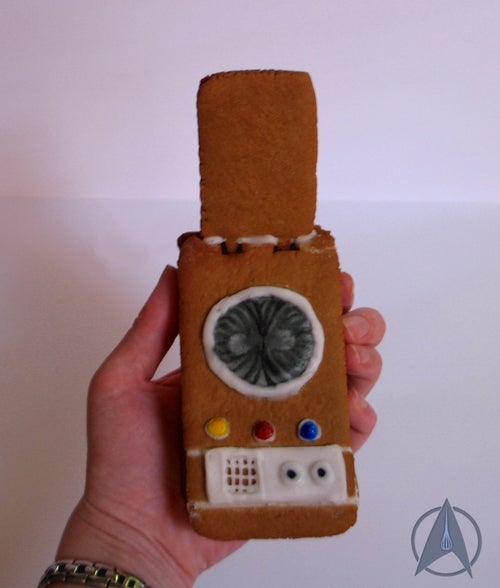 Klingon Octopus
Not for the faint-hearted, the Klingon recipes are undoubtedly the most alien-looking things on the Food Replicator. We're sparing you the horrors of the Heart of Targ (yes, it involves actual hearts), in favor of this seafood dish from an episode of Star Trek: The Next Generation. To be truly accurate, you should probably hunt down and slaughter your own octopus, but if you're living in a land-locked area, one from a shop will do.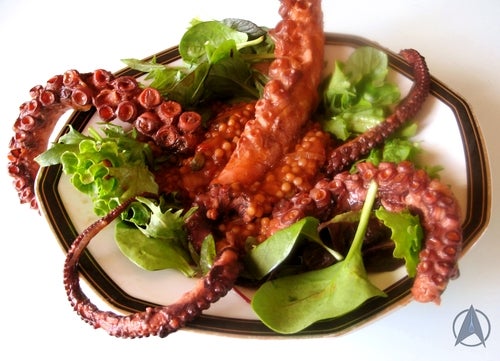 If all these tentacles have left you in need of a stiff drink, we recommend the Zephram Cochrane, a cocktail honoring the inventor of the warp drive. It involves a lot of liquor and no cooking whatsoever. 
All photos via The Food Replicator/Tumblr