Olympics enthusiasts may have been rooting for their favorites Mahiedine Mekhissi-Benabbad and Ezekiel Kemboi, the respective silver-and-gold medalists in the 3000-meter Steeplechase; but on an inter-galactic level, yesterday, Earth/Mars was everyone's favorite pairing.
We present our favorite works of fanart from yesterday, commemorating the rover Curiosity's safe landing on the red planet:
1) Earth/Mars—Their Love Is So Invasive.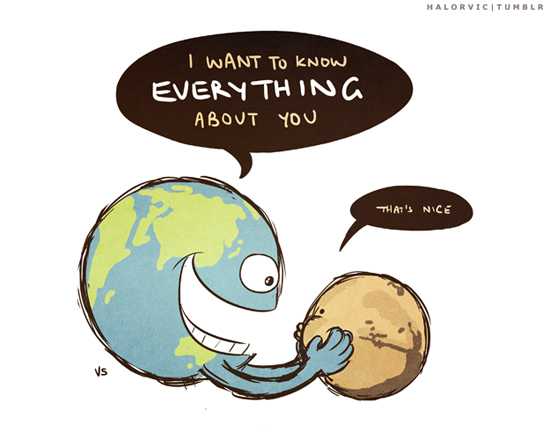 Artist: halorvic.tumblr.com

2) Lonely Rovers
Yesterday's G.R.E.Y.S. strip, "A Curious Opportunity," saw the artists wondering about the relationships among the three rovers and their relationships to other failed Mars missions:
With the creation of such a large rover, we started to think of them as a little family — even NASA likes them to pose for family photos.
….
So we decided to draw a family reunion (even though such a meeting is unlikely to ever actually happen on Mars). Not everybody could make it, of course — but how do you explain to a young rover that it's little pet Beagle isn't around anymore?
Artist: The G.R.E.Y.S.
3) Curiosity Closeup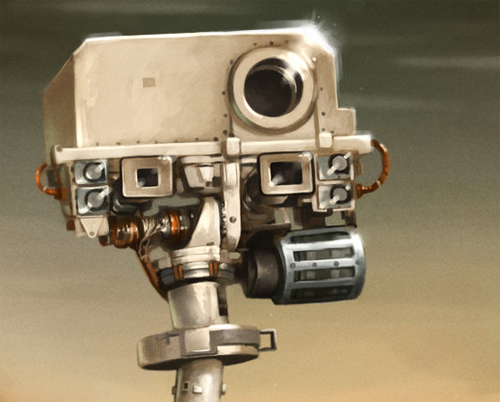 Artist: kimdingwall.deviantart.com
4) Curious Night
Artist Sam Spratt took a moment to pay tribute to space travel, Van Gogh, and the eternal sense of wonder that space instills in all of us with this stunning portrait:
Artist: Sam Spratt
5) Google
Yesterday, prior to the rover landing, the Olympics Javelin-throw logo looked like this: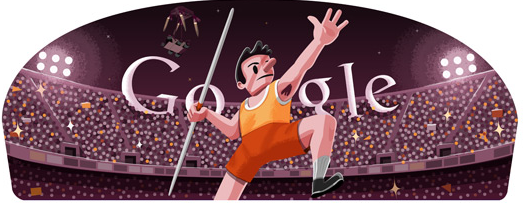 See the rover flying high in the background?
After the safe landing, the logo featured a blimp in its place.
Image by Murphypop/Tumblr