In a photograph that eventually brought child welfare workers and police to his parents' home in Carneys Point, New Jersey, Josh Moore, 11, is beaming and happy. The kid, bespectacled and decked out in camouflage fatigues, is holding his 11th birthday present in the photograph: a Smith & Wesson M&P 15 .22 caliber rifle.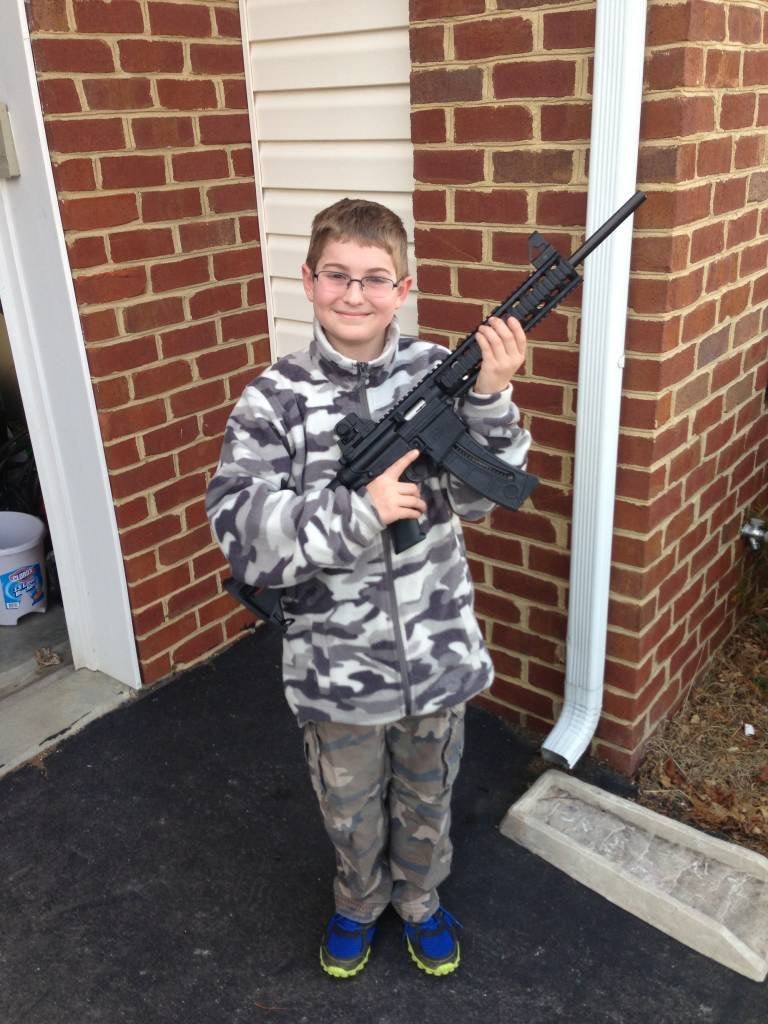 It wasn't illegal for Josh to get the gun as a present, wasn't illegal for him to hold it smiling, and wasn't illegal for his father to take a picture. But police showed up anyway. Someone had seen the photograph on Facebook and called the state's anonymous child abuse hotline.
Shawn Moore, Josh's father, was at a friend's house when his wife called to say the police were at the door. As Shawn rushed home, he called up his attorney, Evan Nappen, who specializes in Second Amendment cases, and put him on speakerphone. Shawn described what happened next on a Delaware gun forum:
I walk in my house and hand the phone to the first cop I see. Then direct all of em outside… They wanted to look around and check all my guns out, make sure they were all registered. Obviously that didn't go well because I refused. I had Nappen on speaker phone the entire time so they had to deal with both of us. They kept trying to pressure me to open my safe. They had no warrant, no charges, nothing. I didn't budge. I was told I was being "unreasonable" and that I was acting suspicious because I wouldn't open my safe…. Nappen asked me for the [Division of Youth and Family Services] worker's name. she wouldnt give it. i asked for credentials and she wouldnt show em. i tried to take a pic of her and she turned around real fast and walked away. After a while of them threatening to take my kids, get warrants and intimidation they left. Empty handed and seeing nothing.
Authorities declined to comment on the case when an Associated Press reporter contacted them. But a state welfare spokesman explained the decision to follow up on an anonymous tip is always up to individual caseworkers, and they will ask police to accompany them if they feel their safety could be threatened. It's understandable that a government employee might not feel safe around an 11-year-old wielding what appears to be a military grade assault rifle (it's not, it's a .22 caliber replica). Still, you don't have to be a fan of guns or even the Second Amendment to sympathize with Shawn Moore. Police officers were ready to raid his home over a perfectly legal Facebook photo.
"I don't like what happened," Moore told the AP. "You're not even safe in your own house. If they can just show up at any time and make you open safes and go through your house, that's not freedom; it's like tyranny."
Photos via Shawn Moore/Delaware Open Carry