Let's face it: The Facebook Timeline doesn't make a whole lot of sense. Having half your posts on the left and half on the right is messy, and it's easy to miss things.
So you might be heartened to know that Facebook is testing out a new version of Timeline that restricts updates to a single column. Or you might instinctively hate it before reading any more about it.
In the redesign, all your updates appear on the left, with more boxes like your list of friends, map, and recent activity shunted to the right, according to The Next Web. The boxes on the left take up more space, giving greater prominence to your updates and highlighted posts won't stretch across the full screen, while the relationship status is gone too.
Additionally, it seems you'll have the option to rearrange the boxes in the right-hand column, and change the labels that appear on the menu at the top of your timeline.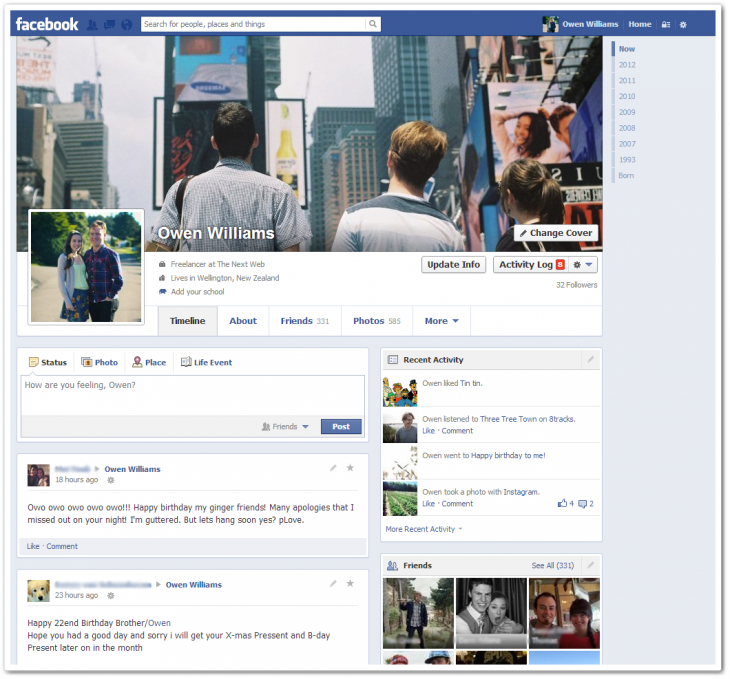 Screenshot via The Next Web
While any change to Facebook's design will inevitably bring complaints and threats to quit the community, it looks better than the current version. It's the visual equivalent of dropping the "The": it's cleaner.
Perhaps more importantly as far as Facebook's concened (the company told TNW it had "no other details to share right now"), having your updates in two columns takes up valuable real estate which Facebook could otherwise be using to display more ads and make its shareholders happier.
News of the possible new look first filtered out in October when a few people in New Zealand got a sneak peek, and it seems more Kiwis are getting access before the redesign perhaps shows up for those elsewhere.
Facebook hasn't officially announced any timeline changes, and it may yet change its mind and keep things as is, so you should curtail the urge to temporarily panic about "Oh God FML Facebook is changing AGAIN!" and tweet your anger before realizing that this is your life now and you might as well get used to it.
At least for now.
Photo by Robert Scoble/Flickr