Your lurking days are over.
An update to Facebook Groups now lets everyone in the group know who has and hasn't been reading group threads, TechCrunch reported.
Similar to the recent update that lets you know when your friend has seen your message in Facebook chat, whenever someone has read your message a note will appear listing everyone who saw your post. The same holds true whenever you look at someone else's post. And if everyone in the group has read it? Instead of listing all of the group members' names it will instead say, "Seen by everyone."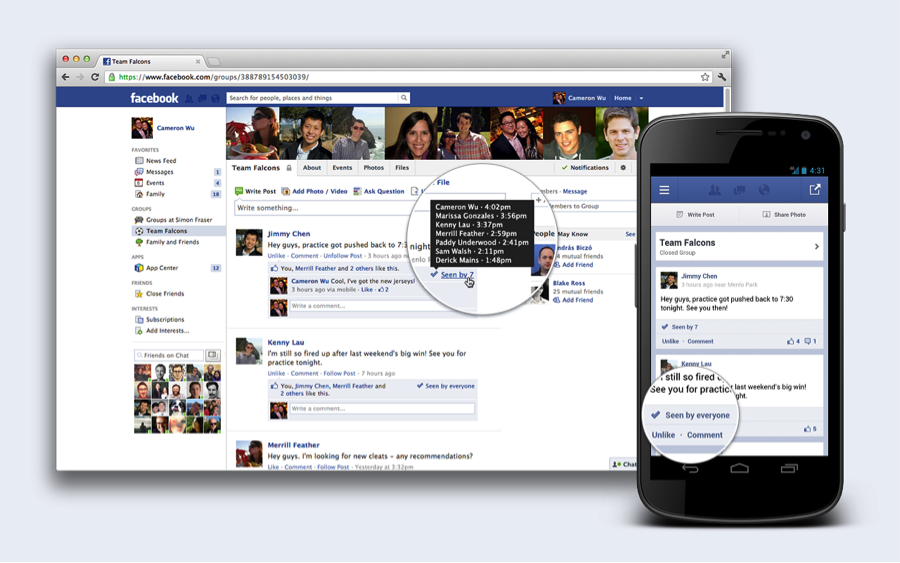 On the positive side, it just about eliminates the "Did you see this?" post that tends to follow an important group announcement and can hopefully increase communication within your group.
For example, if you play a recreational sport and communicate through Facebook, it's now easier than ever to know if everyone's read your post about game changes and practice updates. Likewise, if you use it for work, the change makes it easier to follow up with contacts about staff meetings or get-togethers.
"Very useful for my classes' groups," Edgar Javison wrote. "I would know which student has seen m[y] posts and they can't complain that they were not informed."
On the other hand, as with the Facebook chat update, it can be just a bit creepy.
Right now your fellow group members will know if you haven't seen a post, so you might get a nudge every now and then. The move also opens the door for the user oversight to be applied to other parts of Facebook.
You can already see who read that Justin Bieber article through social reader apps or who "Liked" a link, so why not your status updates? The thought of that is making many people uneasy.
"Dude this is super creepy," Andy Tsen wrote. "Imagine if this starts showing up on your wall, it would take stalker to a whole new level."
"this give[s] me an additional reason to quit," Linda Gueruela wrote.
A Facebook spokesperson said that it would not "discuss what we might (or might not) do in the future" when asked about that possibility by TechCrunch.
For now only your fellow group members can "see" what you post.
Photo via gerlos