Tila Tequila allegedly received a 30-day Facebook ban this weekend after repeatedly posting pictures of herself in Nazi regalia and writing extended pro-Hitler rants on the site. Some—but not all—of these posts have been removed, she says, as part of Facebook's sustained and widespread campaign to silence her. "I find it quite absurd that jewbook bans me for yet another 30 days then warns me that they will delete my page totally if I do not 'FOLLOW THEIR RULES AND BE A GOOD GOYIM!'" she wrote on her personal blog, Anonymous Truth Blog dot com.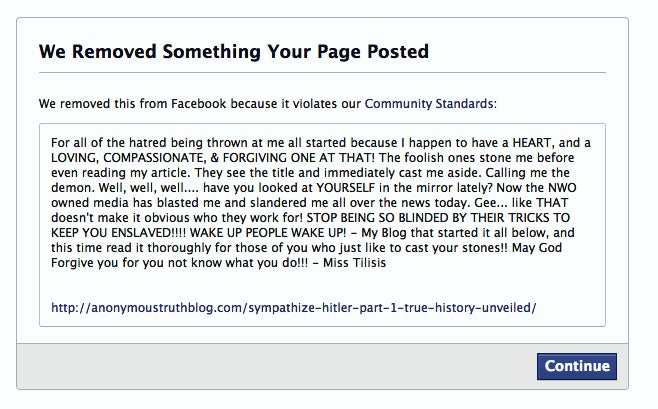 "Do you think I would EVER delete anything I post in fear of someone hating me for my freedom of speech, opinions, and truths? NEVER! I will NEVER BOW DOWN TO THE OPPOSITION NWO A–HOLES!" Tequila wrote. She went on to encourage her readers to resist the New World Order, writing, "STAND UP AND FIGHT!!!!!!! FEAR THEM NOT LIKE THEY FEAR ME, THE F–KING SAMURAI!"
Tequila has followed up this defense of her actions with part one of "1001 Quotes by Jews & About Jews."

An Internet celebrity from the heady days of MySpace, Tila Tequila found herself in the public eye again last week following the death of Paul Walker, who she claims was murdered.
In response to all the drama, Facebook commented by a non-comment. "We won't comment on a specific person's access to Facebook. On background, our Statement of Rights and Responsibilities (which people agree to when they sign up for Facebook), states that 'If you violate the letter or spirit of this Statement… we can stop providing all or part of Facebook to you.'" 
H/T Jewish Daily Forward | Image via Philip Nelson/Flickr