Posting gratuitous pictures of your newborn on Facebook will usually cost you a few friends, but thanks to an alert on the site and the actions of four friends, a family was reunited with their precious bundle of joy after she was taken from their arms.
Day old Victoria was with her adoring new mother when a 21 year old woman dressed as a nurse entered the room under "false pretense" and abducted the child. She calmly exited the room of the Quebec hospital with the newborn wrapped in a blue blanket. At 7pm, police issued an amber alert for the missing child looking for a red Toyota Yaris with a sticker that read "Bébé à bord" ("Baby on Board"). The information quickly spread to social media, including the Facebook page of the Trois-Rivières police where a photo of sweet Victoria was posted.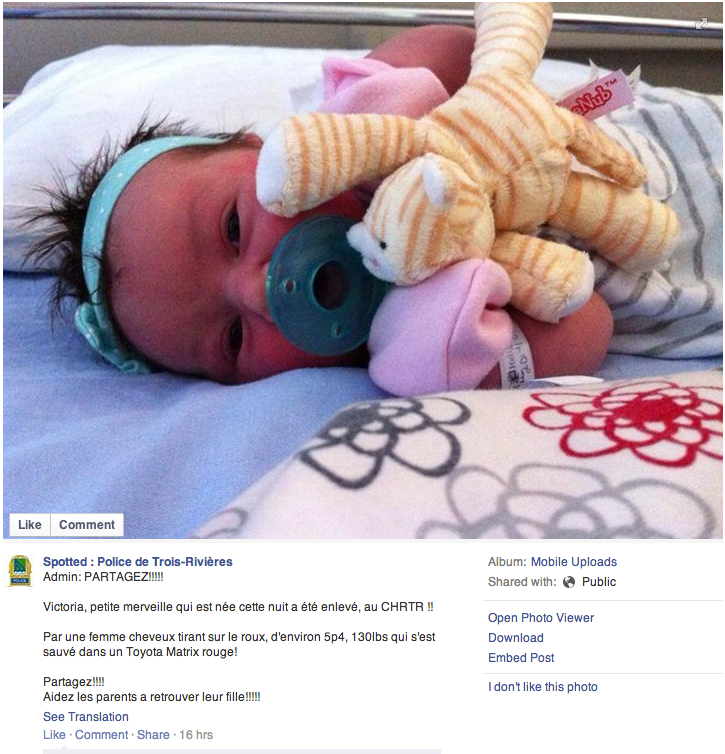 That's when four young friends took notice and sprang into action, looking for the vehicle that fit the description. One of them, 20 year old Mélizanne Bergeron, spoke to CBC News: 
We saw [the alert] on Facebook, and decided to go looking for red cars, and we saw the woman. We recognized her.
Police arrested the 21 year old suspect at her home and a mere three hours later baby Victoria was returned safely to her beyond thankful parents. Mother, Mélissa McMahon, posted a ceaseless note of thanks and gratitude on her Facebook after the nightmare ended:
Each click, each share has made the difference. Four wonderful people, we had the chance to meet, have identified the woman through Facebook. This is the only reason why Victoria is in my arms right now… The little Victoria is aptly named for this victory.
The foursome who helped reunite a distraught family with their daugther got the chance to visit the newborn at the hospital shortly after the ordeal according to these tweets from Radio Canada journalist Mathieu Papillon. 
Voici les 4 jeunes qui ont permis de retrouver nouveau-né enlevé au CHRTR en identifiant la voiture recherchée #rcma pic.twitter.com/jDLIPOJN65

— Mathieu Papillon (@MathieuPapillon) May 27, 2014
Les jeunes qui ont alerté les policiers se rendent visiter les parents du nouveau-né retrouvé #rcma pic.twitter.com/pAIQwxh68h

— Mathieu Papillon (@MathieuPapillon) May 27, 2014
As for the suspect who was arrested at her home, police say she is undergoing psychiatric evaluation and may appear in court later on Tuesday. It is not yet known if there is any previous connection between the family and the suspect. The hospital will be conducting it's own internal review of security procedures as well as cooperating with police and their investigation.