Ciao! Every week, our internet culture staff will discuss the world of streaming entertainment in this newsletter. In this week's edition:
A Eurovision fan encounters Eurovision
Zack Snyder's Army of the Dead is a ridiculous thrill ride
Olivia Rodrigo's SOUR was tailor-made for TikTok trends
Appointment TV: Friends: The Reunion
---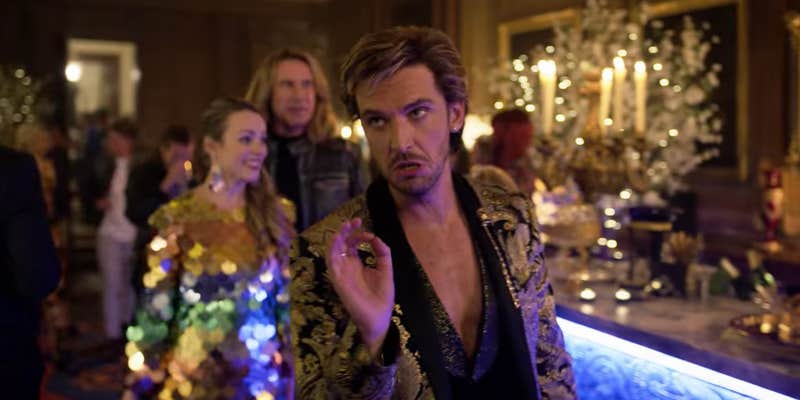 BREAK THE INTERNET
An American foray into the Eurovision Song Contest
Every year, musicians from dozens of countries across Europe get together to compete in the biggest song contest in the world, a weeklong event that captivates hundreds of millions of viewers and always overtakes Twitter. It's loud and bombastic, a spectacle where pyrotechnics, flashing lights, and gimmicks are just as likely as a heartfelt ballad, and the audience vote is just as important as the jury's (and you can't vote for your own country). Now in its 65th year, Eurovision is a competition rife with rivalries, familiar faces, and plenty of scandals and controversy, although it's taken much longer for it to catch on in the U.S. (Many Americans will likely have heard the most famous Eurovision winner—ABBA's "Waterloo"—and the performer of another in Céline Dion.)
Part of that is because it often takes a lot of maneuvering (and a VPN) to watch it. Luckily for us, Peacock nabbed the streaming rights to Eurovision in the U.S. and streamed the competition live, letting us get in on the action. So this year, I watched my first Eurovision Song Contest as part of the show's newest demographic: An American viewer who watched Netflix's Eurovision Song Contest and fell in love with the concept of the real thing. And it was quite the way, considering that the 2020 contest was canceled due to the COVID-19 pandemic.
I came in with no baggage of the contest itself, no knowledge of who any of the performers were—apart from Flo Rida, who performed on behalf of San Marino—and only a slight idea of what the rules were based on the Netflix movie. It turns out you don't need any of that to get invested. I quickly picked out my favorites during the two semi-finals, and by the time the grand finals took place on Saturday, I had some idea of who I wanted to root for; even my mom, who only watched the grand final and had even less context for Eurovision than I did, got invested and started yelling at the TV when many of the countries' juries awarded points to acts she really despised. (I also appreciated the utter lack of commercials.)
In the end, Italy came out on top with "Zitti E Buoni," although it wasn't without false claims that the lead singer of Måneskin, the band that performed the winning song, did drugs on live TV. But there was still plenty of Eurovision to go around: Hannes Óli Ágústsson, who played Olaf Yohansson (a.k.a. the "Jaja Ding Dong" guy) in the movie, awarded Iceland's 12 jury points to Switzerland (but not before trying to give them to "Jaja Ding Dong"). And after Eurovision ended, I introduced my mom to Eurovision. With the actual competition so fresh in our minds, many of the jokes landed much harder. But the harshest quip came from Russia's Alexander Lemtov (Dan Stevens), who "predicted" the U.K.'s fate of getting nul points (zero points from the jury and the audience) in this year's Eurovision. In Eurovision, Lemtov points out the U.K.'s singer to Sigrit (Rachel McAdams) and Lars (Will Ferrell) at a party, noting that the singer "come No. 1, England's Got Talent, four years ago, so she quite good. But everybody hates U.K., so zero points."
—Michelle Jaworski, Staff Writer
---
SPONSORED
Put your mask supply on autopilot with a subscription
We live in a world where you can subscribe to anything from cat food to underwear (which is pretty dang great, honestly). Now that masks have become a part of our everyday lives, why not put them on subscription too? Armbrust's Subscribe and Save program not only keeps your mask supply coming, but also offers 30% off the total cost. That's one less thing you'll have to worry about. Not to mention, keeping a box of them in the car when you forget your mask can come in the clutch, big time.
---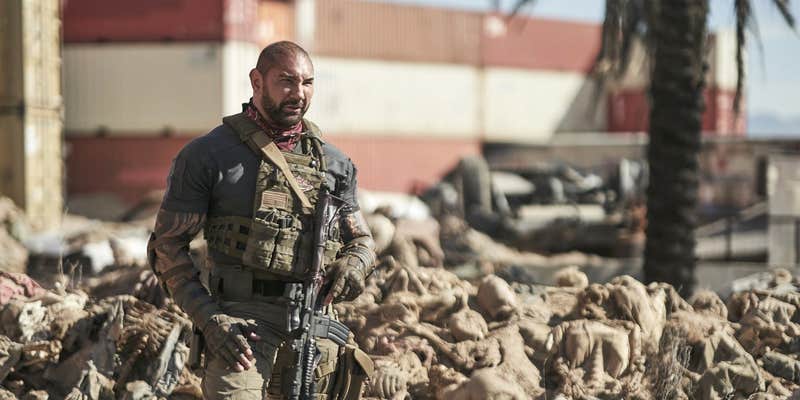 NOW STREAMING
Zack Snyder's Army of the Dead is a ridiculous thrill ride
Like all good heist movies, Army of the Dead wastes no time in introducing a quirky team of specialized characters. Dave Bautista—an underrated dramatic actor as well as a hulking action star—plays to type as a classic Sad Dad, hoping to win back his estranged daughter (Ella Purnell). Then we have an extensive international cast including Maria Cruz playing a mechanic, Omari Hardwick as a circular saw-toting philosopher, Matthias Schweighöfer as an eccentric safecracker, Raúl Castillo as a zombie-killing YouTube star, and Nora Arnezeder as their guide through the perilous ruins of Las Vegas. Tig Notaro was CGI'd in at the last moment, replacing Chris D'Elia after a sexual misconduct scandal. If only more Hollywood blockbusters would replace shitty men with wisecracking lesbians!
Co-written by Snyder, Shay Hatten, and Joby Harold, this film steers clear of Snyder's more divisive habits: sexism, maudlin slow-mo, grim masculinity. (I was amused to note, however, that Snyder's zombies are just as superhumanly muscular as his living heroes.) Instead, Army of the Dead ramps up Snyder's sense of humor, offering a satisfying range of punchy, charismatic characters. By the law of zombie movies, we know that many of them won't live to see the end. But Snyder does a good job of making us root for their survival—aside from the intentionally hateable assholes like Theo Rossi's abusive refugee camp guard. (Love him! What a slimeball!)
—Gavia Baker-Whitelaw, Staff Writer
---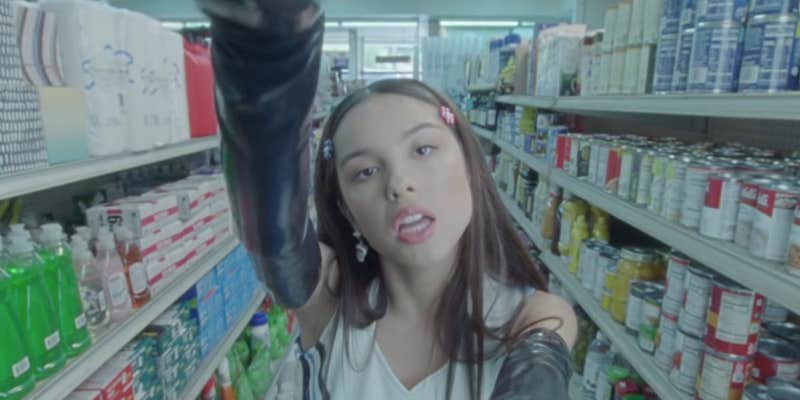 CULTURAL OBSESSIONS
Olivia Rodrigo's SOUR was tailor-made for TikTok trends
SOUR is, in essence, a breakup album, a take on pop-punk through a Swiftie lens. As Lindsay Zoladz writes in her review: "Rodrigo's songs have lived-in details to spare, as though she had all this time been assembling a detailed dossier on the emotional minutiae of the teenage experience."
Rodrigo is known for her role on Disney+'s High School Musical: The Musical: The Series. But a scandalous theory about co-star Joshua Bassett, originating on TikTok back in January, opened up the first single "drivers license" to a bigger audience. Then the song became a certified hit and another example of how TikTok can elevate musicians—and create them.
TikTok, of course, made several trends out of the album. One inspired mashup combines the cathartic "good 4 u" and Paramore's "Misery Business," showing how closely the songs sync up.
—Audra Schroeder, Senior Writer
---
NOSTALGIA
Appointment TV: Friends: The Reunion
It's been 17 years since Friends went off the air, but between its constant rotation in syndication and a massive boost from streamers like Netflix, people's adoration of—or annoyance with—Friends never ended; many of its fans started watching well after it ended. Now, after years of being bombarded with questions about reunions and reboots, the main Friends cast is finally reuniting for a star-studded reunion special. If it sounds like déjà vu, it should: The special was originally supposed to debut last year, but filming was delayed because of the COVID-19 pandemic.
Friends: The Reunion will debut Thursday, May 27 on HBO Max.—M.J.
---
Now Playing: "Voilà" by Barbara Parvi
---
Questions? Feedback? Contact us at [email protected].