When Leo Bonten had to have his leg amputated due to a bacterial infection resulting from a broken bone, he did what any of us would have—asked the hospital to let him keep it so he could turn it into a floor lamp. After some tricky negotiations, they consented. 
Tadaa! De #beenlamp is klaar RT "@ADnl: Leo Bonten heeft zijn geamputeerde rechterbeen terug https://t.co/W6mI2QLubq pic.twitter.com/7z1NgPoXoa"

— Hans Tenk (@HansTenk) August 30, 2014
Seeking to ameliorate his financial distress, Bonten then put the curiosity—lovingly designed by forensic pathologist William Schaper Kotter—up for sale on eBay. The asking price? A cool €100,000 (about $128,000). "I would rather keep him, but I need the money," Bonten told the Dutch media.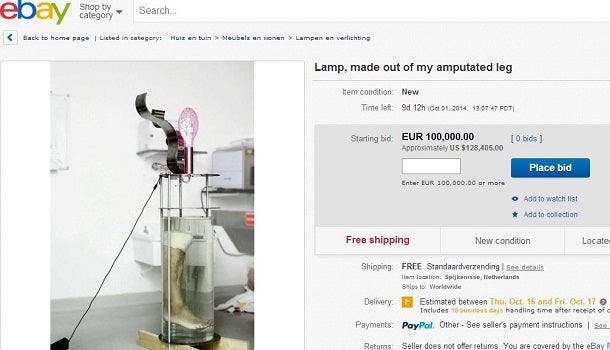 via NOS
Trouble is, eBay doesn't want you selling human remains or body parts. Here's the official policy:
We don't allow humans, the human body, or any human body parts or products to be listed on eBay, with two exceptions. Sellers can list items containing human scalp hair, and skulls and skeletons intended for medical use.
The post was accordingly deleted, though we're sure Bonten will have more success in the untamed wilds of Craigslist.
H/T NOS | Photo by Bob & Mary/Flickr (CC BY SA 2.0)