Remember that guy who turned his résumé into an Amazon.com product page and earned all sorts of attention and adoration and probably came out of the whole thing with a job—or will quite soon? It looks like he's fashioned some sort of a trend.
Hot on the heels of Phillippe Dubost's hilariously clever Amazon-inspired résumé is this eBay auction page doubling as a résumé for a Lansing, Mich., woman named Sonya Williams. Williams, who fancies herself a laboratory technician, has opened up the bidding for her employment at a lofty 99 cents and wastes no time to tell potential suitors that they should "hurry I will go FAST."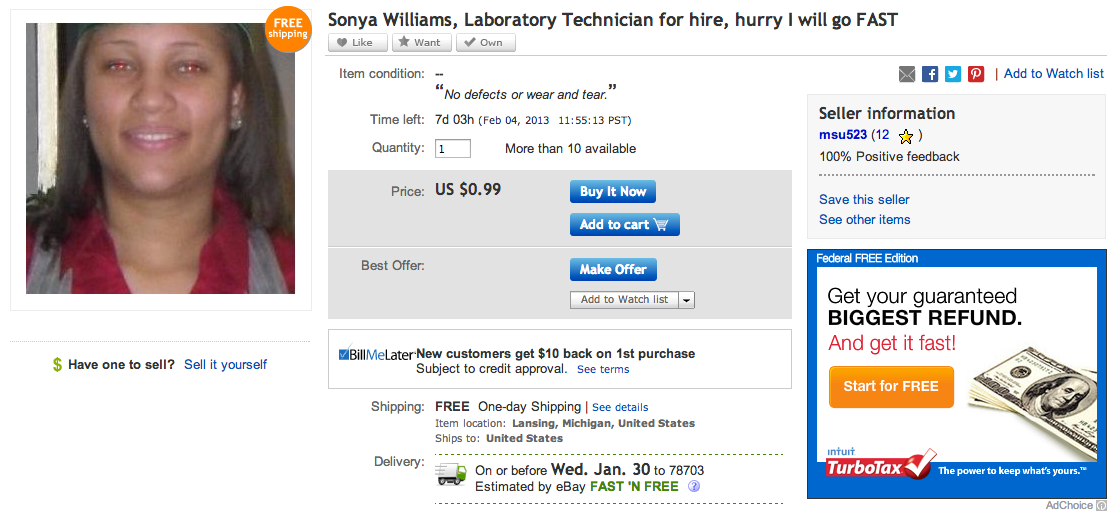 Williams plans to run the employment auction until just before noon on Monday, Feb. 4. She offers free one-day shipping, no returns or exchanges, and the option to bill her later through PayPal. Really, it's a steal of a deal. 99 cents for a lab technician!
Of course we should point out the differences between Dubost's and Williams' résumés here, since there are some, and they matter. For starters, Dubost created his site himself, coded it so that it mirrors Amazon's aesthetic, and came up with the idea himself.
Williams, who's in all likelihood piggybacking on Dubost's media success, has simply put herself for auction on the eBay platform and, instead of finding interesting ways to fit her credentials into the template, attached screenshots of her long-winded résumé right there under the product's description.
There's also the fact that she never really says where exactly she's worked.
The Daily Dot would like to wish her luck, however. Unemployment may be down, but it's still a twisted sister. Here's hoping Williams finds herself somewhere nice.
Photo via eBay