You can buy anything you want on Amazon.com—even an experienced Web product manager. 
That's at least the logic applied by Parisian Philippe Dubost to his latest professional résumé, a four-part rundown of his skills and services that's been drafted onto an Amazon product template.
Dubost has gone about looking for a new job by employing the standard page design of the Internet's most popular marketplace: product details cover Dubost's height, weight, and education; customer reviews offer testimonials from individuals Dubost has worked with along the way.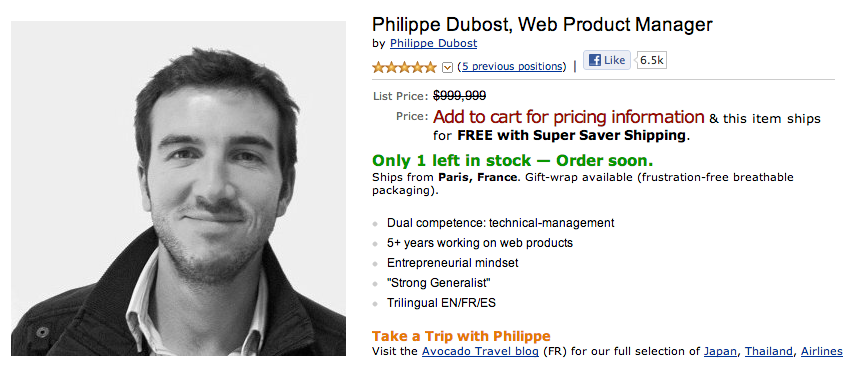 Dubost said he made the page earlier this week "for the sole purpose of a playful and creative job search" but has been wowed by the attention its received. 
"I created a (happy) monster …" he tweeted Friday morning after spending the night sifting through emails and notifications. 
Odds are it won't take too long for Dubost to land himself another job. On top of the fact that damn near every publication on the Internet will likely have a writeup on the résumé by the time the weekend hits, the man is awfully qualified.
Since graduation from business school at the University of Dayton, Dubost has held down tech jobs in Mexico City, San Diego, and Paris. He's also responsible for launching a website of his own, a French housing reviews site called Appartinfo.
Amazing. Or should we say Amazon. And should the Seattle-based company get upset about the emulation, Dubost has an old adage that he'd like to employ: "Imitation is the sincerest form of flattery."
Photo via PhilDub.com