What's the best way to sell a lemon car on eBay? Be brutally honest about it and prominently feature your full-figured wife in the pictures.
User camibanks has taken to the popular Internet auction site to sell his used 2000 Mercedes-Benz E320. The car has 160,000 miles on it and has broken down at least twice. In other words, it's a piece of crap on wheels.
But instead of hiding the vehicle's deficiencies, camibanks is using them as humorous selling points, as his significant other shows off her curves as well as the vehicle's.
"As you can see from the photos this car has seen things … things it cannot forget," he writes. 
"Since owning the vehicle, it has been thrashed, raced, rallied, and the interior has been smashed up in a domestic, not to mention the time my wife booted the wing because I suggested she eat a salad or two. ( please refer to photo of foot next to dent for reference)."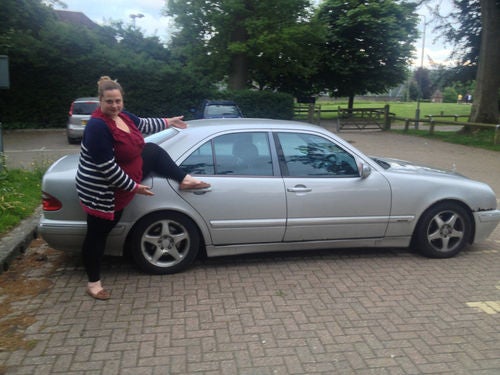 Photo via camibanks/eBay
In addition to the dent, the car's air conditioning and CD changer don't work. On the plus side, the power windows and the radio do. In fact, the seller has already preset the channels to "suit [their] clientelle."
Currently, the auction has garnered 54 bids, with the highest one coming in at £155,100 (approximately $243,100). That's amazing when you consider the fact that the Kelley Blue Book value for the same car in fair condition is roughly $3,500.
Assuming eBay doesn't yank the auction down—it's already done that twice—the married couple is bound to make more than enough coin to purchase another luxury vehicle and run it into the ground.
Photo via camibanks/eBay