Though it doesn't have one of those blue verified badges reserved for celebrities, public figures, and official organizations on Twitter, there are plenty of reasons to believe that the @J_tsar account belongs to Dzhokhar Tsarnaev, the second suspect in the Boston Marathon bombings who's currently at large.
First is this tweet from May 5, 2012, in which the individual behind the account riffs on his name before explaining "its spelled Dzhokhar."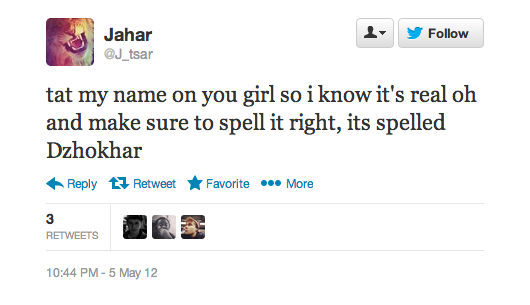 There's also the evidence that Gawker's Adrian Chen pointed to on Twitter.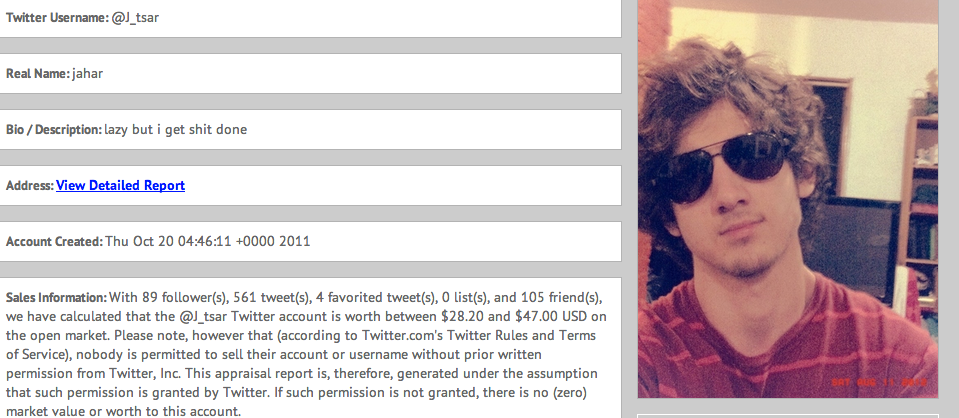 Danielle Grubbs, a social media analyst for St. Louis' Avala Marketing, disputed the claims when they were brought up by @YourAnonNews, pointing to a screenshot from a Wildfire Social Media Monitor tool and writing that "whoever that is changed their user name [to @J_tsar] on April 19."
Later, she told the Daily Dot that the Wildfire tool "won't pick up any data prior to the change of an account name." (Grubbs has since made her Twitter feed private.)
That may be true, but it doesn't rule out the notion that Tsarnaev is behind @J_tsar. In fact, tweets sent in 2012 between Tsarnaev and a buddy suggest the Tsarnaev actually changed his name to something far less explicit than its original distinction. What's now @J_tsar was once @jahar_tsar, a direct allusion to the pronunciation, and family nickname, of his true first name.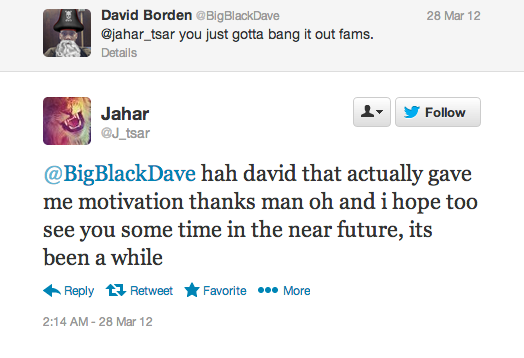 The account's musings paint a frightening portrait of a 19-year-old college student whose interests were altogether much like yours or mine. 
Tsarnaev quoted Eminem and retweeted The Most Interesting Man in the World. He clowned on his buddies and tweeted out daily musings. He revealed himself as an uncle and regularly posted about cars.
But he also laid out a series of tweets that may have forecast the terror he'd bring to Boston. 


Tsarnaev has accessed his Twitter account 12 different times since the bombs went off Monday, writing "stay safe people" just a few hours after the chaos broke out and telling his friend Jimm (@MelloChamp) that "those people are cooked" at 10:13pm that night. 
Before he went to bed that night that night, Tsarnaev posted a chilling tweet.

Photo via J_tsar/Twitter