Looking for a junkyard Ford Explorer in the range of $1,500? John Lindsay's got an '85 Bronco you can take off his hands for $7,500. Manual transmission and the gears don't work so great outside of the fifth. Airbags are a little messed up. "The front one" deployed in Lindsay's last accident, and he hasn't bothered to go and get it replaced.
$7,500, though, and he's willing to negotiate.
Maybe it's a microwave you want, and you need it to be white because that's what'll match the color of your kitchen. It's only a matter of time before John Lindsay's in your inbox, pushing a $30 LG microwave on you and calling you a racist.
Misinterpreted or simply misinformed, John Lindsay is coming after every crack in your most recent Craigslist post. He'll work you over slowly if he has to, even sound like a normal, everyday Craigslist client in need of a translator or a shovel.
But once he gets ahold of you, you're in for quite the ride.
John Lindsay started trolling Craigslist on July 8, 2009. A native of West Chester, Pa., was on the enormous classified ad site to buy a car and ended up finding an ad from a woman named Shaniqua who was looking to buy an Explorer—that same Explorer Lindsay later tried to pass off as a Bronco.
"Just the way that it was worded pissed me off so much that I decided I had to mess with this lady and get under her skin," Lindsay told the Daily Dot.
So he sent the woman an email, and he hoped to get a rise.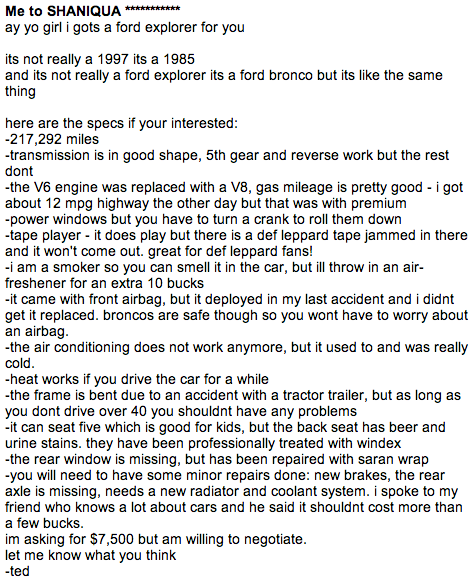 Shaniqua's first response wasn't drastic: a "That's not what I'm looking for" sandwiched between a "No thanks" and "Have a nice day." But it was something, so Lindsay decided to keep pushing.
"I'm willing to drop the price to $7,000 and throw in a phil collins cassette tape," he offered. "All fords are built tough."
It was enough to make the bubble burst. Shaniqua responded with capital letters and exclamations, telling Linday he should probably "give that old ass piece of shit away."
"GO AWAY and leave me the hell alone," she wrote. "STOP WASTING MY TIME!!!!!!!!!!!!!!!!!!!!"
She didn't know that Lindsay had all sorts of time—enough for 18 back-and-forth emails, three fake personalities, and one offer on a Jurassic Park car.
"It was more boredom than anything," Lindsay said. "Nothing spiteful. I just get a kick out of annoying people online."
Since, Lindsay has logged more than 100 successful Craigslist dupes, with episodes covering everything from Phish tickets to dreamtime getaways to selling enamel kittens. He started a website—Don't Even Reply—that went gangbusters to the tune of 60,000 hits on its first day alone. Now when he goes to Craigslist, he scopes out the entirety of U.S. sites in hopes of finding unique material, and he's sent what must be thousands of emails to unsuspecting parties in search of whatever.
"I try to pinpoint the person," Lindsay explained. "If they spell their words poorly, they're more often the kind of person who'll keep tailing instead of saying 'You know what? Screw this guy.'
"You try to string them along as long as possible before they get fed up and can't take it anymore. The more they want something from me, the more I can keep something going."
He points to last September's Comanche Quest as a prime example of a Craigslister going for the Don't Even Reply ride because he wanted something so badly.
"Jeep Comanches are a really rare thing these days, so I knew he'd be stoked if I emailed him, because I was probably the first person to offer something like that," he said. "He put up with a lot because he really wanted that truck."
That week, Lindsay put poor Joel through 48 emails and five handlers. It ended with a man named Mikk Sisask offering Joel a silver Honda Civic. when Sisask finally delivered Joel a photo of a Comanche, he placed the bidding at 5,800 Kroons.
"What the fuck is a kroon?" Joel asked.
Joel has likely never been to the Republic of Estonia.
"Yous comes to Estonia to buy?" Sisask asked.
Joel never got the truck.
In 2010, Don't Even Reply hit the literary big time, publishing a book. Titled Emails from an Asshole: Real People Being Stupid, the collection released that March received kind words from the galleries. Amazon users gave it an average of 4.2 stars out of five. CNBC's Jane Wells described it as "Sasha Baron Cohen on the Internet."
Lindsay's attention to DER has let off since. He says he doesn't have the big ideas that he used to, that he can't find the time to spend an hour scanning Craigslist for crazy requests for cars or cakes.
Instead, he now mostly uses the site for buying and trading legitimate items—ones that arrive as advertised and without any glaring deficiencies fabricated for the sake of a good joke.
"People try to scam you," he said of the site. "They'll try to scam you all the time.
"Sometimes it works out fine, but people trying to scam you gives you that idea of what a bad Craigslist user is like.
I can incorporate that."
Illustration by Jason Reed