How boring would it be if someone put a live camera feed in your workplace so people could watch what you did at your day job? Unless you're a Secret Service agent or on the bomb squad, pretty freaking dull. So why did someone think it'd be any different for Domino's Pizza?
One Utah joint has a live feed up where you can watch Domino's employees all day as they stretch the dough, put on toppings, and stick pies in the oven. But, like, have you ever been to a Domino's Pizza and sat there for a half hour, waiting for a pizza to get made? Yeah. In the three days I watched this feed, they made about five pies—all regular size, by the way, even though the promo video shows pizzamakers throwing on wild toppings and putting together crazy, unheard-of pizzas.
I was 10 minutes away from filing a story about how dumb this all was when OH MY GOD.
I take it all back. 
On Friday at noon, the store opened and they started making a million pizzas. I should have known. Friday is pizza day across the nation. Everyone who's ever been in elementary school or worked in an office knows that on Friday, the most pizzas are made.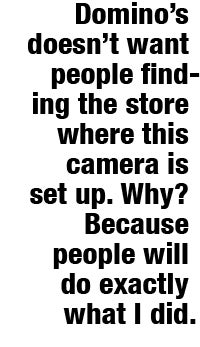 Within a half hour, Domino's had made about five pizzas. It was glorious. One was pepperoni. One was sausage. One was pineapple. One was vegetable. It was an enthralling embarrassment of pizza riches. And my cynical heart grew three sizes.
Did you know the pizzas only go through the oven once before they're totally ready for consumption? It's madness. 
After about an hour, things got quiet again. I decided that passively observing behind-the-scenes pizza action was not enough. I wanted to participate. I wanted to see if I couldn't light a fire under these workers' asses, or at least if I couldn't make their workday a little more interesting.
That's where the wild pizza goose chase began.
Oh, Domino's, you thought you could get one over on us. You thought I'd give up after calling every store in Salt Lake City [Ed.: This is true] because that's where you said your livestream was taking place. But no, as it turns out, the livestreamed Domino's is not in SLC at all, but a town 30 miles away. And I found it. I found the livestream store. All thanks to a Salt Lake City employee who probably should have kept his mouth shut. 
Clearly Domino's doesn't want people finding the store where this camera is set up. Why? Because people will do exactly what I did: call and make ridiculous requests.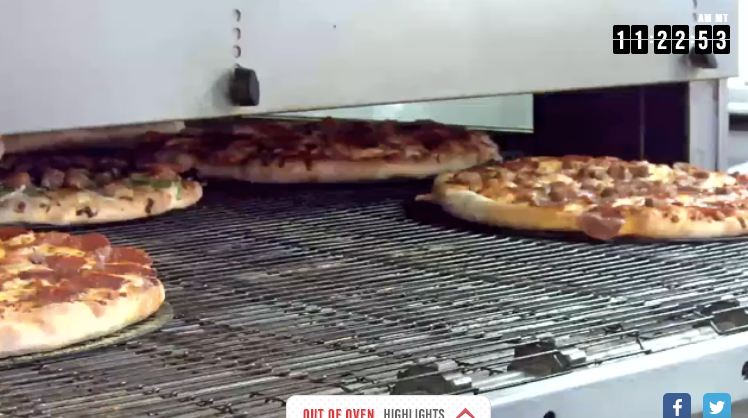 I talked to a very lovely employee who first had to check with his manager to see if he could even confirm it was the right store. (He eventually could.) I told him I was a reporter and that I wanted to send pizzas to the Salt Lake City fire department. I asked if he could make a "D" in pepperoni so I could see it on the camera. He said the store doesn't take pepperoni requests. And then he admitted that corporate is watching the livestream cameras, so employees are supposed to act "regular." 
A pizza Big Brother. 
This meant no waving, no signs drawn, nothing written on the box that could be filmed.
The employee, who was still being very patient with me, said perhaps he could make the "D" out of pepperoni so I could see it on the cam, but then he'd quickly fill it in with other pepperoni so the big bosses wouldn't notice. Yes.
However, as soon as he said it, his manager shut it down. Too risky, he said. 
Is it really Domino's policy not to make patterns out of pepperoni? I hung up with the on-camera Domino's and called another in Salt Lake City. I didn't say I was a reporter, I just told them I wanted a "D" in pepperoni on the pizza for my friend's birthday. The employee there confirmed that they don't do pepperoni designs. Weird, I thought. 
"This is a test program," a Domino's rep confirmed via Twitter, "& because of that we have to adhere to our regular policies. We'd be happy to help you set up a delivery to a fire dept. in that store's delivery area!"
But my coworker remembered a Reddit post about custom designs. We checked, and what do you know: Those designs were done by Pizza Hut.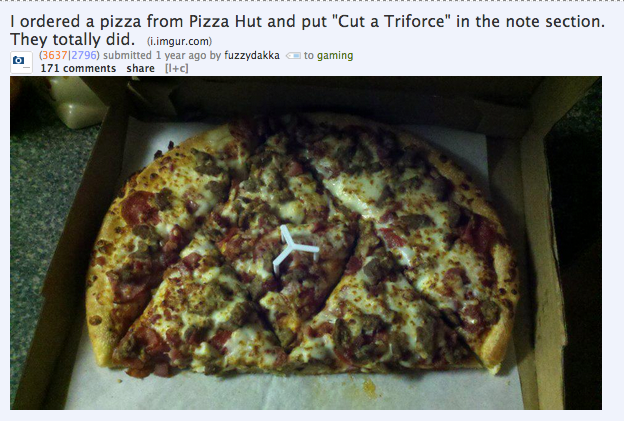 To make sure, I called the Pizza Hut closest to the Domino's livestream store. A very nice lady employee picked up. I said I was a reporter, and that I wanted to order a pizza with a "D" made out of pepperoni.
"Oh…" she said. I steeled myself for her rejection. "Well, it actually doesn't look that good when we make designs out of pepperoni. In the oven, it all smooshes together. Like, we'll totally do it for you, but just to warn you, sometimes it comes out badly. Is that OK?"
So not only would Pizza Hut do the design for me, but it was concerned that I wouldn't be satisfied with the end result. Talk about customer satisfaction.
"We could write on the box for you instead," the woman continued. "Some people like that better."
What mensches at Pizza Hut, willing to take requests and to have fun with their customers and their product.
Even in the last frame of the Domino's livestream, where you can type in your name and it shows up on a board thanking you for liking Domino's on Facebook, there are restrictions. I could get away with "Gaby," but not "Farts." I've tried so many name variations that I'm currently shut out completely. Buzzkills.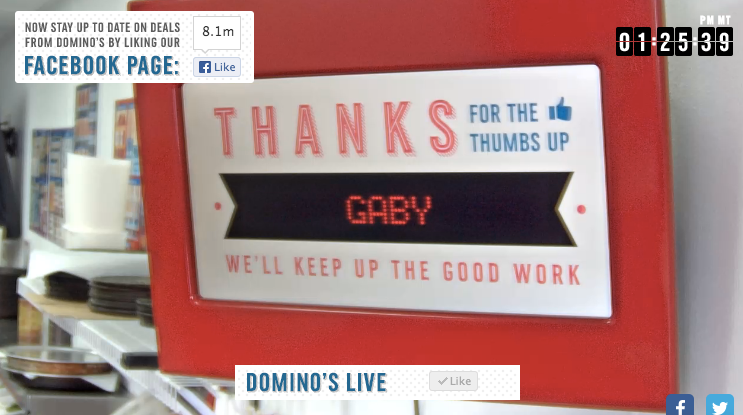 Domino's, take heed: The livestream is a good idea and a great use of the Internet, but it would serve you well to make the whole thing a little more engaging. Why not take requests? Why not wave to people or have some fun? Lose the 1984 attitude and give in to the majesty of pizza. You don't want to lose people to Pizza Hut's future livestream. 
Pizza is about fun. Let your livestreamed employees have a little, huh?

Screengrabs via dominoslive.com