The Dogecar has arrived.
It's taken 50 days and a whole lot of expensive paint, but the first NASCAR automobile to ever be sponsored via Dogecoin, the Bitcoin-like digital currency that's much loved around the Internet, appears ready for racing. Sunday saw the first public photos of the car on display. Rest assured, it is an absolute beauty.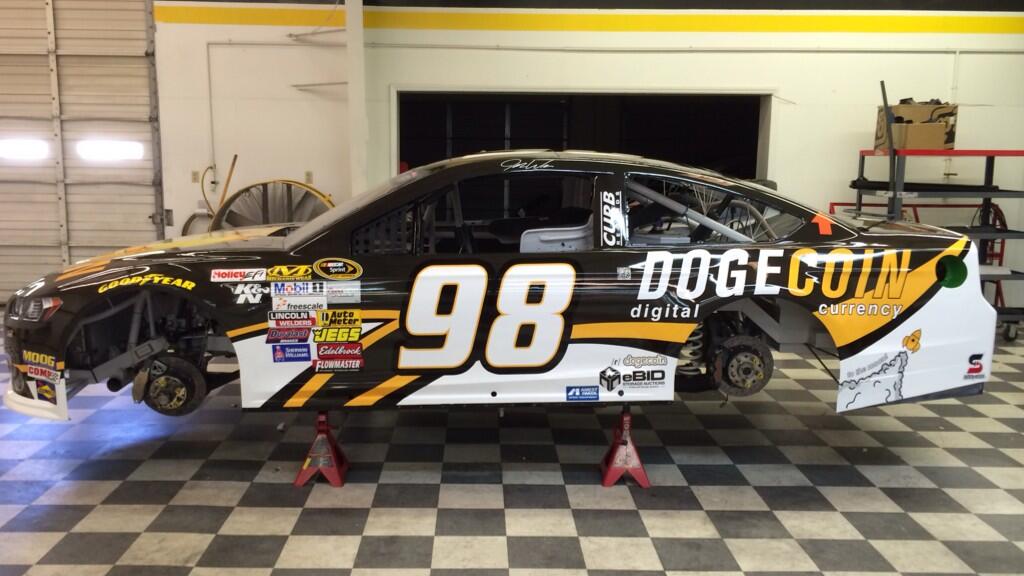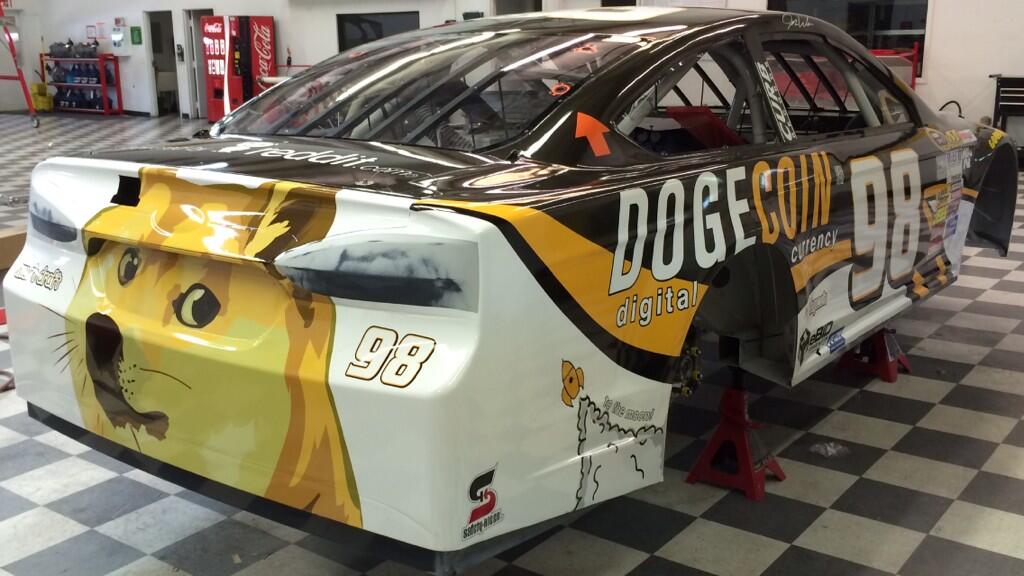 The idea for a Dogecoin-sponsored NASCAR popped into the public conscious in early March, when members of the r/NASCAR subreddit began discussing the possibility of sponsoring a NASCAR driver themselves. Denis Pavel, a redditor and NASCAR enthusiast, had the idea to reel in Dogecoiners, known for their devotion to the cryptocurrency, who realized the ever-important add-on of awesomeness in having that super-cute Shiba Inu plastered onto the roof of an automobile. 
The r/Dogecoin community found a driver, Josh Wise, and a car owner, Phil Parson, then went about raising $50,000, or about 67 million dogecoins to sponsor the vehicle at the upcoming Talladega NASCAR race. 
Dogecoiners enlisted Moolah.io, a crypto currency service, to manage the fundraising account, and got the company's founder to donate $15,000. Others followed. Eventually, 1,200 supporters concluded a fundraising effort that racked up more than $49,000.
The final design, seen above, is not that far off from the original concept drawn up by redditors in March. It's darker, with a greater emphasis on black than khaki coloring, but it's a similar vibe, one with two spots for the Shibe. 
In March, the plan was for the car to debut under the name "Moonrocket" on May 4 at the Aaron's 499 Spring Series Cup race at Talladega Superspeedway. According to Jalopnok, that's still happening.
Internet gawd Neetzan Zimmerman notes with a tongue planted firmly in his cheek that "Dogecar backwards is racegod." May 4, in Talledega, we'll see if that claim holds true. 
Photo via Imgur