When it's time to take a shower, wouldn't it be nice if everyone had a concerned puppy ready to look after them? That's precisely what seems to be going on for one Twitter user, who posted the story of her bath-averse, downright adorable dog looking in on her while she's showering, as if concerned and wanting to make sure his owner is OK.
The Twitter account @rudeweaver tweeted out the story on Saturday, complete with a few photos of the cute Miniature Goldendoodle. According to @rudeweaver, whenever she's in the shower, Clark comes over and stares up with a concerned, wary look. Then, after some time, he drops one of his toys into the tub, as if to placate his showering owner.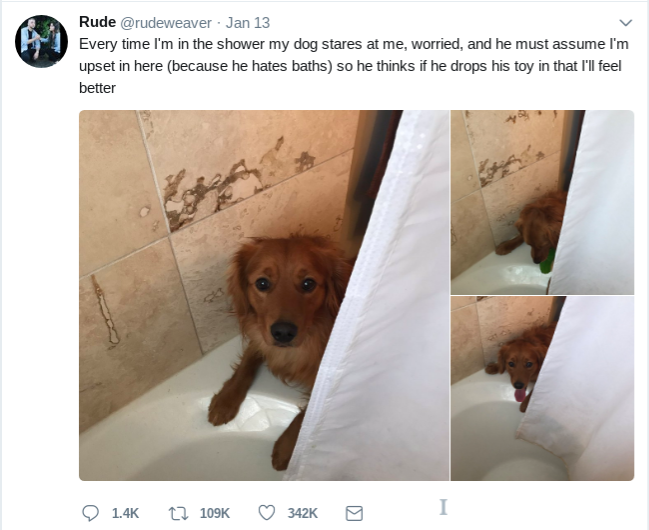 It's unclear what precisely Clark is thinking in these moments―nobody can truly get inside the mind of a dog, after all―but his owner seems to believe he's trying to cheer her up. Clark apparently hates baths, and therefore, he might be assuming that the person in the shower is having a miserable time, too. Apparently, if she tosses the toy back to him, he doesn't even react as if he's in the mood to play.

The dog's name is Clark, for the record, and on top of his viral starring turn this week, he also has an Instagram account, and anyone who's a sucker for a cute canine really ought to take a look.
https://www.instagram.com/p/Bd8-VP_FSZ3/?taken-by=clarkthemini
https://www.instagram.com/p/Bd7w0z6FBtU
How could you ever say no to those eyes?