The internet more or less exploded this morning when a photo resurfaced appearing to show the face of Jesus in a dog's… let's avoid forced euphemisms and just go with "butthole." Naturally, virality ensued.
Versions of the photo have been floating around since early 2011, but it was as a November 2011 post to Reddit's r/atheism channel by user Feature_Creature that led to the photo's widest circulation until this week's reappearance.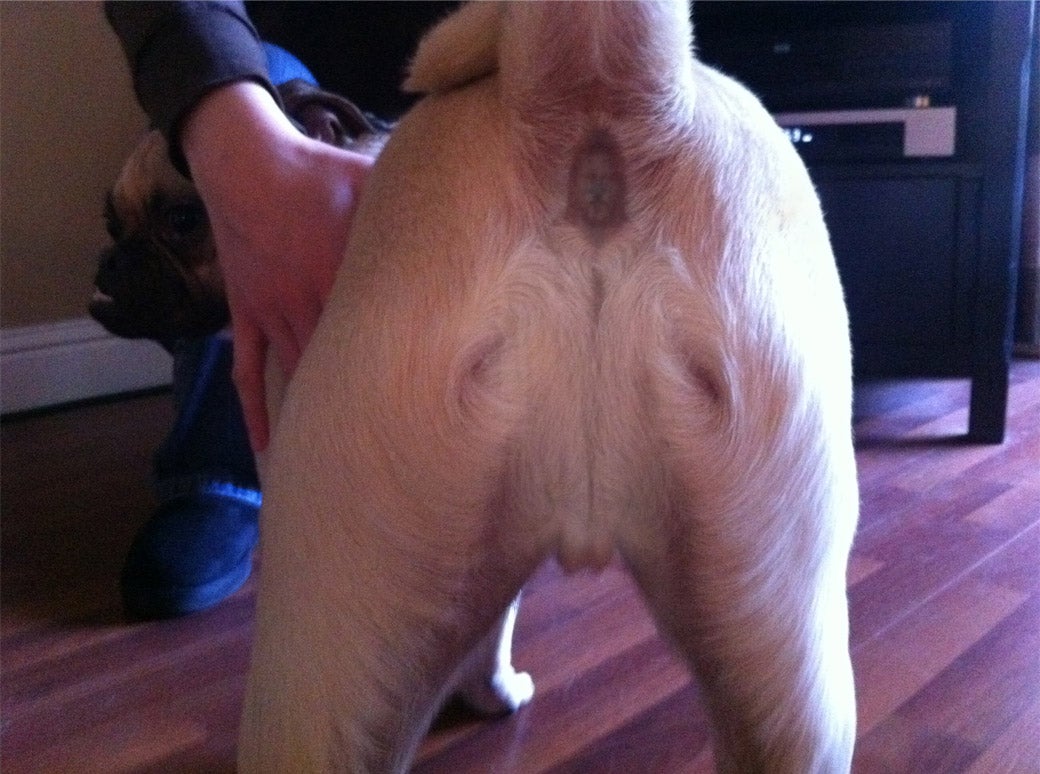 Photo via Reddit
As with all religious miracles, the possibility of a hoax must be considered. 
We do, after all, live in an age where a rare, gifted few can use expensive machines to alter photographs to humorous effect. Further complicating the question of a false butthole messiah is the fact that if Jesus has chosen dog anuses as his vehicle of resurrection, this might in fact be his second coming.
The earliest occurrences of Latter-Day Butthole Jesus appeared around 2011. But back in 2006, an artist named Jessica White made the news when her dog, a terrier named Angus MacDougall, was also photographed with a fuzzy image of the savior on his most sacred of places.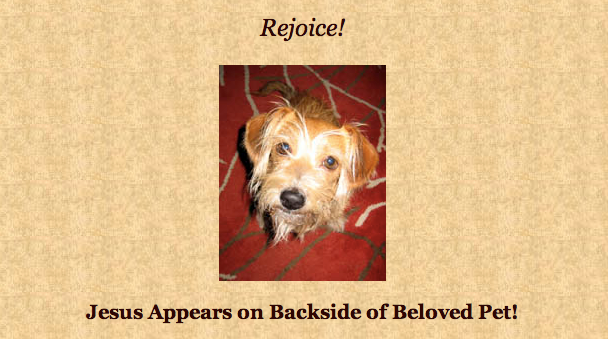 Although the domain name has since lapsed, a cached version of White's (probably satirical) website is still archived online. You can read about the origins:
Angus' personal Jesus was first discovered on the morning of Sunday, July 2, 2006. The family was waking up when Angus began to perform his morning ritual. He stretched forward then leaned back sticking his rump high in the air. At that moment, the morning sunlight hit Angus' rear end and low and behold…

"It's Jesus!" Angus' father exclaimed.

Ever since that sanctified day, the image of Jesus has graced Angus' buttocks.
You can even see the evidence brought to life in the form of a mesmerizing animated GIF:
GIF via Jessica White/GetBehindJesus.net
Unfortunately, neither Feature_Creature nor Ms. White responded to requests for comments, as their attention was obviously fixated elsewhere. But hoax or not, the miraculous message continues to spread throughout the Internet.
The truly divine can be found in the most disgusting of places.