Come along, Doctor. Time for another adventure—in puppet form.
Millions are glued to their TVs every week to watch Doctor Who, the nearly 50-year-old British science-fiction show that follows the Doctor (currently portrayed by Matt Smith, the 11th actor to fill the role), an alien from the planet Gallifrey who travels through space and time with a human companion in a TARDIS (Time and Relative Dimension in Space) that looks like a 1950s police phone box.
The last of the Time Lords has gone from the small screen to your computer screen with the Doctor Puppet, in which a puppet version of Doctor Who's hero continues to travel across time and space on the Internet even after the show ends.
The blog chronicles the puppet's adventures in photos as it visits major landmarks and encounters the smaller aspects of human life. It's almost as if the Doctor himself joined Tumblr.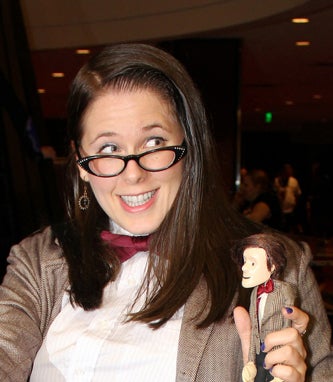 Like the Doctor with his many regenerations over the years, Doctor Puppet is giving us a new look at the sights to which we've become accustomed. Initially stuck without his TARDIS, the puppet Doctor travels throughout present-day New York, Philadelphia, and the U.K. with his human companion and creator, Alisa Stern, an animator from Brooklyn.
"I was making a puppet for a class I used to teach and I needed a puppet as a demonstration so I just made [the Doctor]," recalled Stern (pictured above), who was introduced to the show during the era of the 10th Doctor, David Tennant. "And I did some animation tests with him and I thought, 'Oh, the Internet would really like this."
As an animator currently working on Nick Jr.'s Team Umizoomi, she originally wanted to make the Doctor Puppet into an animation but settled on the blog, which she launched last April. She didn't set out for it to be so adorable—the main reaction she gets from her approximately 7,500 followers—but with her background in children's television, it just happened.
The puppet, which is based off Smith in an effort to parallel the show and because Stern feels that he is the easiest to caricature, is limited in its travels due to its size and limitations as a puppet. Though the puppet lacks eyebrows, Stern uses the shape of his mouth and poses to make his personality shine through on her blog.
Doctor Puppet references the show at times, as wih the departure of the Ponds, and sometimes he will run into cosplayers who dress like him and "oddly enough, some TARDIS and Dalek impersonators" at conventions.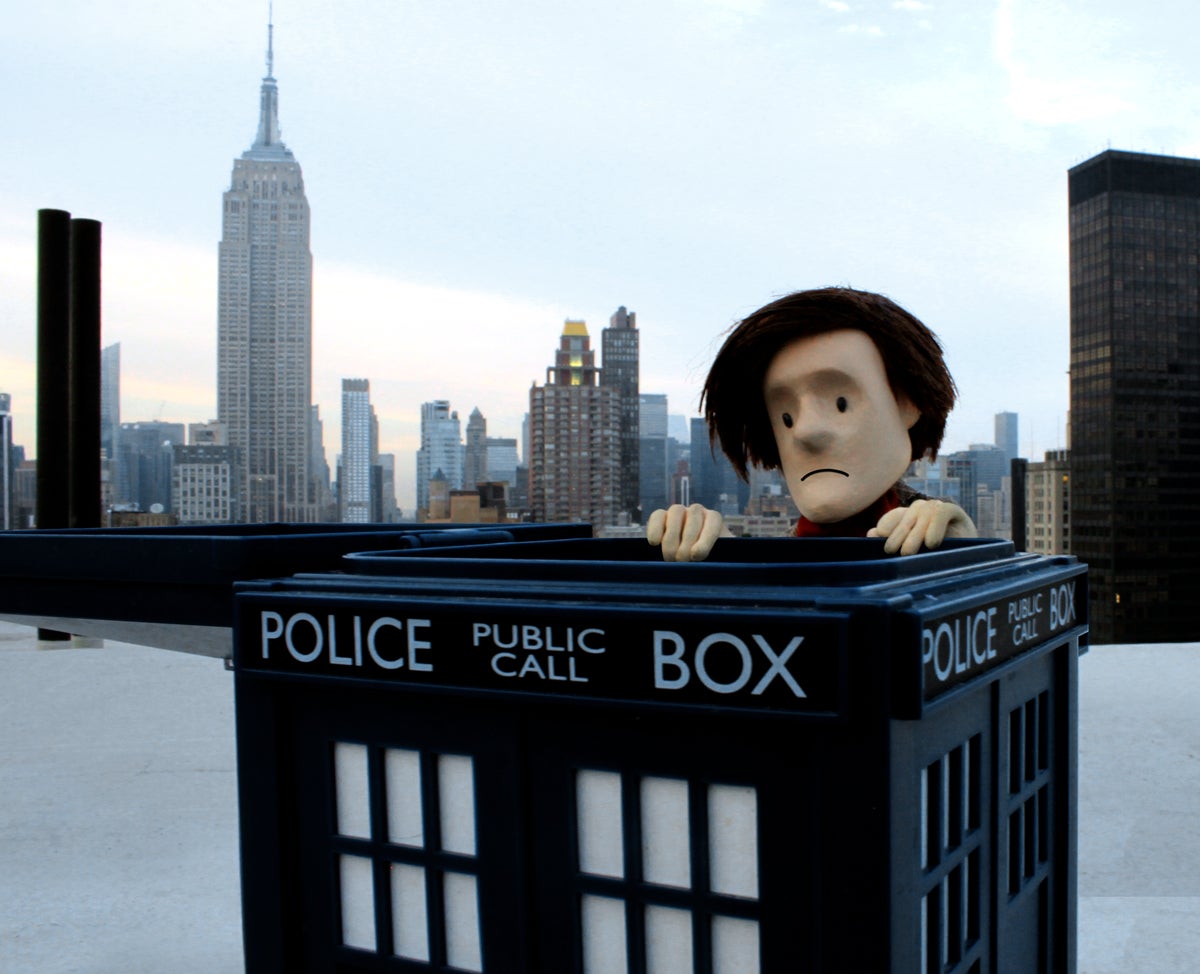 With the blog established, Stern turned her attention to creating a stop-motion holiday adventure in the style of Rankin and Bass. In the animated short, Doctor Puppet has to save Christmas (not unlike his full-size counterpart), but instead of saving it from an alien invasion or an ill-named spaceship, the culprits are an innocent alien race looking for a new planet to live.
Stern partnered with the Nerdist Channel after the Christmas special went live, which gave her the resources to make more episodes. The first two premiered on the Nerdist Channel and Stern's channel on March 29, to coincide with the show's midseason premiere. Stern has a full story planned out, multiple episodes leading up to Doctor Who's 50th anniversary special in November.
"I'd love to do an episode for every single Doctor, but it's not realistic between now and November, so I'm gonna do as many as I can," Stern said, adding that she would probably do another four to five episodes.
The first two episodes featured appearances from previous companions as well as David Tennant's 10th Doctor.
Stern wouldn't say which other iconic characters are set to return in puppet form, but she mentioned that she has been getting requests from fans.
"I'm listening on the Internet on who people are requesting," she said. "So far the biggest push has been for the Ninth Doctor and a little bit for Captain Jack, so I'll just listen in on who people want to see."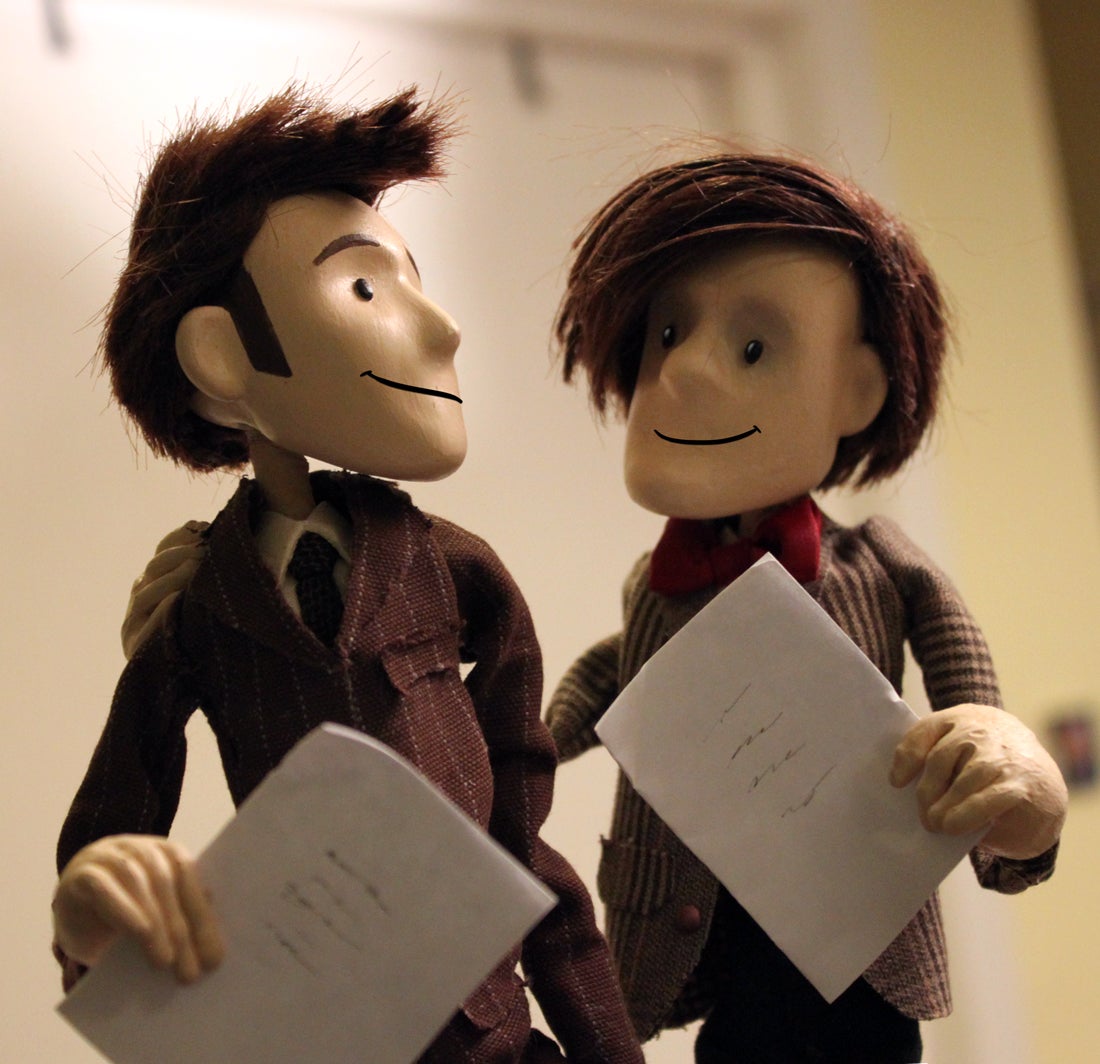 All photos by Alisa Stern