It's unclear how exactly the Brewers Cabinet restaurant obtained Saul Zelaznog's headshot so quickly, but it's safe to say the shop's acquisition worked against him. Last week, the Reno, Nev., man was arrested and jailed for violating his parole—all because the restaurant called him out on Facebook for attempting to pull off a dine-and-dash.
The whole incident occurred July 31. Zelaznog had gone into the Reno area brewpub with some friends and "run up a huge bill," ordering food and drinks for hours before asking for the check. When it came, he said he'd left his wallet outside, then made a beeline for the door, never to return with any cash. 
The restaurant filed a police report, but decided not to settle at that. Shortly after getting off the phone with police, an employee turned to Facebook, where they posted a photo of Zelaznog along with a message calling him out as a serial dine-and-dasher—three other establishments had spoken out against him—and imploring fans to report him to police if they saw him.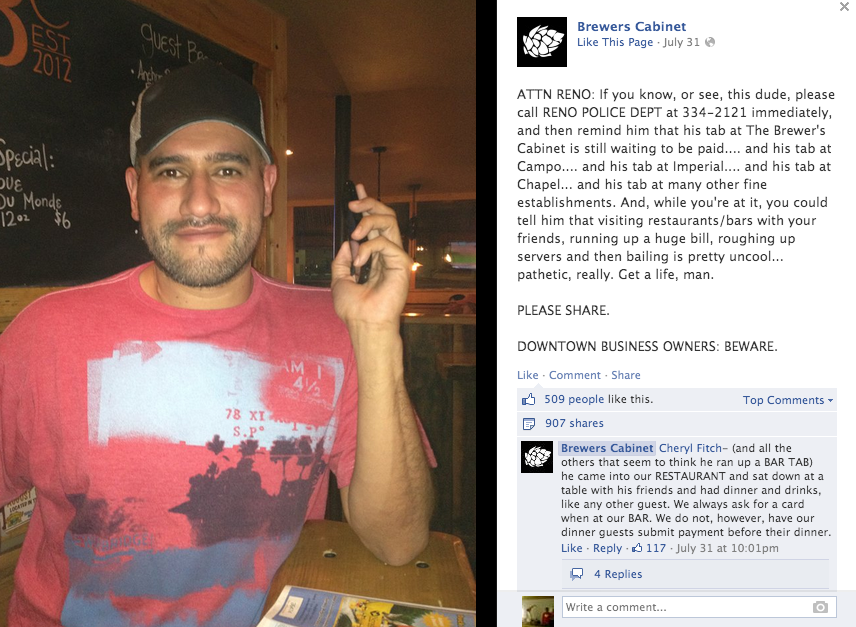 Hundreds showed up to like and share the photo. On Saturday, one of the restaurant's fans posted a link to a profile onto the comment thread. The link led to Zelaznog, a Huntington Beach, Calif., native who's allegedly the president of a company called Z Ventures. He was arrested shortly thereafter, and discovered to be in violation of his parole.
Brewers Cabinet returned to Facebook to thank their audience for the help in their pursuit. 
"We hope that all of [Zelaznog's] outstanding debts are paid in time, but more importantly, that he makes wiser decisions in the future," they wrote. "Law enforcement will be handling Mr. Z's case, and we will get back to brewing amazing beer!"

Photo via Brewers Cabinet/Facebook