More than $260 worth of pizzas, a bomb threat, and a prostitute were ordered to an address belonging to Dillon "the hacker" Henderson, a teenager and self-proclaimed leader of Anonymous who has 4chan's public enemy no. 1.
The pranks were in response to a series of YouTube videos that Henderson, 15, made to trash the 10-year-old imageboard and its creator, Christopher "moot" Poole.
"As your leader, I'm telling you to get it together," Henderson states in a video from April 3. "Once in awhile big daddy Dillon has to come out of his hacker cove and give Anonymous a spanking. … This is your warning 4chan. You do not want to cross a professional hacker."
Late Friday night users from 4chan's random imageboard /b/—where the Internet's cat lovers, porn addicts, and prankers all come to hang out—ignored Henderson's warnings after they dug up his home address in Arizona. (Warning: The following contains graphic language.)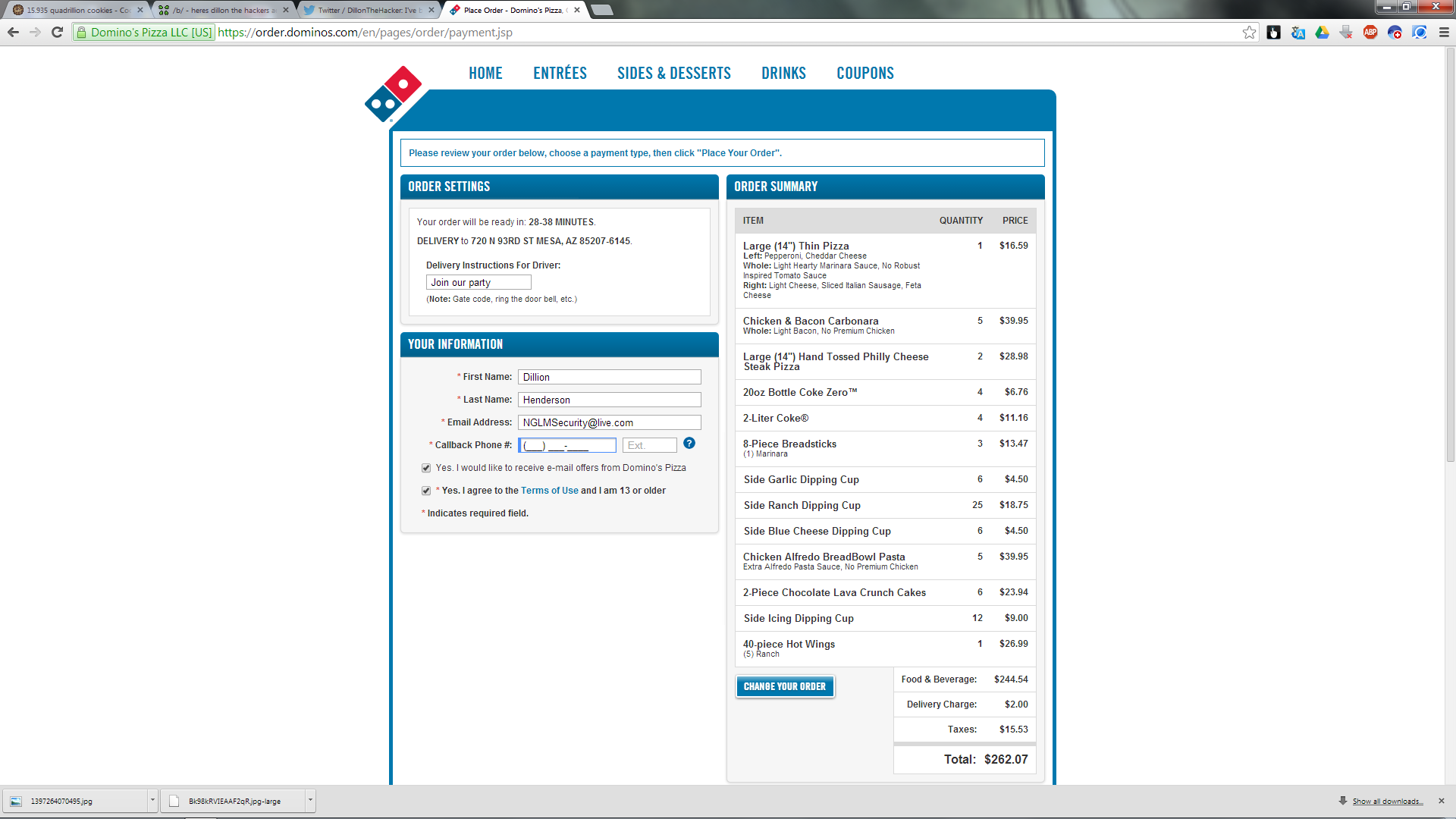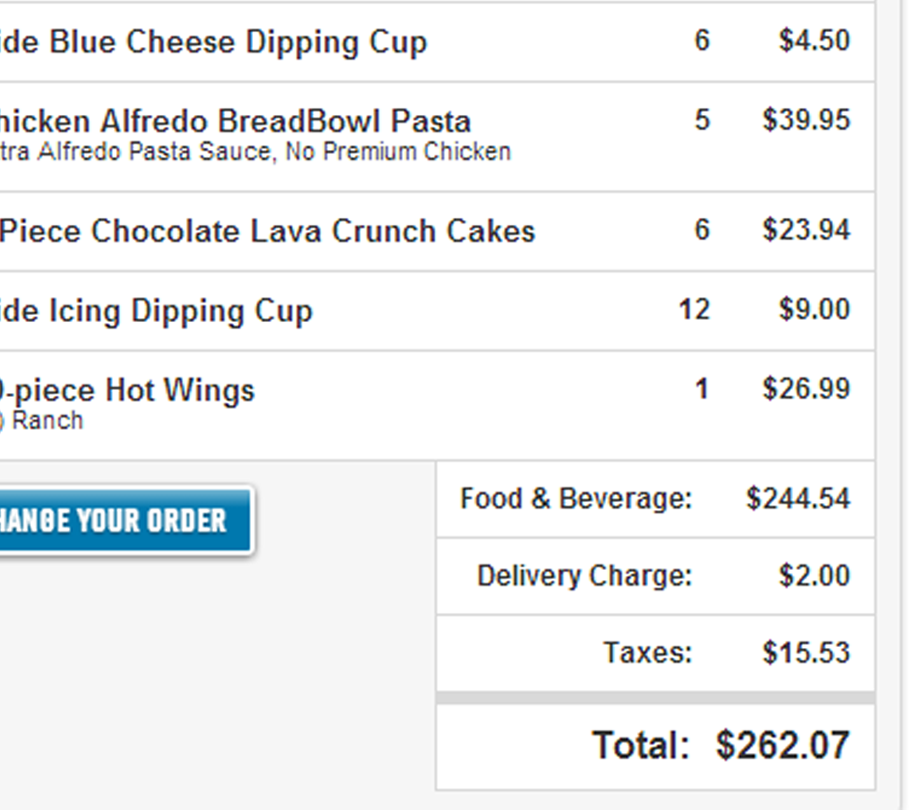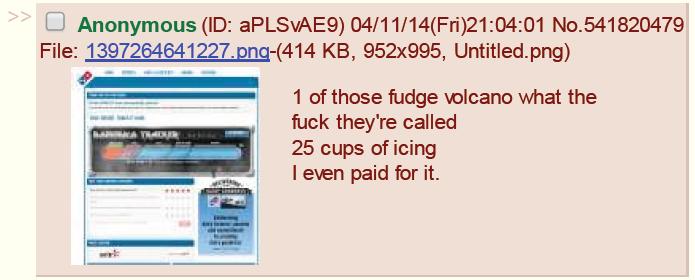 Yet like a school of mindless fish, what these /b/ users failed to realize was the address they had found was a bait set by Henderson.
The bogus address (which shows up on Google Maps but not in the White Pages) was tweeted by Henderson Friday afternoon.
I've been getting pizzas sent to my house due to some guy posting my address on YouTube… #pizzaparty pic.twitter.com/4E2fLZJ07A

— Dillon Henderson (@DillonTheHacker) April 11, 2014
The screengrab of the address was captured from a random YouTube comment left by an alleged Anonymous member named John Smith. Smith has since scrubbed his YouTube channel of all his comments, leaving only 10 videos taken at Anonymous protests. His latest video was uploaded five months ago.
Having realized that they had just gotten played by a teenager, /b/ got more calculated in its hunt for Henderson's true identity.
A handful of programmers created automated programs called scripts to compare the Twitter followers of BG Kumbi and StraightUpStreet. In an interview with the Daily Dot, Henderson claimed that he and these two YouTubers were part of hacker group called "The Meme Krew." By comparing the followers of these two teenagers, /b/ hoped to turn up Henderson's name.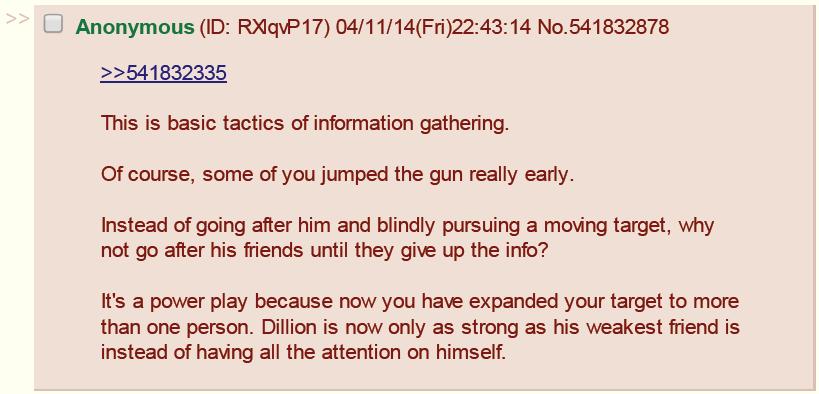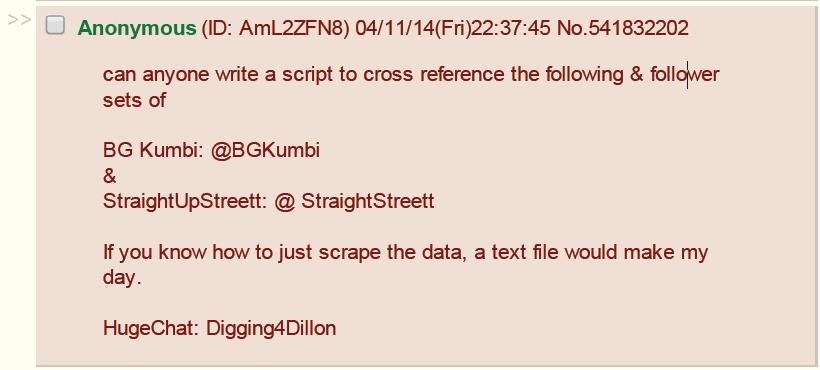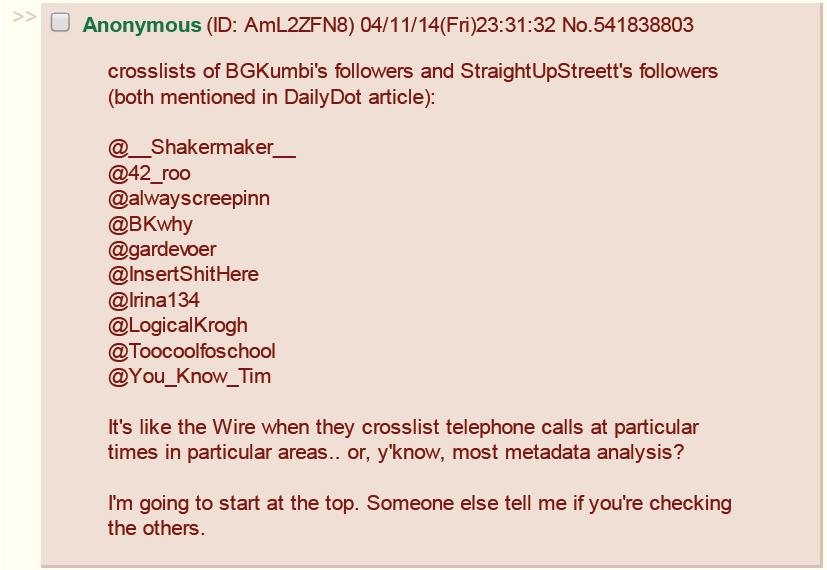 The Twitter analysis lead nowhere.
The only two pieces of credible evidence /b/ dug up were an old BG Kumbi video and a YouTube account called Marky Mole.
Marky Mole was started eight months ago and features videos of what appears to be Henderson wearing painted-on whiskers and talking about being beat up in school. In other videos, Marky Mole makes prank calls, talks about the Kardashians, and pulls a sandwich out of his underwear.
In a video posted on June 15, 2012, BG Kumbi discusses a friend named "Dillon who is a hacker as well as a loyal 9gager, who has join me in my crusade."
"Not only are we going to take down 4chan, we're going to take down Funnyjunk and Reddit as well," BG Kumbi adds.
Taken together, it appears Henderson is just a bored teenager who found BG Kumbi's video from 2012 and decided to create a troll identity.
Regardless, /b/ has become obsessed with taking him down.

Screengrab via YouTube