Yesterday, superstar Canadian DJ deadmau5, a.k.a. Joel Zimmerman, dropped a new release on his Facebook page. But it wasn't a new track. Naturally, it was his Nyan Cat-wrapped Ferrari.
The 8-bit-influenced meme known as Nyan Cat has experienced a surge in popularity thanks to its appearance on the cryptocurrency Nyancoin, and since its creation in 2011, contemporary DJs like Skrillex and Deadmau5 have embraced the video's BPM-friendly sound and Nyan Cat's psychedelic Pop Tart trip. For a DJ with enough money to buy a Ferrari 458 Spider, a Nyan Cat wrap is obviously the next logical step.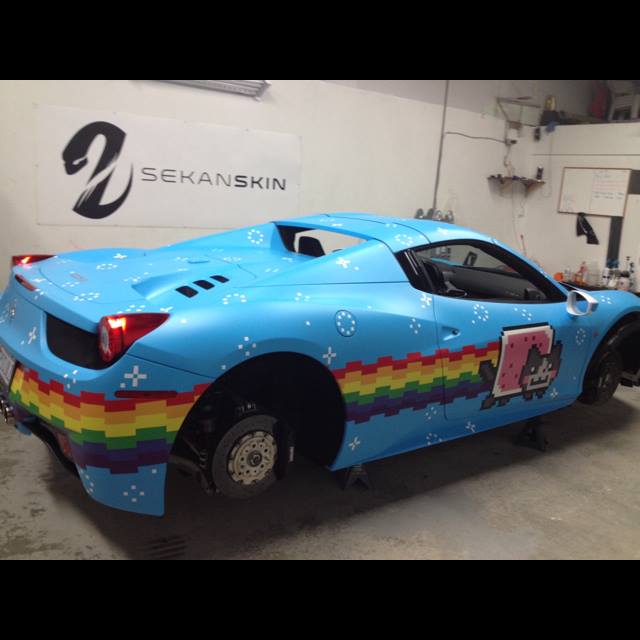 Deadmau5 hinted at the wrap back in October, via his Instagram page, and he's apparently entered the car in this year's Gumball 3000 rally. We would love to see a remake of The Cannonball Run but with wealthy, meme-obsessed DJs.
Of course, the post generated a lot of controversy among Ferrari and Nyan Cat fans.


Deadmau5 later posted this inspirational message to Facebook:
"if you think the car's bad…you should see what i did you my bathroom wallpaper. Isn't it fun to do things your own way and just not give a fuck? try it. you'll like it. i promise." 
And yes, the license plate does read EPICLULZ. 
Photo via .RGB./Flickr