Brace yourselves, Tumblr fans. The people behind DashCon have started a "new" convention. But so far Emoti-Con just seems to be DashCon 2.0.
Most people looking for a way to start over after a disastrous business incident—a way to prove to the public they've turned over a new leaf—probably wouldn't go with naming their new business "So Attacked."
But then, most people aren't the creators of DashCon, the most notorious fan convention of 2014. The Internet spent a weekend in July boggling as details from the con floor unfolded. Fans were forced to cough up an additional $17,000 on the spot; guests like Welcome to Night Vale and Gingerhaze walked out after being refused accommodations and compensation, and volunteers found themselves suddenly stranded when the con reneged on covering their hotel costs. Then, when things started to fall apart, DashCon staff refused to give fans refunds for their badges or canceled convention events, instead offering them "an extra hour" in the now-notorious DashCon ball pit.
One of the co-creators of DashCon is an animation student named Cain Hopkins. Fans on Tumblr recently discovered that Hopkins has created a new company, So Attacked LLC, a reference to a popular recent Tumblr meme known for being hilariously passive-aggressive.
It's not clear if the name is a wry reference to the Internet-wide backlash that DashCon received, or just an attempt to capitalize on the latest Tumblr catchphrase.
But the business name is just the starting point. Hopkins is also attempting to re-launch DashCon as an entirely new convention. He's calling the new (old) con Emoti-Con, and billing it as a convention aimed at various Internet communities including both Tumblr and 4chan.
But by all appearances Emoti-Con is just DashCon in all but name. Much of the text on the Emoti-Con website seems to have been lifted directly from the DashCon website. The venue for Emoti-Con is the same as the venue for DashCon, and currently on the Indianapolis convention center website the confirmed listing for Emoti-Con just links to the DashCon website, which is no longer online.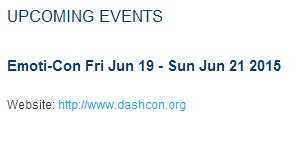 Screengrab via Indianapolis Convention Center
The move seems to be an attempt to give DashCon a face-lift, though it's not clear what will be different. Multiple skeptics on Tumblr noted that the con made a point of stating clearly that no refunds would be issued—just like last time.
Hopkins along with the rest of DashCon staff did attempt to apologize and explain what happened to create the maelstrom of failure the weekend of DashCon. But despite DashCon's insistence that part of its problem the first time was an inexperienced staff that included minors, a mistake it claimed it wouldn't be repeating, Hopkins himself is a junior in college.
Tumblr users are incredibly wary of the con. Amid the collective boggling and warnings flying around the Tumblr dashboard, a new parody Tumblr has already appeared to drive home the snark:
Applications are open for panelists at EmotiCon 2015! Spin doctors especially needed for the inevitable apology panel.

 

Also, we're totally going to get the actual Spin Doctors to play at the con. They'll work in exchange for time in the ball pit, right?
Meanwhile, the best thing to come out of DashCon, the Ball Pit, was sighted at another con over Labor Day weekend—Dragon Con.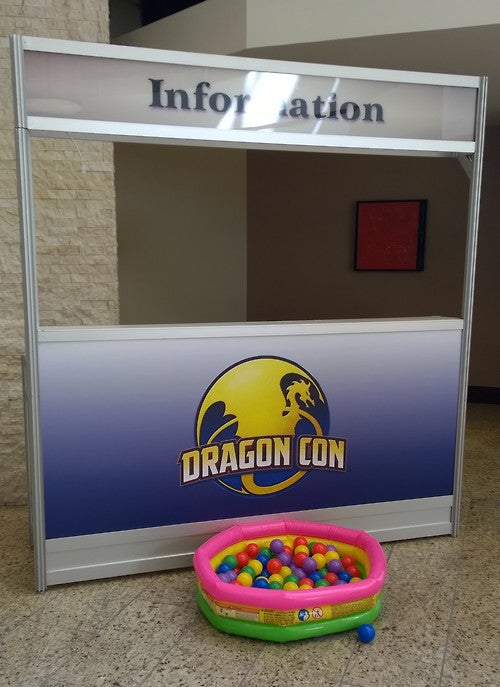 Photo via Reddit
Adding to the skepticism are questions about what kind of con environment could possibly arise from Emoti-Con's intent to invite 4chan, Reddit, and Tumblr users into the same space despite their notorious philosophical differences? 4chan in particular tends to respond to the feminist-friendly environment on Tumblr with vitriol, harassment, and occasionally death and rape threats. On Reddit, where the news caused as much ridicule as it did on Tumblr, redditors also thought this was a terrible idea.
We contacted DashCon's co-owners, Hopkins and Megan Eli, to address questions being raised about the event. We received a very lengthy letter in response from Eli, who insisted that the con was not renaming itself, while simultaneously insisting that DashCon "shockingly…did get one or two things right."
DashCon has not renamed itself Emoti-Con. While we, the owners of So Attacked Entertainment LLC (Cain Hopkins and Megan Eli), did make up two-thirds of DashCon's ownership, those companies and events remain separate entities….

Emoti-Con will be functioning under a very different infrastructure than DashCon did, with a more experienced and well-rounded staff. We are, of course, also able to draw from our DashCon experiences of what worked, as well as 'what not to do.' 
Eli claimed that the con had been a success on numerous fronts, namely in terms of safety, vetting panelists, and weeding out incompetent staff. In response to my question of whether a con that brought Tumblr together with 4chan and Reddit could be safe, she was vehement that it could:
Do we think it's wise or safe to bring users of multiple websites together? Yes on both accounts. DashCon brought users of multiple websites together. Every convention in the US brings users of multiple websites together. Life brings users of multiple websites together. This is very much the argument we saw in the run-up to DashCon, only slightly tweaked. We received an almost never ending onslaught of messages about how "someone is going to die" because "you can't bring Tumblr users together and expect them not to fight." Obviously, "the social justice bloggers are going to sue anyone who looks at them wrong" and "it's going to be one big fandom flame war." There were people who honestly believed thatDashCon would be the least safe, most harassment filled convention in existence, and it turned out to be the exact opposite. We thoroughly believe that, with the right presentation on our end and rules that back up our intentions, we can recreate that environment without much issue. Say what you will about July's event, but almost everyone who went would testify to how well-behaved our attendees were.
Eli doesn't seem to consider that fandom flame wars and in-fighting are vastly different than the sustained online harassment that feminists on Tumblr and Twitter receive, often from angry 4chans and redditors like the ones currently making life difficult for Zoe Quinn. And they're not even in the same league as the real-life death threats that recently drove Anita Sarkeesian from her home. 
And while most con attendees were well-behaved, it only takes a few to cause chaos. Hebe Goldstein is a self-proclaimed member of 4chan crashed DashCon solely to troll it. He spent his time doing things like encouraging confused con attendees to chant "Free Palestine!" as a way of mocking Tumblr culture. Then he reportedly destroyed the infamous ball pit—by urinating in it. 
Photo via Reddit