The cops may have just arrested one of the top gun dealers and identity thieves on the Deep Web, they just don't know it yet.
Right now, Adam Bunger is sitting in police custody in Kentucky facing three felony charges for illegally selling and shipping guns around the world from a group of sites that sit hidden behind walls of encryption and anonymity.
Police accuse him of making three gun sales to Australia, the United Kingdom, and Sweden. Bunger is facing up to 15 years in jail, but he may have something else on his mind. If chatter on the underground websites he frequented is true, Bunger was involved in a lot more than just gun sales.
Bunger, a 33-year-old tech entrepreneur living in Bowling Green, Ky., owns, along with his brother Brad, ArtsyQR, a mobile marketing firm.
He is also likely is one of the most celebrated gun salesmen on Black Market Reloaded (BMR), a bazaar on the Deep Web. Like the more popular Silk Road, Tor's powerful anonymizing software allows vendors and customers to exchange bitcoins, a cryptocurrency, and information while being shielded from global law enforcement. The real danger of being caught comes when the products are shipped.
Multiple Black Market Reloaded sources, including customers, vendors, and staff, say that Bunger is almost certainly behind two pseudonyms on the website: Grass4Cash and demonfifa. Grass4Cash is the only BMR vendor who has sold a Star Echeverria, Modelo Super 9mm pistol, the exact pistol Bunger is charged with shipping to Australia. The Uzi pistol that Bunger is accused of shipping to the United Kingdom was a signature Grass4Cash product also identified by multiple BMR users.


BMR users confirm that Grass4Cash sold the weapons intercepted by police. (Click for a larger image.)
Grass4Cash has gone missing recently. His profile says he is "on holiday."
Grass4Cash began selling guns almost exactly one year ago, on Sept. 17, 2012. By May, he said he received over 100 private messages about sales every day. He added numerous new firearms to his storefront on a weekly basis. He touted himself as a stealthy vendor who was able to ship to Australia and the U.K., countries known to have the most stringent border customs agents in the world.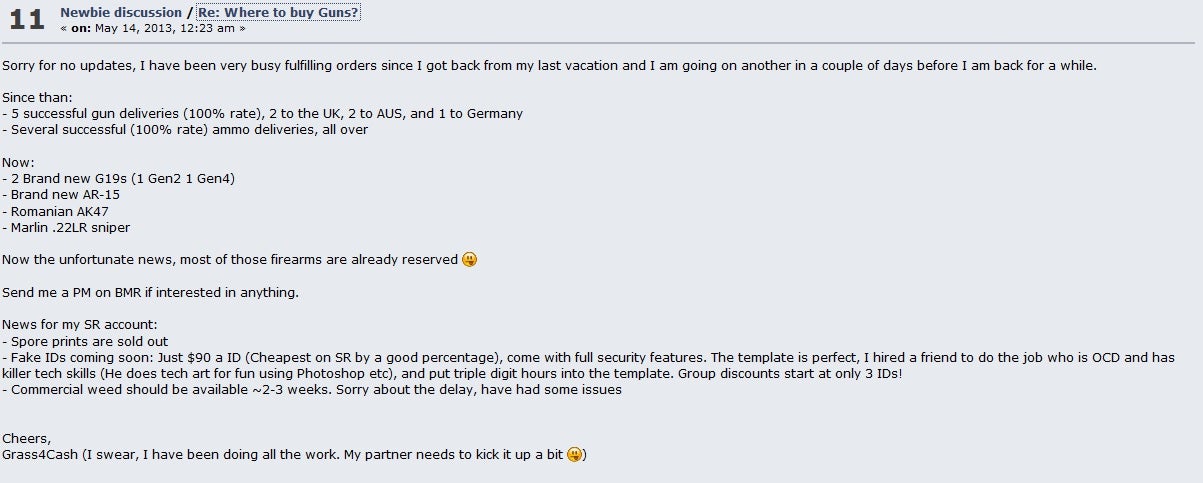 Grass4Cash advertising his weapons on Silk Road—and boasting about making sales to the same countries to which Bunger is alleged to have sold weapons. (Click for a larger image.)
In addition to a wide variety of pistols, semi-automatic handguns, assault rifles, silencers, and an entire virtual gun store, Grass4Cash—who, again, most members of BMR believe to be Bunger—has a second vendor account.
Multiple Black Market Reloaded sources, including staff, said that Grass4Cash is the same man behind the demonfifa account, which dealt in an entirely different criminal spectrum: stolen credit cards, stolen identities, hacked Paypal accounts, fake IDs, marijuana, mushrooms, and silver bullion. In the last year, demonfifa has made almost 1,000 of these types of sales; at the time of Bunger's arrest, the account was making about 100 total sales per month.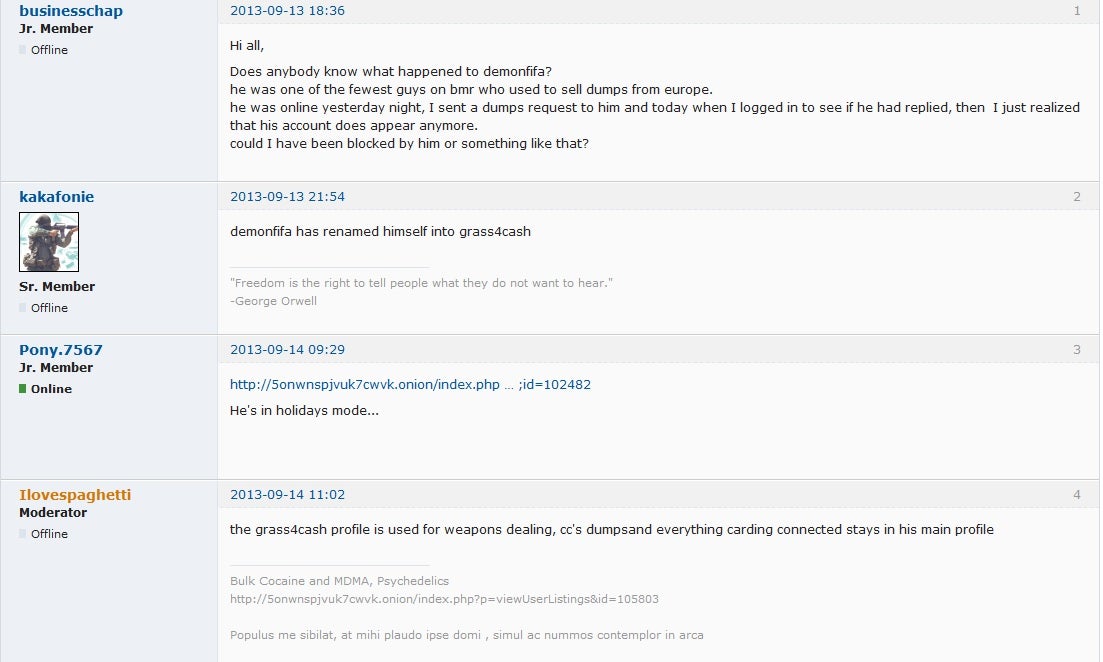 Several users and a BMR staffer suggest that demonfifa and Grass4Cash are the same person. (Click for a larger image.)
The criminal complaint filed against Bunger suggests that the police haven't heard the buzz about Bunger's possible connection to demonfifa.
The cops also don't seem to know that Bunger has stated multiple times on the Deep Web that he was involved in a two-man operation. The identity of his partner is unknown.
Bunger's court record includes a 2011 arrest for speeding while under the influence of drugs or alcohol. He spent six hours in jail.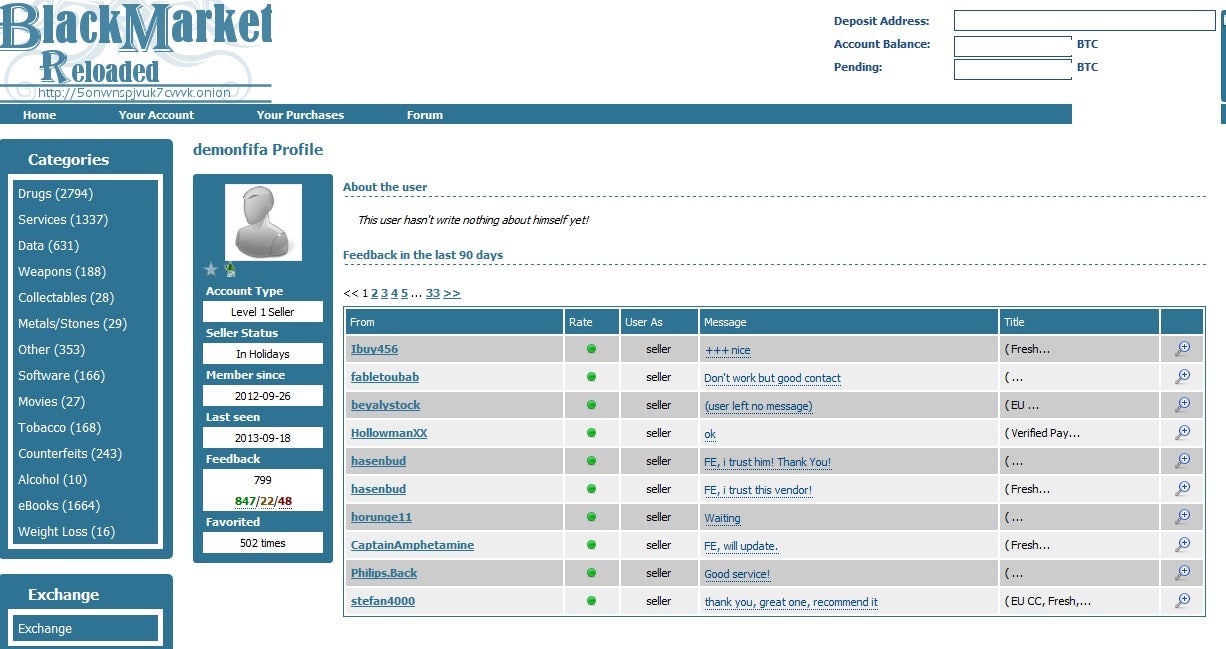 Demonfifa's BMR profile shows hundreds of sales in the last 90 days. (Click for a larger image.)
Black Market Reloaded was shaken by the arrest. Many customers are surprised that Bunger was caught, other are shocked that he did such a poor job disguising his products. Many BMR users are wondering just how much the cops know about Bunger's alleged operations.
"There are hints from every article when compare to G4C [Grass4Cash's] activity that show LEO [law enforcement officers] do not know scope of his activity," wrote fellow gun salesman lereyjenkins. "It best we all STFU before they get more shit on him."
"Loose lips sink ships," wrote one Black Market Reloaded moderator. "The police will never know all of the story."
Moderators have since begun deleting comments that link the two screennames, clearly worried that their chatty users are accidentally giving cops new leads in their case against Bunger.
Bunger's arrest and Grass4Cash's disappearance comes only one month after the fall of Freedom Hosting, an FBI malware attack on the Deep Web, and amidst widespread rumors that law enforcement agents have launched a campaign against online black markets like Silk Road. Although this arrest isn't connected—after all, Bunger's problem came when his packages were intercepted—it is surely a sign that that there is no end in sight to serious turbulence on the Dark Web's black markets.
Illustration by Jason Reed