It's no secret that music-centric narratives—examining a person or band's life or looking into a more specific moment in time—have been in a rut for a while. Even when musicians get the prestigious biopic treatment, their lives can be reduced to a handful of clichés, flattening them in the process. There is the troubled childhood and early career struggles; the sex, the drugs, and rock 'n' roll; the egos that threaten to overtake everything; the moments of triumph and defeat. Unsurprisingly, the only movies to do anything interesting with the subgenre in recent years are fantastical, psychedelic trips (Rocketman), or they're direct parodies of Hollywood's more schmaltzy Oscar bait offerings (WEIRD, Walk Hard).
Daisy Jones & The Six

Release Date:
March 3, 2023
Creators:
Scott Neustadter and Michael H. Weber
Streaming:
Amazon Prime Video
The truth behind the tumultuous, meteoric rise and sudden end of one of the biggest rock bands of the 1970s is laid bare through the lens of a 'Behind the Music'-esque documentary. It doesn't do anything new within the myriad of music clichés, but compelling performances and great music save it from being a complete drag.
The utter staleness that comes with the territory is a neverending cycle that not even Daisy Jones & The Six—Amazon's limited series based on the bestselling novel by Taylor Jenkins Reid about a fictional rock band with more than a passing resemblance to Fleetwood Mac—can break out of. With a story stretched out over 10 episodes that could've been whittled down by one or two, it takes its time to arrive at the story it's more interested in telling. Its attempts to subvert the tired rocker narrative aren't as clever as it thinks, and at times, it feels like the show is pulling its punches and taking the easy way out.
But DJ&TS has a few saving graces. For one, the show's music, written and produced by Blake Mills and a myriad of artists such as Phoebe Bridgers, Jackson Browne, Marcus Mumford, and Madison Cunningham, is incredible and almost guaranteed to become your next earworm. And the performances, especially from Riley Keough and Sam Claflin, are compelling enough to push through.
Styled as a Behind the Music-esque documentary set 20 years after the band's infamous breakup following a 1977 Chicago concert, a filmmaker managed to wrangle every band member and many of their collaborators to speak about what happened for the first time. There's some hesitation and holding back, even with the perceived notion that time might heal all wounds. (It definitely doesn't.) Before the interviews really begin, lead singer Billy Dunne (Claflin), already visibly tense before he's asked any questions, needs confirmation that the band's other singer, Daisy Jones (Keough), agreed to talk before he continues; in another instance much later in the series, one member double-checks that another said their piece first before telling their side of the story.
In present-day (the late '90s), the characters are aged up with a blend of facial hair and have their wavier, '70s-style locks straightened, cut short, grayed, darkened or bleached, or slicked back, which doesn't do all that much to age up its actors but does distance them from their rocker personas. They might say one thing, but what actually happened, which we see in flashbacks that make up the majority of the show, might directly contradict what they tell the camera.
Early episodes see the power duo at the center of this story on different sides of the same coin. Daisy struggles to believe in herself instead of allowing men to make her their muse; she holds such a grudge over an old flame taking her lyrics, turning them into a hit song, and refusing to give her credit that it still bothers her more than 20 years later. But Billy, his photographer wife Camila (Camila Morrone), and the rest of the band have a different experience trying to break into the LA music scene. Linking them is famed record producer Teddy Price (Tom Wright), who desperately needs a win after several of his acts failed to deliver. There are some interesting nuggets in those episodes. But it doesn't do anything we haven't seen in similar stories, though it makes a great effort to position Camila as more than just the wife character; she's often the band's key architect.
DJ&TS might look as if it's an ensemble piece. In practice, it's more of a cinematic duet between Daisy, the carefree wild child who came from privilege but was routinely ignored by her family, and Billy, the uptight frontman who grew up with a single mother and his younger brother Graham (Will Harrison) in Pittsburgh but who feels the need to micromanage every aspect of the band. The inevitability of their meeting is so vast that it makes those first few episodes drag for not having pushed them together already. (In fairness, the chemistry between Daisy and Billy more than delivers once they finally meet, and their constant, fiery push-and-pull, alongside Claflin's easy charm, goes far to help make Billy, a proverbial wet blanket, remotely watchable.)
As DJ&TS takes us from that tumultuous first recording session to the eponymous band's final form, from struggling musicians to superstardom, and on that climactic tour for the multiplatinum album Aurora, the cracks start to show. Every time the band gets together, nobody is certain about whether Daisy and Billy are going to create some magic or bite each other's heads off, which doesn't even address the sexual tension between them—and the ensuing love triangle complicated by the fact that Daisy and Camila like each other as people more than Daisy and Billy seem to each other—that almost everyone else picks up on. Billy's reluctant to let Daisy in the band at all after a wildly successful collaboration, noting that "she's a powder keg…I don't think we'd survive her." Anytime he has a chance to screw up a tentative connection, he takes it.
But the rest of the band doesn't need Daisy and Billy's drama to find some of their own. Graham is pining after Karen Sirko (Suki Waterhouse), the band's keyboardist, while Karen is hyper-aware of the double standards she faces by being "The Girl" in a rock band and how she presents herself. Eddie Roundtree (Josh Whitehouse), the bassist, is an easy punching bag who becomes increasingly frustrated with his position in the band. Warren Rojas (Sebastian Chacon), the band's drummer, who is an utter delight from start to finish, is there for the music, the girls, the drugs, and the vibes; the present-day Warren often gets some of the best one-liners.
The rest of the band is sometimes such an afterthought—both within the band's dynamic and the show itself—that Eddie briefly goes meta by asking a bunch of reporters, "You guys gonna ask us any questions?" at a press conference. And trying to keep things afloat amid a ship that much of the band is trying to set on fire is their tour manager Rod Reyes (Timothy Olyphant), donning a wig and mustache combo that is a work of art, even if the hair pieces themselves are terrible.
Even as DJ&TS introduces the various factors that lead to the band's end (some of which you'd expect from a band immersed with all of the clichés that come with the territory), it can't shake off the feeling it's holding back. There's a sameness to shots of the characters performing those songs—some of them get a lot more play than others—on a stage or as we see them recording; the only thing that might change is whatever mood Daisy, Billy, or the rest of the band happen to be in. The music's the same, only the outfits differ, although Denise Wingate's costumes (particularly the flowy capes that become part of Daisy's onstage presence) are definitely a highlight.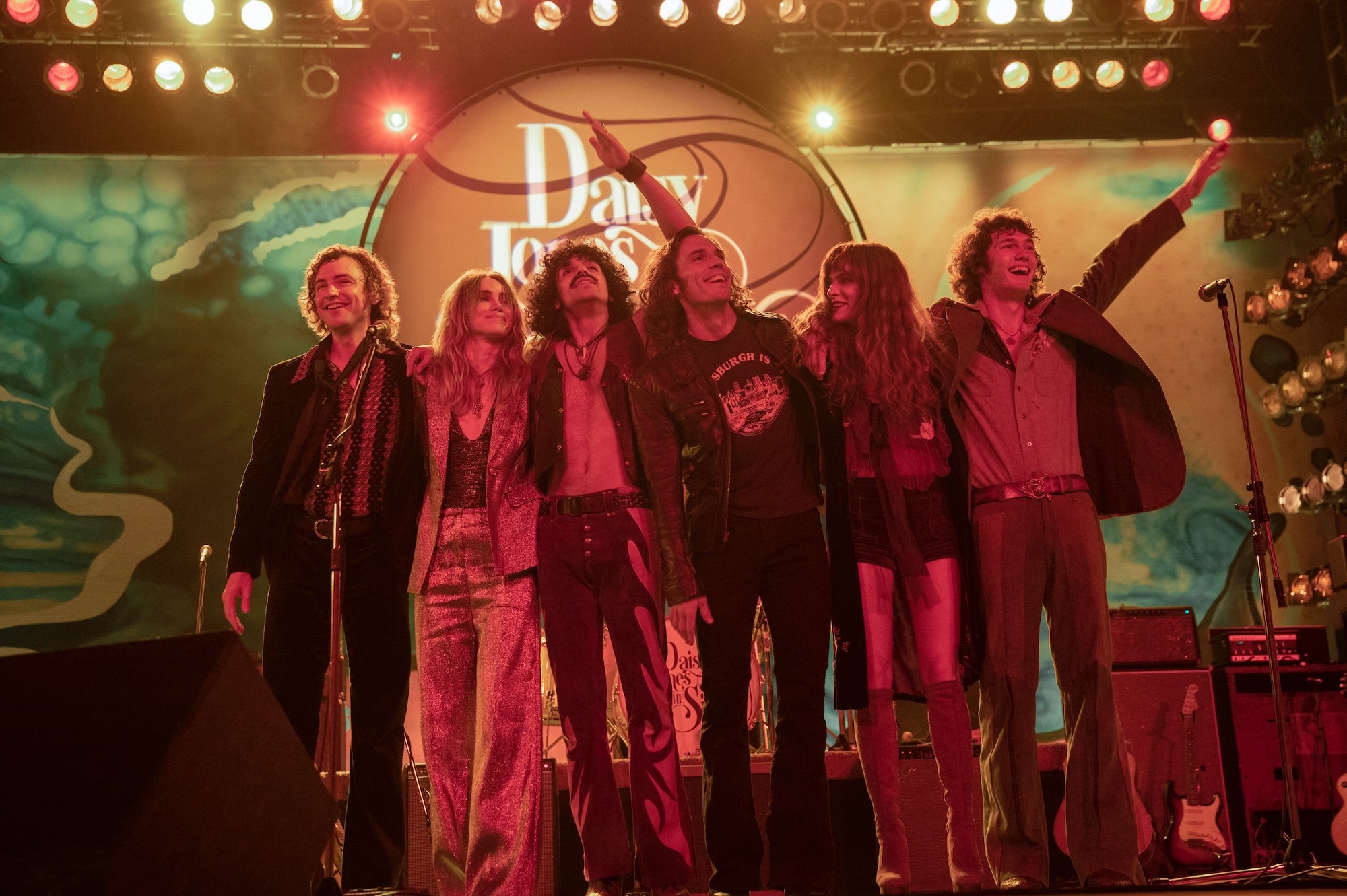 One episode is a big departure from the main story as it focuses on Daisy's best friend Simone Jackson (Nabiyah Be) and her journey through the '70s disco scene, which both brings the larger narrative to a halt while teasing a far more interesting show, one that focuses on Simone instead. Some of its resolutions leave you wanting more after they take the easy way out. In some regards, you'd probably find more drama contained within one of the many documentaries about Fleetwood Mac's tumultuous history—including some about the making of Rumours (the album for which Aurora is a fictional stand-in)—or History of the Eagles, the three-hour Eagles documentary that Reid cited as one of her influences for the novel, than in Amazon's adaptation of DJ&TS.
The main draw, apart from the compelling performances, is the music. DJ&TS did not half-ass Aurora, which Amazon is releasing to coincide with the show's premiere on March 3, and even if the show is more of a blip in a well of Peak-Peak TV, the music just might endure; it's familiar enough to sound as if you've heard it before but can stand on its own divorced from the show or the book. The only downside is that while you get to travel with some songs from their creation to the finished result, we don't get to hear many of the others performed until the final episode. There are some moments, especially when the band is onstage and you really get to see Daisy Jones & The Six shine, where the band does come to life, and you might almost forget that none of it is real. And that, in and of itself, is pure magic.
The first three episodes of Daisy Jones & The Six debut on Amazon Prime Video on Friday, March 3. Future installments will drop in two-or-three episode batches over the next several weeks, concluding with the final two episodes being released on March 24.


We crawl the web so you don't have to.
Sign up for the Daily Dot newsletter to get the best and worst of the internet in your inbox every day.