Fans of discontinued sodas, take notice: An unfathomably rare full can of the faddish Crystal Pepsi, at least 20 years old at this point, just showed up on eBay. Considering it's all but impossible to find an unopened original-formula Four Loko on the site, that's a pretty impressive find—and it comes with a poetic description, as well as photos from every conceivable angle. Feel the nostalgia wash over you: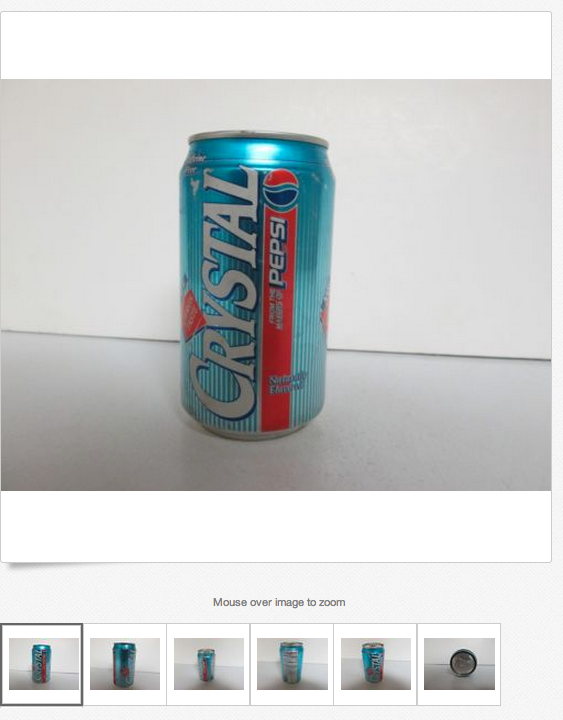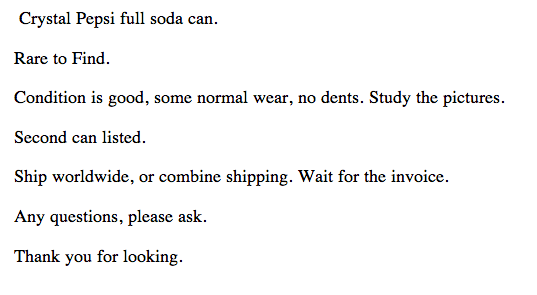 The seller is located in the tiny community of Agar, S.D., which according to the 2010 census is home to just 76 people. We're assuming, then, that the short-lived soft drink is being sold off by the struggling local museum. Either that or the townsfolk were shoveling the junk out of some hoarder's house and struck clear gold along the way.  
There are no bids entered as yet for the item, which carries an asking price of $50 (and shipping costs of $11.90). Sure, you could go after a glass bottle of the Diet version, or a notably cheap and varied Spanish collection, but is there any substitute for that familiar perfect-condition can and the sweet, refreshing taste of—wait, Crystal Pepsi is caffeine-free? Never mind, this is a total ripoff.
Plus, it didn't work out so well for the last guy who tried one.
Photo by Quinn Dombrowski/Flickr