A Rolex, a snow-blower, and a round-trip vacation to Jamaica are just three of the things crazed football fans are willing to trade on Craigslist for tickets to Super Bowl XLVII.
With the Baltimore Ravens making their second Super Bowl appearance in franchise history, it's no surprise to see Baltimore's Craigslist page fielding most of the requests.
"I recently moved into a house and have a huge freezer that isn't being used. If you are sitting at home with a bunch of food you need to freeze without a freezer and also happen to have 2 tickets to the super bowl you don't want well LETS MAKE A DEAL!" reads one classified listing. "[F]reezer for the tickets. I will even deliver the freezer so you don't have to deal with it."
A California couple was scammed out of $6,000 after they tried to buy tickets from a Florida man named R. Thomas Pham Guan. Instead of receiving the prized tickets in the mail Monday, they received the following note: "Enjoy the game! Gooo Ravens! LOL."
Sunday's game, against the 49ers, will be played at the Mercedes-Benz Superdome in New Orleans. The majority of tickets to the sporting event of the year are allotted to each Super Bowl team and other NFL teams. The remaining tickets are "made available through a random drawing," said the NFL on its site. Submissions were accepted between Feb. 1, 2012, and June 1, 2012.
Pairs of Super Bowl tickets have been listed for anywhere between $2,000 to $10,000 on eBay.
Here's a list of the best goods being offered up on Craigslist in exchange for some tix.
1. Vacation to Cancun, Mexico or Jamaica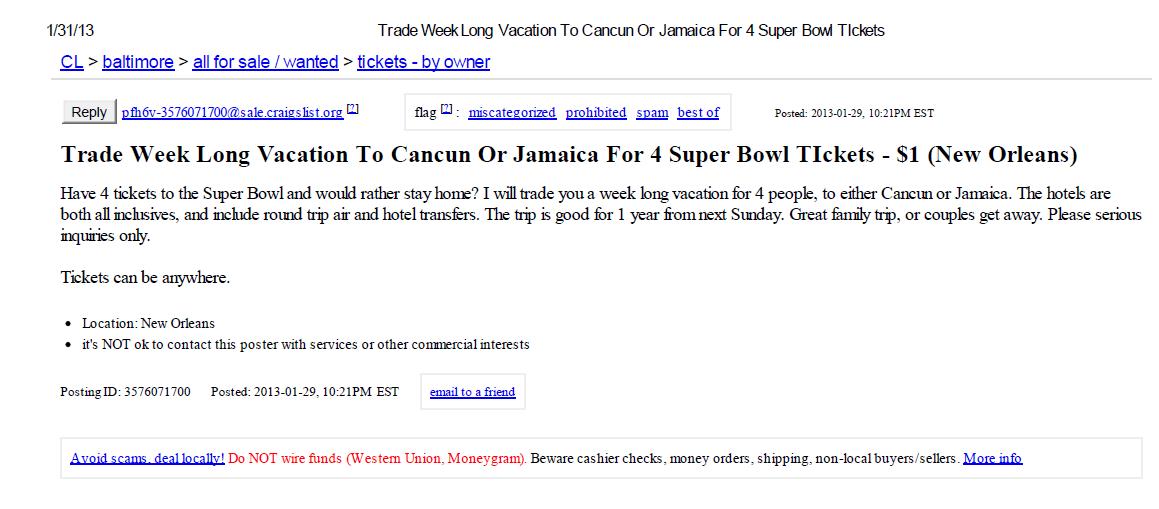 2. Rolex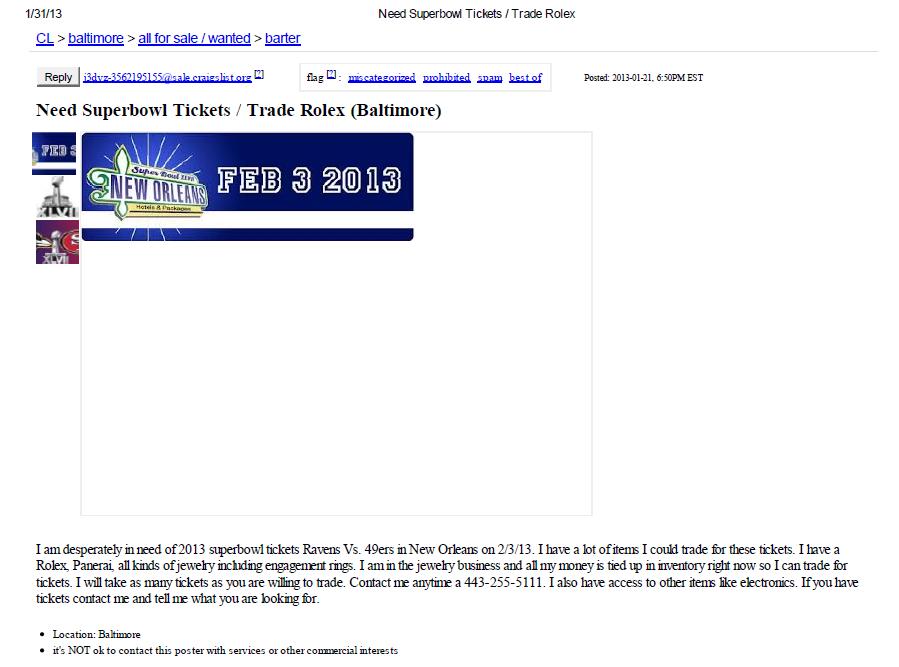 3. Two Samsung laptops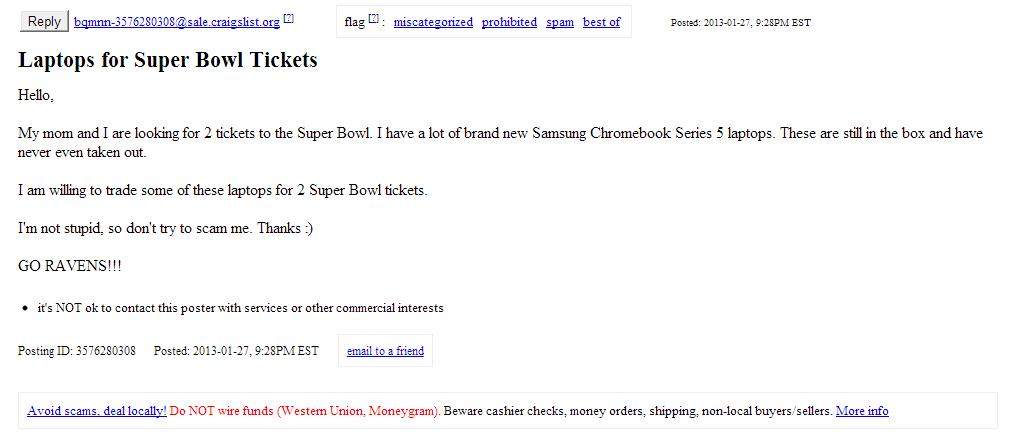 4. Freezer

5. Photos of Super Bowl XXIX Champions San Francisco 49ers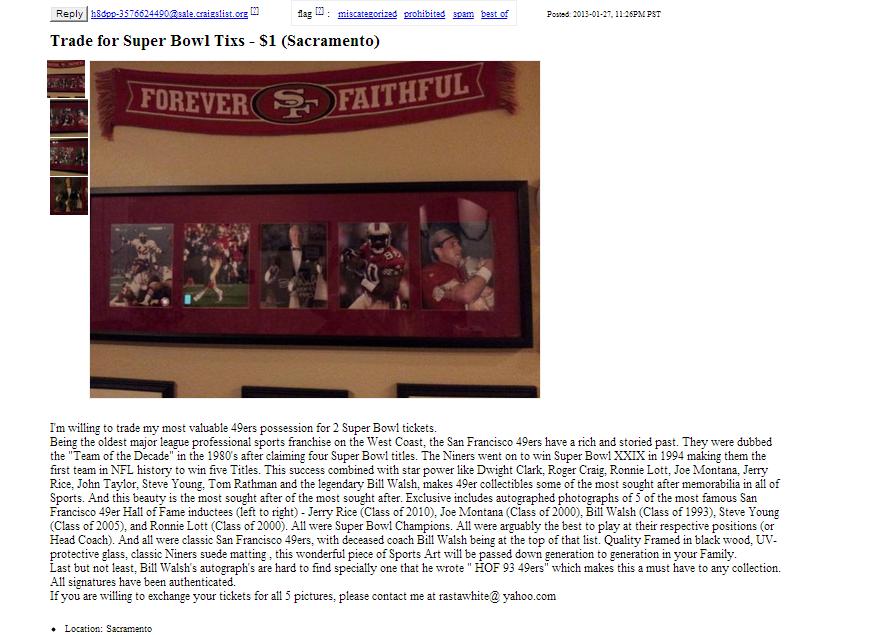 6. Snow-blower

7. Masters Badges for Augusta National Golf Club

Or if you're like the rest of America, chances are you'll be watching the big game from the comfort of your home or local bar with friends and family. A 24-year-old from Fayetteville, Ark., on the other hand, could use some company: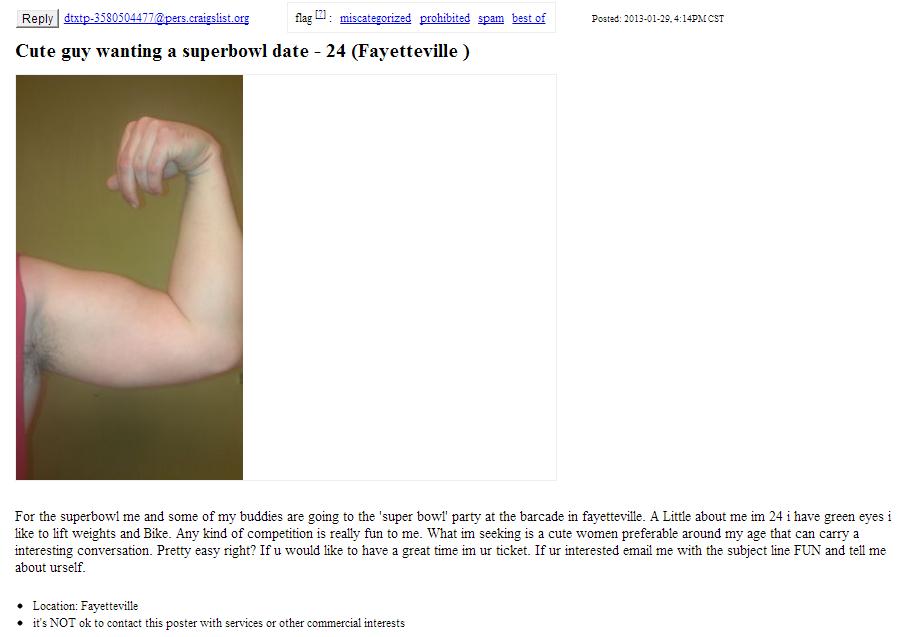 Main art via betdsi/remix by Fernando Alfonso