In the wake of New York City's first official Ebola diagnosis, panicked New Yorkers have been desperately dodging each other's bodily fluids. Yet last Tuesday afternoon, one New York City woman took a different approach, advertising free samples of her DNA on Craigslist in the form of nail clippings, hair, earwax, and other bodily effluvia.
The post, "I will give anyone my DNA," read:
At 4 PM tomorrow, October 28, I will be giving out samples of my DNA to anyone for free. I will be clearly labelled and located at around 40.735246, -73.990746 (Union Square facing 14th Street). I am a disease-free 24-year-old woman. Samples will come in the form of hair, nails, earwax, etc.
When we first spotted the post on Craigslist, it was 3:49pm. By 4:05pm, we were headed to Union Square Park on the subway, hoping to make it in time to meet this mysterious woman, and feverishly speculating about her intentions. Who was this disease-free, 24-year-old stranger? Why was she giving out her DNA to strangers? Would the DNA samples be contained in bags, or would this be like a potluck dinner-type situation where we would have to bring our own Ziplocs? The ad, we agreed, could have been a lot more specific.
Although the ad had said the DNA giveaway would be "clearly labelled," it took a good 10 minutes to find her as we scouted the park for people who looked like they might be 20-something females selling bags of their own cerumen on the street. We approached a group of well-meaning grey-haired women to ask if they had seen a woman selling bags of her hair and nail clippings. They responded that they'd seen no such individual, though they had seen "a fellow wandering around the park offering free hugs."
After begrudgingly accepting a flier about fracking, we spotted our phantom DNA dispenstress toward the middle of the park, wearing suede wingtips and trendy Warby Parker specs. Bags of hair, nails, skin cells, cheek swabs, and ear wax were preciously packaged and organized on the table in front of her.
The woman introduced herself as Kate Godwin. She was halfway through a conversation with a ponytailed blond man who'd just taken a baggie of her nail clippings. "I got a thumbprint. I got a thumbprint," he kept muttering to himself like a mantra, turning the bag over in his palm as he walked away.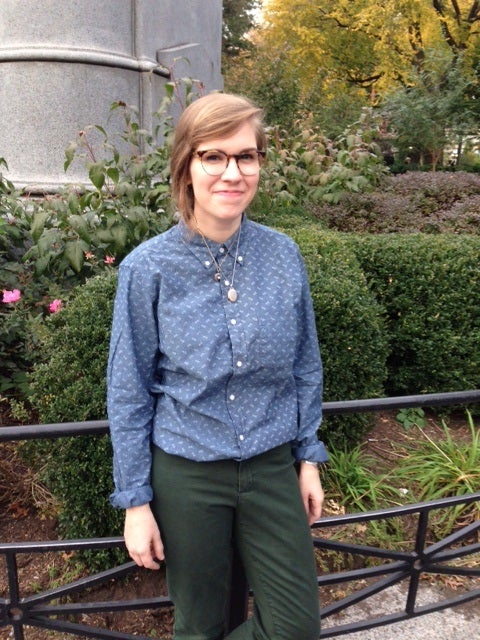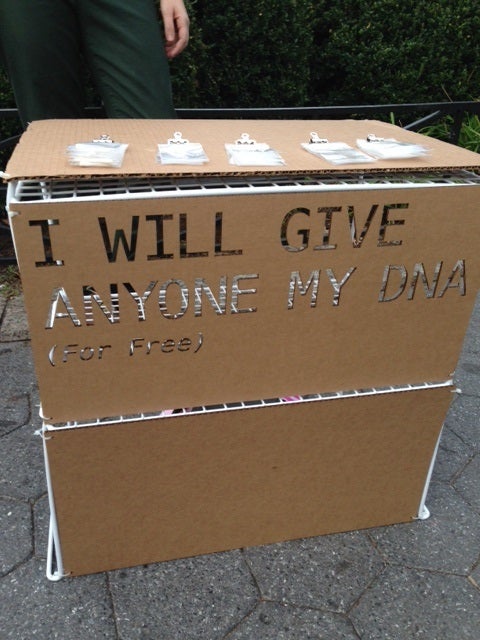 Godwin told us she was from Atlanta and was currently a master's student at New York University's Interactive Telecommunications Program (ITP) program. "I'm giving out my DNA because it's what we all do constantly," she said as curious passersby milled around the booth. "We're constantly shedding parts of ourselves; our skin, parts of our microbiome are spreading to other people. You could take this person's DNA, or that person's. I'm just packaging it in a different way."
"This seems very artistic in a way, on your end," said a man in a fedora who kept twisting a bloody Band-Aid on his finger. "Is this an art project of some sort?"
"Yeah for me, I just see these as materials for making things," Godwin said politely. "I've used urine to make dyes and different biological materials in my own work. It's something I'm interested in sharing and talking about." The man nodded and walked away without taking any of the samples.
Godwin was surprised when he told her we showed up in response to her Craigslist post. (Only one person so far had responded to the ad: a fetishist who showed up in the hopes of obtaining one of Godwin's pubic hairs.) But before she posted the ad, she told us, she initially planned to distribute free samples of her DNA in the form of her menstrual blood and urine. (She previously collected other people's urine samples and harvested ammonia from them, until, she said, her boyfriend got annoyed with her for leaving jars of urine around the house.)
But the arrival of Ebola in New York City put a crimp in those plans—or as she put it, Ebola "changed the context" of the project. "People are freaking out about Ebola. We're at risk," Godwin said. "We rely so much on public services and we're so close that biological material needs to be taken seriously. It needs to be understood and discussed."
It's doubtful people in Union Square Park were grasping the sociocultural implications of Godwin's project. The crowd seemed to be evenly divided into two groups: people who were grossed out by the project and people who were intensely (perhaps too intensely) fascinated by it, such as the pubic hair fetishist.
It was also unclear if the project was actually legal. Although New York state law prohibits the sale of unregulated "human pathological waste," such as "tissue, organs, and body parts (except teeth)," Godwin hadn't been challenged by the NYPD officers trawling the park, and she didn't know if earwax or nail clippings fall in the prohibited category.
"From what I've been reading," she sheepishly offered, "most of the legislation has been around bodily fluids, so by not having urine or blood or anything, I'm kinda getting around that."
Godwin didn't seem too concerned about the potential consequences of blithely giving out DNA samples to random passersby. When asked if she thought anyone would do nefarious things with her DNA, she shrugged off our concerns. "Nothing has happened to lead me to worry but it definitely could," she said, trailing off. "I mean, I did just give that guy my thumbprint."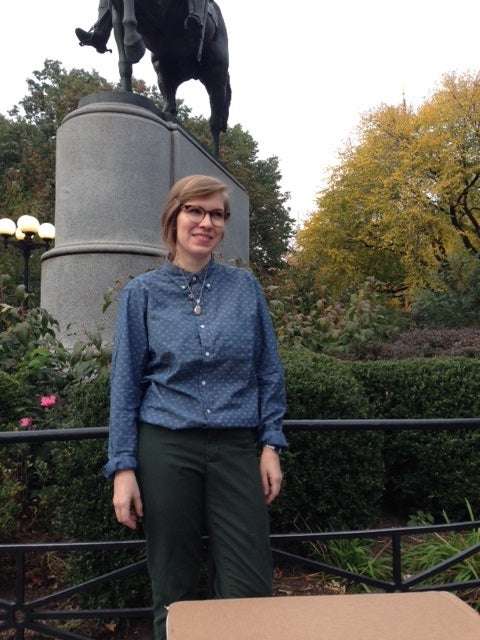 Putting aside concerns about being framed for a felony by a Union Square busker, Godwin said she hoped to raise awareness of the invisible marks we humans leave on our environment on a daily basis. "Our microbiome extends far beyond ourselves," she said. "Our reach extends far beyond ourselves. I think recognizing that and using it as something useful."
With this ominous warning in mind, we had to get back to the office to file, and Godwin had to pack away her various body trimmings so she could make it to class at 6:30pm. We parted ways with a souvenir to remember our moment together: a few skin cells, a cheek swab, and a few strands of hair for our coworkers who couldn't attend.
While we left with a little piece of Godwin—literally—we hope she also left with a bit of us, albeit not a genetic one. Was it just DNA that we exchanged that Tuesday afternoon, amid the buskers and loiterers and canvassers and free-hug-givers of Union Square? Or did we also exchange big ideas about health and privacy and the invisible tidbits of information we share about ourselves and our bodies, whether we want to or not? We don't know, but either way, we really hope that Kate Godwin doesn't have Ebola.
Photos by EJ Dickson