We're pretty sure this voids your manufacturer's warranty: One Texas man's Craigslist quest to trade his computer repair skills for sex aims to put the satisfaction in customer service.
"I believe in the barter system," wrote the 40-year-old Austin computer whiz, who wants the "ladies" to know that he's good at what he does. The ad, listed under Austin's "Casual Encounters" section rather than the "goods and services" section, explains, "I do have to be attracted to you for this to work," and that he prefers "HWP"—women whose height and weight are proportional.
Yeesh. Sounds like someone's hard drive is just asking to get reformatted.
As plenty of people have pointed out, this isn't the first time a Craigslister has used computer repair to get the goods. But it may be the first time an offer's been this creative: "Fix your computer" if "you fix me." Details about the theoretical fixing were unforthcoming, but that didn't stop the denizens of Reddit's geek subforum from speculating about the ins and outs of trading tech for sex.
According to one Reddit user, it's all in how you present the offer. Linglingchi shared his own experience with the "barter system"—and he didn't have to write about it on Craigslist:
So, the first time I fix your computer, I'm going to charge $50-$200 depending on how much of a pain in the ass it is. The second time, if you're cute enough, I'll suggest you just make dinner for me. Salesmanship helps a bit at this point. Maybe after fixing it, you tell them you can drop some memory in or back up their files; [j]ust keep creating reasons for you to work on their computer, and refuse payment for all the additional help. If they insist, just ask for dinner again or for a bottle of wine. If they pay you in wine, open it up and share it with them while you work on their computer.

By the fourth [or] fifth visit, in their minds, you're given them close to a $1000 worth of help and they know that making dinner doesn't come close to paying off what they feel they owe. As long as you're this side of cute and have a good deal of charm, the debt works itself out.
Wow. Apparently the computer repair trade is alive and well despite the rough economy. With all the bartering for bytes going around, it's a wonder our Craiglister even felt the need to assert that "This add [sic] is not a joke."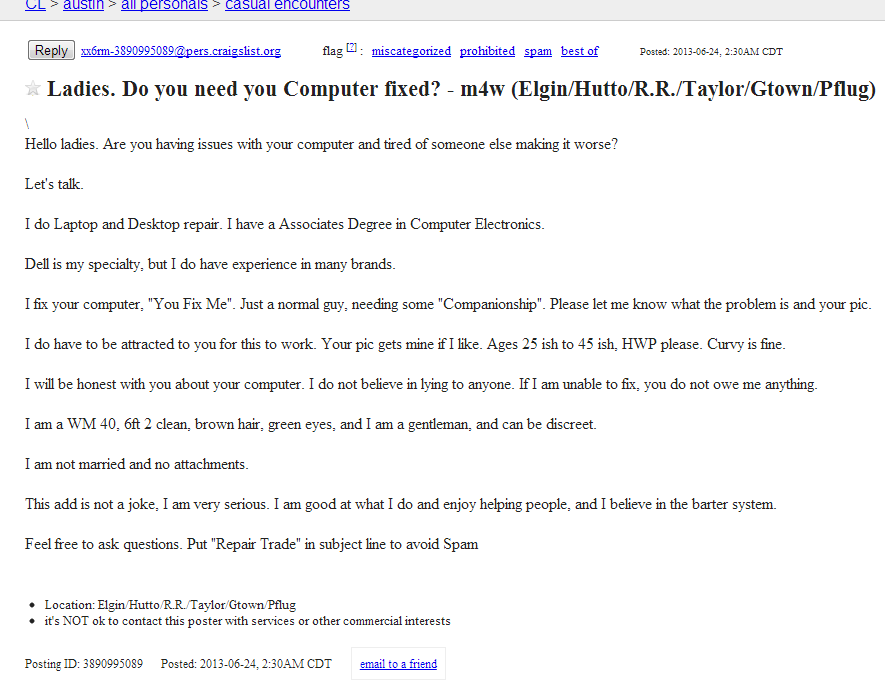 Screengrab via Craigslist
What do you think? Good bargain for the right woman, or just another casual hook-up disguised as a practical trade-off, like an unpaid "internship" providing "research" for an erotic novel or the chance to be someone's personal "muse"?
Photo via gerrydincher/Flickr