Yet another bit of misinformation went viral online today, infecting Facebook and message boards. The meme comes courtesy of Veterans Today, a political website whose authors have previously edged into Holocaust denial and blaming the Sandy Hook Elementary School shooting on Israel.
A recent VT article titled "Police Now Can Switch off iPhone Camera and Wi-Fi, Thanks to the Tech Staff at Apple Computers" has today been racking up a thousand Facebook shares an hour, with outraged commenters decrying the new totalitarian state and calling for a boycott of Apple.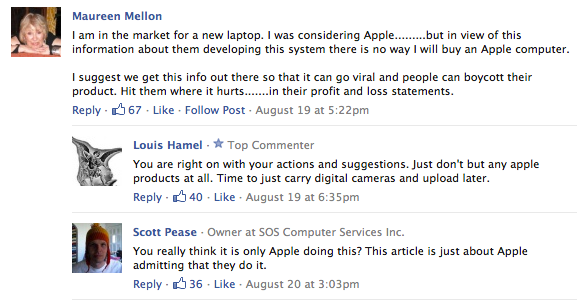 Perfectly reasonable reactions—or they would be, if the VT post had a real byline instead of the word "Anon," or had sourced any of its claims, or had quoted anybody. Let's take a look at exactly what Anon wrote:
Police throughout the globe have been embarrassed to see online videos of their officers pepper spraying tied captives. In our age of mobile gadgets the pictures can be uploaded online in seconds, making supervisors to answer the questions.
So far, so good, if a bit oddly phrased.
But now the police may not need to fear scrutiny anymore, because Apple has recently patented a piece of technology that would allow the authorities and police to block data transmission, including video and photos, whenever they like. All they need to do is decide that a public gathering or venue is deemed "sensitive" and needs to be protected from externalities.
Hold up, what? A little digging confirms that Apple was granted a patent a year ago for an "apparatus and methods for enforcement of policies upon a wireless device." The company did, in the patent application, mention the possible security and defense applications, but does that mean the nation's police are now in possession of this technology, with the clearance to use it "whenever they like"? Not at all. In fact, a patent isn't even proof that Apple itself will further develop those designs.
Essentially, the VT headline does not correspond to the story under it. Some readers picked up on that, with one pointing out that police can jam everyone's Wi-Fi signal without Apple's help, while almost certainly lacking the resources to shut down anyone's camera.

Elsewhere, however, the fear that police can remotely invade our smartphones—and prevent the dissemination of images of their authoritarian brutality—was strong enough to predominate. Over at the conspiracy and UFO message board Lunatic OutPost, posters debated whether Android phones would soon be susceptible to a similar feature and speculated darkly on the technology's role in coming years:

It wasn't just right-wing truthers who misinterpreted the story. The headline also gained traction on boards like Phantasy Tour, which caters to the fans of hippie-oriented jam bands including Phish, The String Cheese Incident, and moe.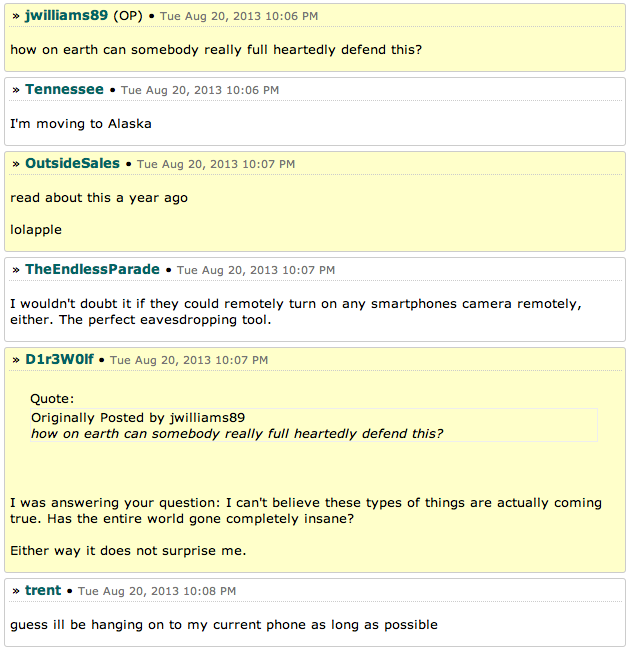 So be prepared to scoff when you see this pop up on your news feed. It's nothing to worry about—yet. In the end, it appears that no matter where you fall on the political spectrum, we all have one thing in common: crippling paranoia.
Photo by Derek Gavey/Flickr