Editor's note: This article is occasionally updated for relevance. It was originally published in 2016.
How can we express our perplexity at the slew of bad or misguided opinions flying around online? Enter the "math lady" meme.
What is the 'math lady' meme?
The "math lady" meme, also called the "confused lady" meme, is the perfect reaction meme for those times when you spot something mind-bogglingly dumb. The woman pictured in the meme is Brazilian soap star Renata Sorrah, known for her role on Senhora do Destino.
The "math lady" meme has been around for years, primarily in Brazil, according to Know Your Meme. It started out as a GIF, but it has since evolved into its current form, a four-panel image covered in math equations and formulae. The obvious implication: What you are saying is as baffling as calculating the volume of a cone.
The first confused math lady joke to go viral in the U.S. was "when she tells you she's 29 weeks pregnant," on 9gag.
This makes sense because 9gag has a lot of overlap with the Brazilian meme community. The math lady really took off in the U.S. on Twitter in October 2016.
Examples of the 'math lady' meme
This tweet about Nate Silver's math for predicting elections, below, probably helped the meme's rise, but it's certainly not the only example.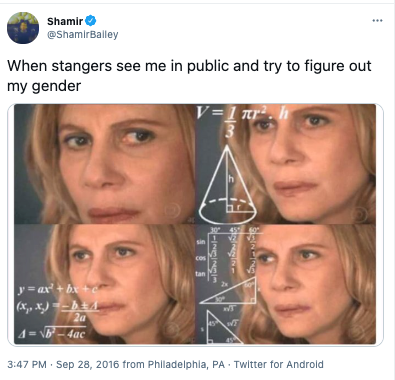 Now you know what the math lady is about and where she came from, so you can see her in your timeline without being like…