A Vevo show about YouTube comments has taken an unlikely path to content creation: asking other YouTubers to jump online and trash talk other vloggers.
The show in question is The Comment Show, a new Vevo production put on by SXM and producer Thomas Bannister, a former television executive whose credits include "Matumbo Goldberg" and NBC's "FCU: Fact Checkers Unit."
Hosted by YouTube comedian David So, the show, which premiered April 11, pokes fun at the cesspool of comments one might find within a YouTube-hosted music video's comment section, pointing out anything from factual inaccuracies to misspellings to poorly placed opinions. 
"It doesn't just have to be negative comments," Bannister told the Daily Dot on Tuesday. "It can be something inspirational or something interesting. There aren't really any rules. We're just interested in the ways in which contemporary music is reflected through the comment section. We want to bring those comments to life. 
For its second episode, set for release on Thursday, the show planned a bit of a content switch. Rather than simply have So speak directly into the camera for four minutes, The Comment Show's producers decided to ask other YouTubers to hop online and tell one particular YouTuber, Mike10dude, the first YouTuber to leave a comment on The Comment Show's video, "that he sucks." (After last Thursday's premiere, Mike10dude wrote "this is horrible" in the video's comment section.)
"The way that we're thinking of doing it would be this," Bannister outlined to HappyCabbie, one of the YouTubers invited to speak out against Mike10dude, in a Skype conversation that HappyCabbie recorded and sent to the Daily Dot. "David [So] comes on and he's like 'So, we want to give a shout out to the first ever commenter on The Comment Show. Welcome Mike10Dude, who wrote 'This is horrible.'
"And then he's like 'Oh, that's weird.' He does a bit of a riff and then says 'Mike, we've just done some research on you and it looks like you've put up negative comments on a number of other videos. Here are some YouTubers who have something to say to you.' Then we cut in you and a few other people saying something to Mike. Someone might say 'Mike, you're a jerk.' Someone might say 'Mike, why did you do this?' 
HappyCabbie declined, saying that he's known Mike10dude for years and would only speak about him if he could say "nice things." 
Asked about the incident, Bannister told the Daily Dot the he believed the aforementioned show outline was "pretty humorous."
"I set it up so that it would be funny," he said. "Nobody knows who this guy is, so I think we could do it in a context of mocking ourselves; our first comment was terrible. 
"To me, the humor in the situation is less about that and way more about how our first comment told us that our show was horrible. I just think that's kind of funny. In a way, what we want to do is mock ourselves a little bit. I think that's the tone of the show, to be honest."
He added that "focus[ing] on that angle specifically is a little bit minimizing of what we're doing on the show.
"That's not what we're trying to do with it. We want people to comment negatively, but it would be a joke. It wouldn't have been in an angry tone."
Maybe so, maybe not. Either way, a webseries' producer has asked one YouTuber to tell another that he sucks.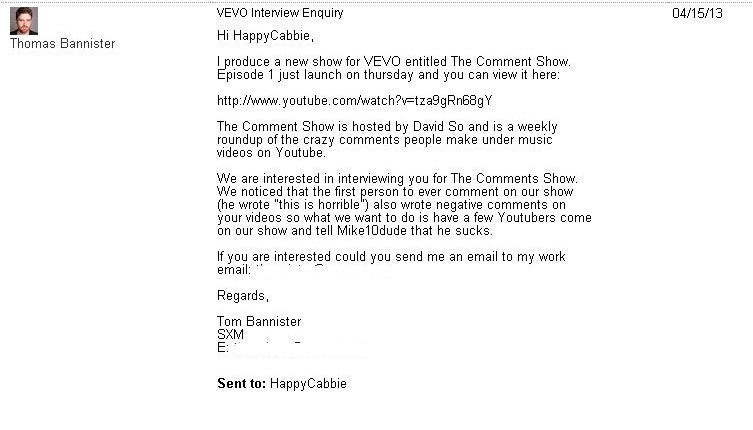 Photo via Show Comment/Facebook