Dr. John All, an American mountain science expert, was realistic about his chances of survival after a 70-foot fall into an ice crevasse in the Himalayas that broke one of his arms.
"I'm pretty well fucked," he said, panning a camera around what could easily have become his final resting place. He was bloody and bruised, with five fractured ribs and a dislocated shoulder. 
But, in an incredible feat of human endurance, All managed a grueling, six-hour, one-armed escape—capturing incredible footage along the way. "I can do it," he tells himself in the final clip.
After pulling himself out, it took All another three hours to reach his tent on Mount Himlung, where he lay exhausted until his rescue by helicopter the following morning. He posted this grateful Facebook update while recovering from his injuries in a Kathmandu hotel bed: 
All and his team had planned to scale the south summit of Mount Everest "but had been diverted by the avalanche which killed 16 Sherpas and led to the climbing season being cancelled," the Telegraph reported. He'd been taking snow samples when he fell through a hole concealed by recent snowfall—and could easily have plummeted another 300 feet.
You know how it is with climbers, though: He'll be strapping his crampons back on and ascending to vertiginous altitudes soon enough. Watching his step very closely, of course.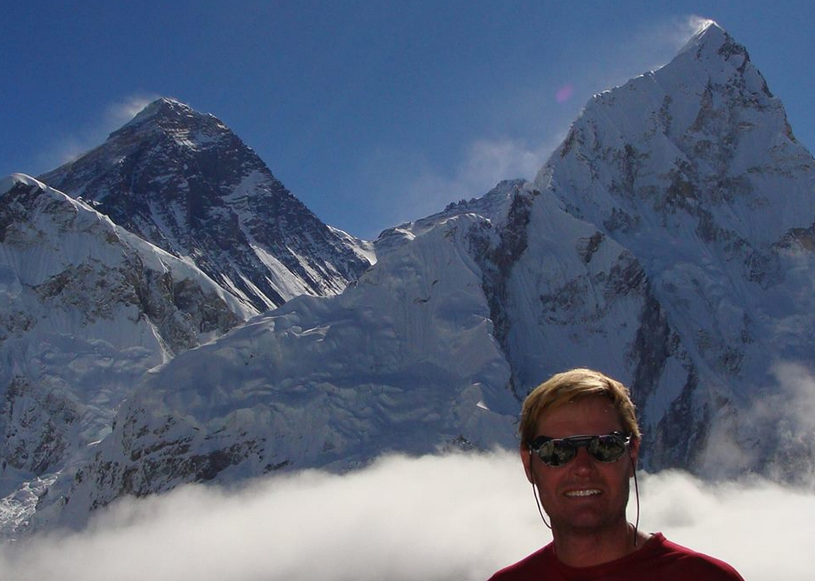 via John All/Facebook
Photo via DrJohnepal/YouTube