On Friday evening, hacker group Clan Vv3 gained access to the Twitter accounts of tech news site Gizmodo and one its former writers, Mat Honan.
It appears that the hackers gained access to Gizmodo's account via Honan's first. The tweets they posted on Gizmodo's account have been deleted (screenshot below),though Gizmodo apologized for the tweets having appeared at all.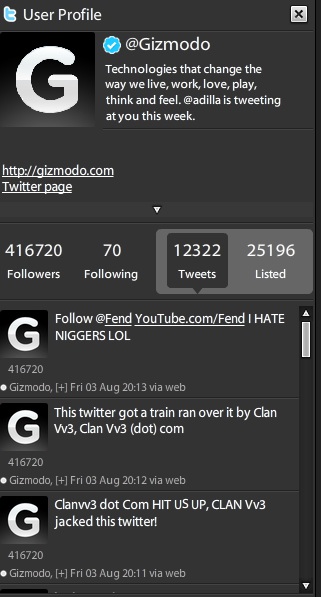 While Gizmodo seems to have regained control of its account, which has 416,000 followers, Honan's still appears to be in the hands of Clan Vv3.
In a tweet posted from Honan's account, @mat, the hackers criticized the journalist (now a senior writer with Wired) for "using in-secure email services, having a 3 letter twitter, and having access to giz."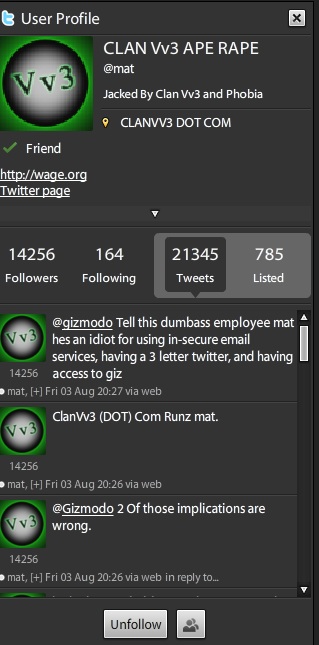 The hackers went on to post the home address of YouTuber Insomniac_03 and linked to a YouTube account where video evidence of the Gizmodo and Honan hacks was posted.
Other tweets posted on Honan's account extended an invite to play XBox Live.
In a blog post, Honan claimed his iCloud account was hijacked, and his laptop, iPhone, and iPad remotely wiped. He linked his Twitter account to Gizmodo's some time ago, so the hackers were able to access both.
Clan Vv3 has taken over a number of fairly prominent Twitter accounts in recent months, including those of NBC sitcom star Whitney Cummings and former WWE wrestler Booker T.
In a coincidental twist, the last tweet posted by Gizmodo before the hack was a link to a story titled "How To Defeat Your Enemies on the Internet."
Photo by Mat Honan