China's latest fashion trend: Dressing children in watermelons 
Remember Anne Geddes, the photographer who would dress babies in peapods and other ridiculous getups? You know, for art? Seems a similar trend has reached China, though this phenom specifically involves dressing children in watermelons. 
The trend was reported on in July, after a young boy was seen flaunting his custom-made watermelon overalls in Wenzhou, in East China's Zhejiang province. It has since gained momentum on Weibo, China's microblogging service. The child's father painstakingly tailored the watermelon getup so his son could walk around in it outside, an update of sorts on cartoonish barrel overalls.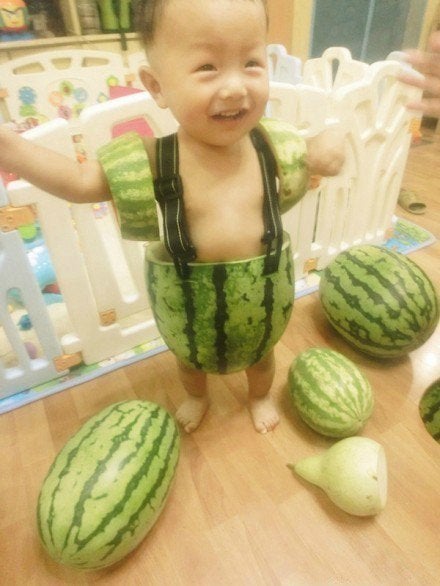 China's relationship with watermelon has a few different contexts. Last month, an unlicensed watermelon vendor died in Linwu, after an altercation with urban management officers. His death triggered outrage in China and beyond, and was documented on Weibo. In 2011, China dealt with a bizarre exploding watermelon phenomenon.  
As with those stories, this one leaves us with so many questions. Is it comfortable? Can this child sit down? Are there rogue melon-child gangs roaming the streets? Can he or she, to paraphrase Bart Simpson, eat their shorts?
Older kids are getting in on the fad, too, cutting masks and helmets out of watermelon, and creating their own line of superhero accessories. Thank goodness these kids have photos on the Internet for eternal posterity. 
Photos via Sina Weibo