Giant pandas are unique in the animal kingdom for being the only endangered critter to dodge extinction solely because every human on the planet wants to snuggle with them. Now thanks to a live camera feed in the heart of panda country, the entire world can indulge its inner ursine voyeur and watch the beasts 24/7 as they eat, sleep, eat, and forget how to mate.
The feed comes courtesy of the Chengdu Research Base of Giant Panda Breeding, where 80 pandas roam 260 acres of bamboo groves. Fervent panda watchers have six enclosures to choose from, thanks to 28 hidden cameras across the park.
The Washington Post's China Real Time is on the scene with the details:
 In one clip, two giant pandas sprawled motionless amid quivering leaves and small skittish birds on an elevated loft. About two minutes later, the angle shifted to a second camera, with the two pandas now seeking refuge from what appeared to be fairly tepid sunlight. In short order, another giant panda lay prone by a burbling stream, in the thrall of what appeared to be another pleasant nap.
Then things get dicey:
A few minutes later, the panda by the stream changed his snoozing posture slightly. It's a small maneuver, but rendered suddenly dramatic by the enervating lull of the video feed and the sheer celebrity of the monochromatic bear.
Here's a photo we snagged of the giant panda's survival instincts in action: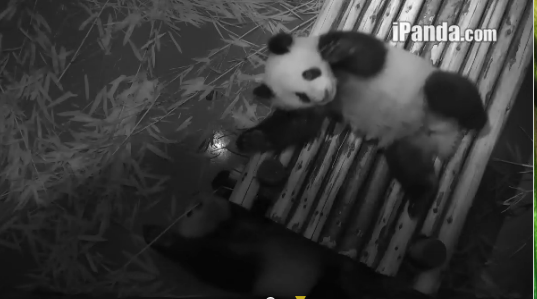 There are panda cams elsewhere in the world, but they're based at zoos who boast at most one or two of the bamboo-guzzling sleep monsters—most of whom came from the Chengdu breeding center anyway. With the launch of the Chengdu feed, there's just never been a better time to be a panda-porn addict.