On Saturday, Chelsea Peretti, the comedian who plays Gina on the NBC show Brooklyn Nine-Nine, posted a very controversial photo on Instagram.
"Oh my gosh what monster does this??!"commented user @yonee_pow. "Someone call the police," said @professional_fangirl2020.
The photo in question shows an example of the way Peretti eats cake—excavating the layers of actual cake because, according to Peretti, she's "not that into frosting." The photo got more than 70,000 likes and more than 2,000 comments—by far the most comments on any of Peretti's recent Instagram posts.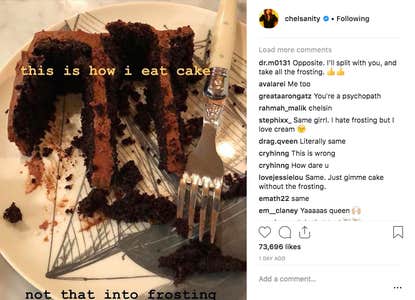 Some commenters expressed shock, marveling that someone could eat dessert like this. Frosting (or icing, depending on your preference) stans went nuts, some jokingly calling for her arrest or hospitalization. But others saw themselves in Peretti's photo—finally, someone who eats cakes the way they do, the correct way.
Still, others realized that there are a number of ways to eat cake. And that there are cake lovers and icing lovers. Hell, there are people who eat icing straight out of the can, although they have something deeply wrong with them.
Although shows like Cake Boss and Ace of Cakes showcase the insane decorations that pastry chefs can concoct with cake icing and other decorations, Peretti's post raises the question of whether icing is actually even that good, or whether we just accept it as part of the cake-eating experience.
The post gathered attention on Twitter as well:
Is there such a thing as a good take? Bc this qualifies as such https://t.co/4MpdLjzB7R

— Kaleena (@KaleenaRivera) September 16, 2018
She's a witch – Burn her!!! https://t.co/M8oS7Z7xGc

— bert kreischer (@bertkreischer) September 15, 2018
Omg I'm so glad I'm not the only one https://t.co/UOKStJLBig

— britt (@anyasaltomare) September 16, 2018
Enough so that it came up on Twitter Moments on Sunday, which Peretti also posted about, asking, "is this a fever dream."
But the silver lining of the whole situation is that now, at long last, cake lovers and icing maniacs can discuss their proclivities in the open, guided by Peretti's dessert confession.
Now, with Peretti's openness about her cake consumption, perhaps, we can all come together and share confections in beautiful harmony. Who wants my icing?